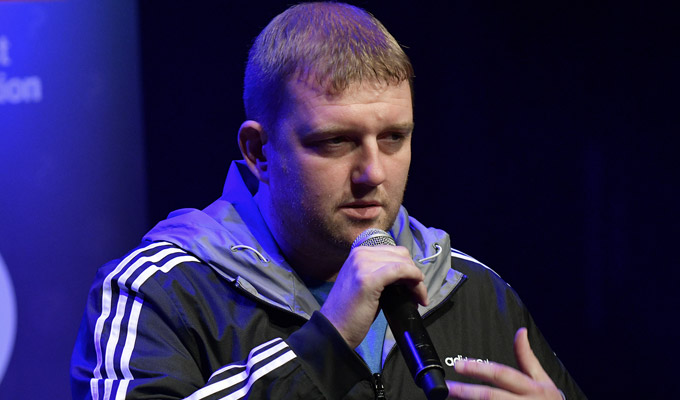 So You Think You're Funny? 2018 Final
It's amazing the range of confidence and presence comics have with just a year's stand-up experience under their belt. That's the upper limit for So You Think You're Funny? contestants, yet the finalists range from the clearly nervous newbie to assured acts who take this high-profile gig in their stride.
Opener Martin Durchov fell into the first category. He's got a great opening line about coming from Bulgaria but then felt into some predictable rut, using the old 'I've come over here to steal your jobs' line more than once. His relatively deadpan delivery - or maybe it's just the effect of performing in a second language – couldn't punch much life into the common observation that as you age hair disappears from where you want it, only for it to reappear where you don't, though he had a bit of a twist on that.
To Singapore next on this international bill, with Natalie Loh, who lost the audience quickly and never regained them. Her first line about misunderstanding an English idiom could have generated some more amusing examples, but the idea was abandoned as soon as it had been floated. Similarly, examples of everyday racism were superficial, while her tale of variously conserving her phone's battery life or being reckless with it was something of a head-scratcher, and did not reward the audience for sticking with her.
Irishman Shane Clifford, a relatively prolific internet comic appeared nervous, too, though that could well have been part of his easily-distracted shtick – in the same way he claimed to be a celebrity impressionist but struggled to get to that point, and duly deconstructed also the build-up when he finally did. That subversion, and some quirky, if underplayed, asides hint at an offbeat way of thinking, which intrigued even if he didn't quite hit home tonight.
The gig turned a corner with laid-back Bec Melrose, who had secured her place in the final by winning the similar Raw comedy competition that spans Australia. Her notion that nobody wants a hyper-realistic sex robot was sardonic and amusing, while comments on poverty tourism were spikily sarcastic about patronising First World privilege. With an added dash of sauciness, it's a quietly promising set that secured her joint third place, which seemed about right.
Then things really took off with Danny Garnell, a full-on cockney geezer, who commanded the stage, cracking a couple of breezy, self-deprecating icebreakers before launching into the meat of his set: a long-ish anecdote about a barney at Disneyland Paris, which wound up with him spending time in 'Disney jail'. The unhurried way tale unfolded, littered with keen observations, had the audience hooked. A strong performance and thoroughly engaging story earned him the first place.
After the break, 18-year-old Glaswegian Liam Farrelly served up plenty of points of interest. The cornerstone of his routine was the fact his mother has multiple sclerosis and has to use a wheelchair, cueing up plenty of jokes that skirted bad taste, but perfectly acceptable for being based on truth. Obvious comparisons to Kevin Bridges go beyond his accent, for he has similar storytelling chops, which scooped him the runners-up spot.
Less assured was Chelsea Birkby, who didn't bring the audience with her on her deconstruction of Pitbull lyrics which she concluded – and this might come as a shock – are a little bit sexist. Imagine behaving like he suggests in your office job, she rather predictably posited. Birkby seemed to tickle herself in his section by saying 'da club' often, but that amusement wasn't widely shared. However, she has a couple of good gags, and the brief mention of her bipolar disorder suggested another avenue for comedy, but she didn't really get the time to go down it.
Patrick Healy is an Australian now based in London – possibly drawn to the UK's reputation for being 'whinging' given his deadpan, downbeat take on the world, rather depressing for a 19-year-old. His pessimistic attitude is more memorable than his material, though, and needed a little more spark in either writing or delivery to trouble the judges.
Finally, Joe Hobbs felt like a pro comedian the moment he stepped into the spotlight, and indeed already won the breakthrough act title at the Amused Moose Awards early this Fringe. Being 6ft 9in gave him an obvious place to start, though more unexpected was his command of the Korean language, which he deploys mischievously. But his calling card is a routine about a date who subsequently wrote about their encounter online – something of a goldmine for comedy, which he exploited with skill and irony. He was man of the match for me, but judges disagreed, awarding him only the other joint third place.
Review date: 25 Aug 2018
Reviewed by: Steve Bennett
Reviewed at: Gilded Balloon Teviot
Recent Reviews
What do you think?