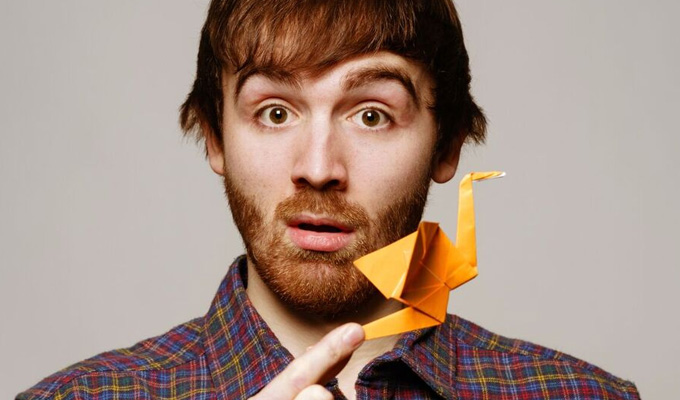 Ian Smith: Craft
Ian Smith's lively, playful stand-up is so good he probably doesn't need a gimmick – but he's got one anyway.
Striking an admirable work rate, his fifth solo show in six years is based around the Japanese legend of senbazuru, which says that anyone who folds a thousand origami cranes within a year will be granted a wish by the gods. He's nearly at that magic number and tonight so many hours of paper-folding will culminate in this moment where everything changes. As long as nothing goes wrong, of course…
Although it produces a couple of solid on-screen gags, this core premise isn't actually the most engaging part of the show, and risks stopping the flow each time Smith returns to it. Another bit of technical jiggery-pokery – a 'live feed' that allows him to walk outside the Portakabin also tries a bit too hard given how much we're enjoying the conversational routines it interrupts.
But an hour's a long time, so such shenanigans probably breaks things up, and in any case, giving palpable nonsense a sneaky sell is what Smith does; starting from his introduction, which is based entirely on what could charitably be called a dad joke, and which he drives into the ground by constant repetition… and then keeps digging. The thing is, his cheery facetiousness keeps this section buoyant, and we are all quite endeared by his commitment to such a bad joke as he tests how far he can push us.
Other gags sparkle on their own merits, though. He's got a specially brilliant one about the humble aubergine intended to mock other people's ignorance - but which ends up exposing his own.
His core style is to complain entertainingly about imperfect experiences, from minute irritants when watching iPlayer to a more substantial story about his disappointing trip to a glowworm cave in New Zealand – a routine enhanced tonight since a woman in the audience took the blue-riband version of the same excursion. Her memorable experiences made Smith event more disgruntled about his own in comparison, perfectly feeding into his low-status stance. Although even he can exert some dominance by berating his hapless tech guy, the weak finding someone weaker to target.
Every element of this show is precisely placed but concealed by the sprightly, free-flowing nature of his stand-up, delivered with an infectious, super-friendly energy and taking plenty of cues from audience interactions to add an air of spontaneity. Meanwhile, other apparently random digressions end up having a point in relation to the show as a whole. The hour may be called Craft, but Smith has hidden his comedy craftsmanship behind a front of warm bonhomie.
Review date: 23 Aug 2018
Reviewed by: Steve Bennett
Reviewed at: Underbelly Bristo Square
Recent Reviews
What do you think?