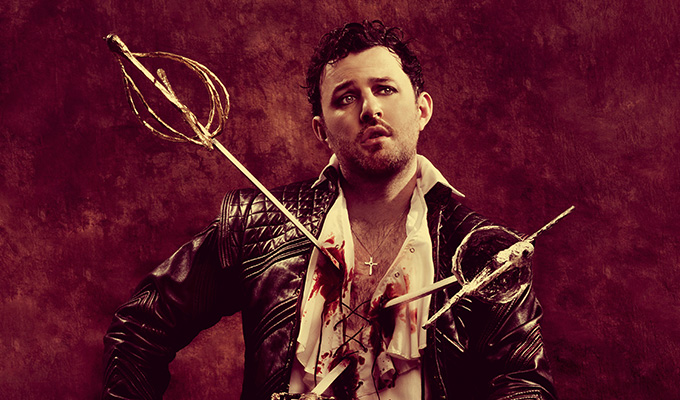 Ciaran Dowd: Don Rodolfo
As sharp as his rapier, as swift as his parries, and as tight as his codpiece, this uproarious story of legendary swashbuckler Don Rodolfo Martini Toyota is a riot from beginning to end.
Ciaran Dowd's alter-ego is a legendary swordsman - in both euphemistic and literal sense of the word. A 17th Century Spanish version of Rik Mayall's Captain Flashheart, this debauched adventurer has eyes a woman can drown in, an unquenchable libido and a thirst for revenge, travelling far and wide to avenge his father's death at the (six) hands of a mysterious nemesis.
The story is told with a suitably fiery passion and very little seriousness. There's enough to keep the story moving, the audience invested and Rodolfo just about credible – but everything is up for grabs for the sake of a joke. If there's a way to make it funny, Dowd will do it, no matter what angle it comes from.
There's the preposterous tone of the epic saga, of course, which also includes Rodolfo's talking smartass horse, his predilection for arson, the tall tale of him single-handedly slaying an army of 600, from whence his legend sprang, and his latter descent into a cheese-addicted funk
Postmodern gags abound, spoofing the spoof. Our red-blooded hero is from the Andalusian mountains, though he must have spent quite some time in Drogheda given how much the accent slips. He argues with a voiceover when he fails to comprehend a familiar theatrical device and has to deny that elements of his story have been plagiarised from a Hollywood favourite.
Yet while the tone is of constant mucking about, playing fast and loose with the fourth wall, it's underpinned by a taut script that wrings out a laugh every couple of lines, never flagging.
There are ridiculous touches everywhere, for while Rodolfo is quick of sword, he's slow of wit, and his dumb thoughts are always delightfully daft. I loved his absolute failure to grasp innuendo, deployed, subtly, in one great line about a brothel but never used again – a hit-and-run worthy of Zorro himself. For nothing overstays its welcome in this joyously ridiculous romp.
Dowd – previously best known as 33.3 per cent of sketch group BEASTS – has definitely got a cult hit on his hands here. And he'll duel with anyone who says otherwise.
Review date: 10 Aug 2018
Reviewed by: Steve Bennett
Reviewed at: Pleasance Courtyard
Recent Reviews
What do you think?