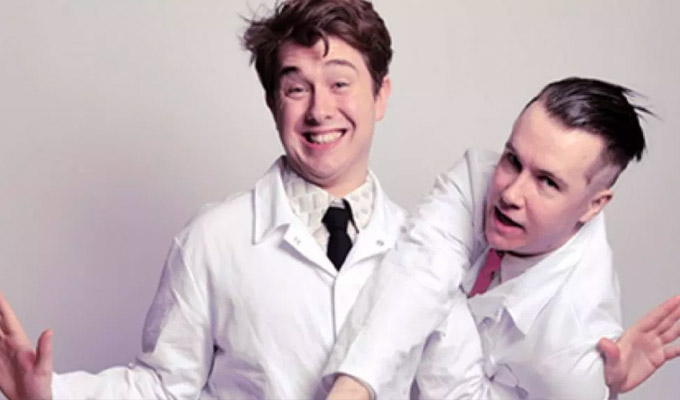 Moon
They may be newcomers, but sketch duo Moon have landed themselves a peachy prime-time slot in the Pleasant Attic, where many a comedy star got their first break.
And you can see why; there's something just a little off-kilter about Jack Chisnall and Joshua Dolphin that makes them immediately intriguing.
Despite cutting their teeth at the Oxford Revue, they play up their provincial roots.'This Is England, but sketches,' is how they define their own work, although A Clockwork Orange is another clear reference point given the white boiler suits they wear to create a brand. And the occasional ultraviolence. For there's a visceral brutality to some of the scenes, and when he's cornered, Dolphin certainly has an air of unhinged danger. But Chisnall reminds me of a reincarnated Rodney Bewes, both in accent and in the calm, sad dignity he projects. At least in his resting state - for he can get animated, too, when the occasion demands.
Despite the reference to Shane Meadows' skinhead film, Moon's sensibilities are more drama-class than hooligan subculture… there's an inventive skit about a One-Man King Lear, for instance, that probably hasn't sprung from the hopelessness of a housing estate.
Moons' calling card is a fluidity between sketches that blurs boundaries between one ending and the next starting – a shifting-sands approach that applies to some individual scenes, too, keeping the audience unsure of quite where they stand. And the 55 minutes is set against the ticking clock of a curry delivery, ordered via a website with some very specific options at the start, and which provides a neat wrap-up at the end.
For sketch show that's clearly smart, there are some relatively mainstream sensibilities to some of the skits too, from quickies that are simple, if offbeat, wordplay to musing 'what if Morrissey sang a World Cup anthem?' That is such a classic comedy set-up you might have thought someone would have done it before. But they didn't, Moon did.
Elsewhere we listen in on a meeting of the Softies, led by the Beano's Walter; witness the consequences of ill-advised plastic surgery and find ourselves among Paras about to go on a mission – all scenarios that are played out with a sense of peril.
These droogs are somewhere between The Pin and the now-defunct Idiots of Ants, which is probably no bad place to exist. But they are also clearly their own men – and their debut feels like the start of a cult comedy career, maybe more.
Review date: 13 Aug 2018
Reviewed by: Steve Bennett
Reviewed at: Pleasance Courtyard
Recent Reviews
What do you think?