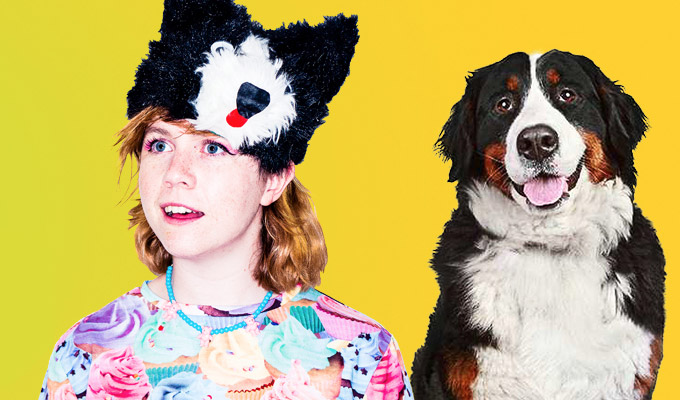 Claire Sullivan: I Wish I Owned A Hotel For Dogs
You don't go into a show called I Wish I Owned a Hotel For Dogs expecting Doug Stanhope. It's going to be madcap, it's going to be upbeat. What Claire Sullivan gives the 20 or so people in the Gilded Balloon balcony is a level of madcap and upbeat that's far beyond anything you can expect.
We are talking full-throttle twee, here. A pick n mix show of dogs, game shows, impressions, and more dogs. The strong streak of feminist politics that runs through it appears to be the main point of the show, although Sullivan's love for dogs runs it pretty close.
A skit-let about dads competing to be 'No1 dad' targets toxic masculinity and another suggests male colourblindness is revenge for the patriarchy. The backdrop of the same-sex marriage debate in Sullivan's home country of Australia rears its head – in that sense, this show is a bedfellow of Hannah Gadsby's Nanette, though they are entirely different propositions.
In that context, the high levels of silliness and absurdity in this show are perhaps an escape from all that, a way to enjoy life. Certainly, Sullivan is having the time of her life racing through her routines. I just couldn't get on board with it.
I found most of the show unfunny, but for a few bits here and there. There is a knack to absurdist comedy, it's not just completely random, and about the only time Sullivan nailed that was a game called Paper Plate Party Time, where she got each audience member to name a party food in turn then pelted us with plates. For whatever reason, it just worked.
Another brighter spot was a piece where Sullivan goes for a jog to get fit, and we hear her internal monologue, a device like Richard Gadd so successfully deployed. She's enjoying it then not enjoying it, then we hear a voice representing all the men she's slept with, and the scene ties off in a genuine comic twist.
But for those examples, the comedy content was weak. A part where Sullivan invents captions of pictures in a dog book could have been good, but the writing got sloppy quickly. Similarly, the aforementioned dog shows are fun but the potentially funny concepts she's come up with – a racist border collie, a pug who corners you at parties and talks about their creative projects – aren't converted into actual funnies.
Often a political point is made and the comic aspect of it is exaggeration, ridiculousness – like the 'No1 dad' bit for example – but that's not enough to make it funny.
There is also only so much child-like hyperactivity I can take, and it was indeed too much for a few people who walked out after about 10 minutes. 'It's not for everyone,' said Sullivan. And it's true, she has created something that is utterly uncompromising. That's a good thing, artistically speaking, but comedically it is very thin.
Review date: 10 Aug 2018
Reviewed by: Paul Fleckney
Reviewed at: Gilded Balloon
Recent Reviews
What do you think?