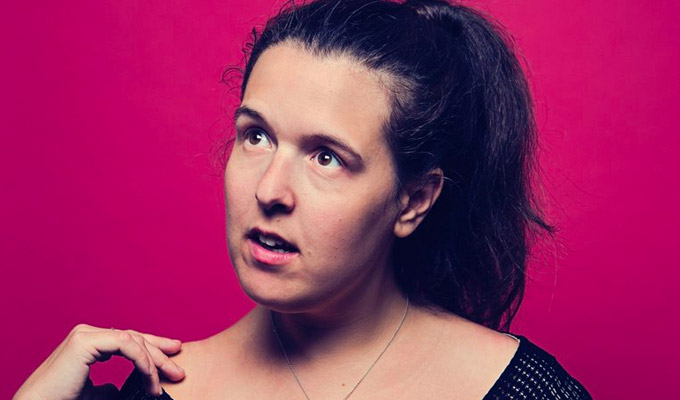 Rosie Jones: Fifteen Minutes
Call me an old cynic, but I'm always a bit wary when a comic greets you at the door, all smiles and dishing out sweets – aha! I think. A crutch! Getting people onside to make up for dodgy material! I've got your number! It turns out Rosie Jones has a different reason to be so happy as she welcomes us in: she's got a bloody funny show up her sleeve.
This is her full debut show after a sort of trailer at last year's Fringe, and I'll be staggered if this doesn't get a nod for best newcomer. In it, she displays a true comic sensibility and the 60 minutes fly by.
A good chunk of the show is about her cerebral palsy – the result of her not breathing for the first 15 minutes of her life. She gets some really belly-laugh humour out of this subject, being both self-deprecating and taking the piss out of us, the audience (whom she refers to collectively as 'Duncan') and our assumptions.
One of the effects of her cerebral palsy is that her speech is slow. If you think this might be a barrier to comedy then think again. Jones deploys this as another part of her comic arsenal, helping her with her chief task of leading us down various garden paths and playing with our expectations of what she's about to say.
If a joke is, fundamentally, a surprise, then Fifteen Minutes is full of them. Only once does Jones make a misjudgement on this front, a joke mimicking Craig David is flagged up early and does exactly what you expect. But otherwise, Jones pulls you this way and that, in total control of both her material and the audience. She revels in her manipulation, too – part of the fun is how much she enjoys playing us like a puppet.
A nice aspect of the show is the interplay between Jones and a hypothetical 'able-bodied Rosie', who doesn't have cerebral palsy and is, in Jones's words, a slaggy, prickish hairdresser. She breaks off to chat with this other Rosie (a recorded voice) and this device works both in being funny and breaking up the show a little.
There is something else Jones tells us about herself that I won't spoil here, but which is another springboard for her devilish sense of humour. A story towards the end about a visit to the Paralympics feels like leftover material that isn't as strong as the rest, but she turns it around for a strong finale.
Smart, mischievous, laugh-out-loud funny, I'd happily watch this show again.
Review date: 7 Aug 2018
Reviewed by: Paul Fleckney
Reviewed at: Pleasance Courtyard
Recent Reviews
What do you think?