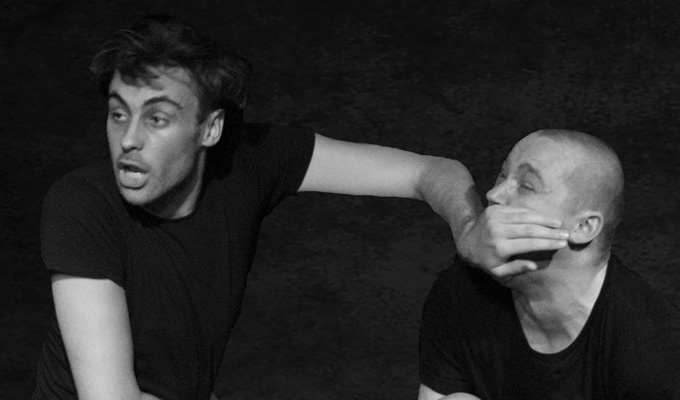 Willis & Vere: A Serious Play About World War II
Spoiler alert: The Serious Play About World War II isn't serious. Think Acorn Antiques meets Schindler's List and you wouldn't be far wrong.
Allegedly a verbatim piece based on the testimony of Holocaust survivor Herschel Günzberg, Willis and Vere present a crassly overdramatised, badly acted and oversimplified history lesson, complete with a hideously offensive, patronisingly explained lowdown on Jewish customs and a tightly choreographed Justin Bieber-style pop number set in Auschwitz.
It's funny because it's wrong on so many levels, including basic humanity. But is bad taste and wooden performance enough to sustain an hour?
Turns out it doesn't have to, because a few minutes in, events take an abrupt turn into a different type of ludicrous. What follows is a full-on old-school farce as misadventures are covered by lies of ever-increasing intensity.
George Vere comes up with increasingly Fawlty-esque explanations to try to talk away the extreme situations he's caught up in; while Adam Willis becomes increasingly frantic with worry as the escalating predicament closes ever-tighter around them. Ian Coulter, a musician whose key talents they never use, remains aloof and sanguine, a counter for all the frantic activity swirling all around.
To reveal plot points would be ruin the surprise, but just know that the team behind this show - who previously had a cult Fringe hit with The Starship Osiris – have created a high-octane blast of brash drama and manic comedy as our increasingly desperate anti-heroes make increasingly irrational decisions.
A couple of them test credibility, even for farce, but the powerhouse performance are so overwhelmingly frenetic you won't care. Actors have to suffer brutal indignities, and some bruising physical mistreatment, for your comedy pleasure as events spiral out of control towards gruesome extremes.
And it all pays off for this intense rollercoaster of a show that's seriously funny.
Review date: 21 Aug 2018
Reviewed by: Steve Bennett
Reviewed at: Underbelly Cowgate
Recent Reviews
What do you think?