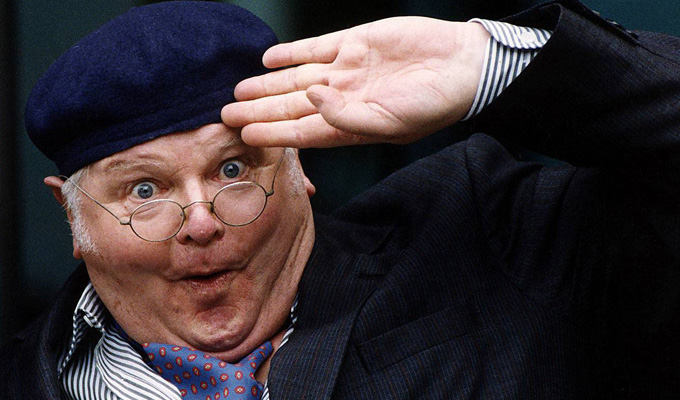 Benny
Benny Hill would not like Liam Tobin's portrayal of him in the latest addition to the ever-expanding canon of 'dead comedian' plays. Not because it isn't sympathetic, playful and compelling, but because he was such an intensely private man he would be horrified to have his personal life portrayed on stage.
Hill never enjoyed the trappings of fame. Despite his TV shows attracting British audiences of more than 20 million and lucrative syndication deals around the world, he died in 1992 in his modest apartment, uncashed cheques in the drawers, where he lived a solitary life with only the TV for company. Just the way he liked it.
This is where Benny starts, with the comic in his armchair, back to the audience, where Tobin recreates one of Hill's most memorable – and dirtiest – visual gags, He then turns to the audience and introducing himself, giving a brief biographical run-down in the style of Ernie, The Fastest Milkman In The West.
Over the ensuing hour, we get the rest of the career highs and lows: the struggles to make it as a stage comedian; his embracing of the new technology of television; his penny-pinching despite his vast wealth and how he fell out of favour as a new wave of political correctness swept through TV comedy while Hill was at his most hubristic. He was unceremoniously dumped by Thames Television, despite making them millions, an act that rankled with the comedian until the day he died.
In truth, it's nothing that most Benny Hill fans will not already know, but as in so many plays in this genre, a successful exercise in nostalgia. Not, perhaps, any yearning for his material - Tobin's briefest of appearances as Hill's Chinese alter-ego Chow Mein shows why some of it is best left forgotten – but for an entertainer people loved.
There's a recurring theme that portrays Hill as being akin to Shakespeare's Bottom, an innocent fool who's literally made an ass of, and a role he played in a 1964 BBC production. Just a little light erudition to go with the naughty jokes.
Hill's certainly an interesting comedian to tackle in this age of #timesup, given his attitude to women on screen and off.
His downfall is, in this play, largely attributed to Ben Elton's feminist attack on his namesake. Although the alternative comedy pioneer is not named, his routine from Saturday Live echoes around the room: 'While Benny Hill is chasing the girls around the car park, there are girls who are scared to go out at night after dark,' he says.
Question marks around Hill's sexuality are not addressed, nor are the more recent reports of the uncomfortable approaches he made to women – probably born more out of social awkwardness than ill-intent. For Benny is a restatement of Hill's legacy, not a reappraisal
Tobin is skilled at capturing Hill's cheeky charm, and hidden depths, without being a direct impersonation, most of the time. Although there are a few bonus comedy favourites who he does mimic in their fleeting cameos., such as Eric Morecambe, Syd James and Bob Monkhouse.
A couple more Hill sketches are dusted down, such as the innuendo-laden song Garden Of Love and a drag alter-ego, which proves that at least some of Hill's material stands the test of time, especially when captured with the impish sent of fun that Hill had, at least in his early days.
And the play ends with a poignant, quietly dignified eulo… of course it doesn't! It ends with Hill being chased around a park by a parade of nuns, policeman and cross-dressers as the inevitable Yakety Sax belts out. How else could it have ended?
Review date: 16 Aug 2018
Reviewed by: Steve Bennett
Reviewed at: Gilded Balloon Teviot
Recent Reviews
What do you think?