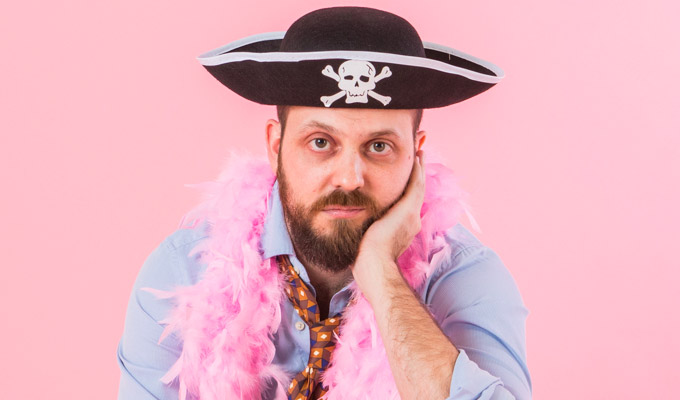 Owen Roberts: I Let A Six-Year-Old Write My Show
Cracking concept for a show you have to say. Owen Roberts, one of sketch trio Beasts, has a six-year-old girl called Isabella in his life now thanks to his new relationship, and he thought he'd save himself a bit of time and effort by getting her to write his new show for him.
Needless to say, it's completely ridiculous. Isabella has a field day, cooking up an outrageous story with little appreciation for continuity or narrative, and would require the sort of budget Roberts clearly doesn't have.
Isabella's input has been recorded, too, and is played to the audience so it's like we're having the conversation with her, stepping into Roberts's shoes as he tries to reason with the unreasonable. The story she conjures up is called The Clumsy Police (I know, instantly commission-able), and is a detective play set in Africa where a naughty man has committed 80 crimes and … I'll leave it there while it still vaguely makes sense.
Roberts himself is the cynical counterpoint, the brutal realist who simultaneously needs his young writer more than she needs him (once the title is in the brochure, it's too late), and also wants to please her, to realise her vision, however ludicrous it is. He is perhaps too cynical sometimes –sometimes I think the situation needed a bit more lightness and goodwill than piss-taking.
Roberts includes some intermissions about how he first met Isabella, which was an unfortunate incident in itself, and a slightly hammy emotional bit about the real meaning of family being about love, not blood.
You can see why he's done this but it's not strictly necessary, the audience is 100 per cent on board with the project by this point. This and the lengthy explanation of what the show is about feels a bit like padding.
But it's worth it in the end. The big finale is to finally stage The Clumsy Police, complete with audience members in the key roles (robber, dancing crab, the special effects guys). It's fun and funny, and, in fact, the topper post-finale is even better. A song of Isabella's that Roberts has been vetoing on the grounds that it's called My Bobs Are Out Tonight, gets an airing and Roberts's contribution is the highlight of the show.
This idea still hasn't been fully mined for all its potential, but it's still a winner.
Review date: 8 Aug 2018
Reviewed by: Paul Fleckney
Reviewed at: Pleasance Courtyard
Recent Reviews
What do you think?