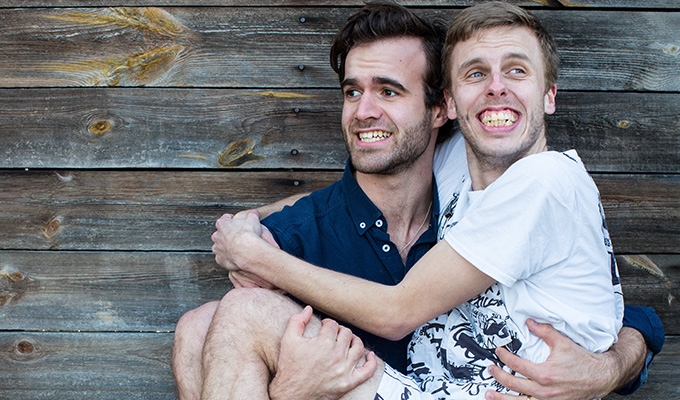 Harry And Chris Save The World
I have to admit I feared the worst when Harry and Chris's opening song was a deadpan funky number introducing themselves as Britain's best jazz-rap duo. For about the thousandth time, the Flight Of The Conchords have been lamely ripped off – surely it's about time some legislation was brought in to control this epidemic.
It turned out to be something of a mis-sell, as Harry and Chris are better than that. They display more comic flair in the first 20 minutes than most musical comedians manage in an hour. And with a self-declared mission to highlight the positive, uplifting aspects of life, this show is a thoroughly feelgood way to start an afternoon of comedy.
Harry and Chris Save The World is a little cloyingly evangelical to start with, and with the pari dressed in red and blue boiler suits there's also a whiff of children's entertainers to them, but the fact they can back up their cheerfulness with some good gags makes all the difference. As it happens, it's Harry who gets the best lines, and he also gets Chris out of a few improv holes, too, with some expert comic timing and delivery.
Most of the jokes are wordplay and puns (good ones, mainly), and they're smuggled into the lyrics in a way that's better than I'm able to describe here. There's a poem written from the perspective of Tian Tian the panda in Edinburgh zoo, and a poem for Harry's wife that reads like one of Andy Zaltzman's pun runs.
The standard dips for a Teletubbies-themed Crazy Right Now, which isn't especially funny and is only really good craic because Crazy Right Now is such a brilliant song. There's a tongue-in-cheek thread running through that their songs are able to influence real life – this is not overplayed and is just enough to give the show a sense of direction.
Then, towards the end, things take a bit of a surprise turn. Having spent the previous 45 minutes being about as controversial as a J-cloth, they start getting political. Out comes a song about our impending environmental armageddon, written from the perspective from their great-great-great-(I think)-grandchild. I can think of few subjects that are harder to turn into comedy than climate change, but they make a decent stab of it, and this slightly sober moment actually works quite well.
Then they get stuck into a number about the climate of fear and racist media propaganda, and the ambush is complete. Again though, they kind of pull it off. These final songs deploy silly humour to send a serious message about the state of the world to an unsuspecting audience. Suddenly, the panda whimsy seems a long time ago.
Review date: 17 Aug 2018
Reviewed by: Paul Fleckney
Reviewed at: Just the Tonic at The Mash House
Recent Reviews
What do you think?