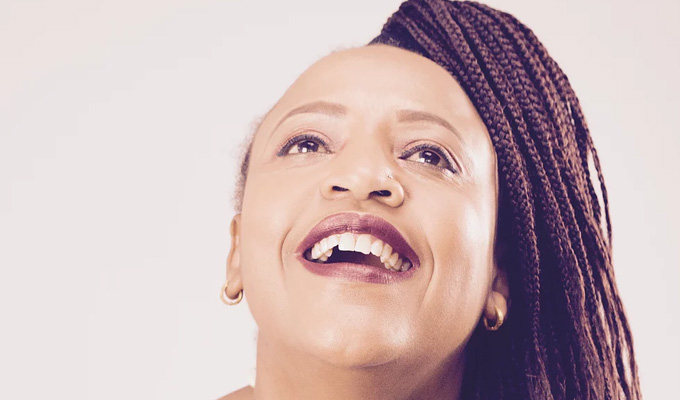 African In New York – Almost Famous by Njambi McGrath
This lightly entertaining, historical look at Africa, told via Njambi McGrath's experiences of moving from Kenya to New York City to attend university, is probably more of a comedic one-woman show than stand-up comedy. For although McGrath's jokes are well constructed, they do not naturally fit her personality. She appears a bit too formal, rather than genuinely amusing.
Having said that, McGrath has a strong stage presence, taking charge of her packed audience. She has plenty of fun stories and insights into Kenyan culture which certainly entertains and informs the mainly white audience, and while the laughter is scattered, it is consistent.
There are varied shades of light observational, and relatable humour, such as arriving at airports, mixed with much more weighty topics. She is unafraid to tackle racial prejudices, briefly touching on difficult subjects such as FGM and sharing lynching postcards, which she cleverly compares to Instagram.
McGrath - intelligent and well-informed – genuinely educates us with talks of intricate parts of slave history and widely-unknown pieces of African history, such as the fact Uganda was once ruled by a gay monarch.
She analyses the stark contrast between African culture to western counterparts consistently by mocking the perceptions of a stereotypical white girl in her late teens: superficial, rich and naive who feels she needs 'a detox from privilege'. She parodies aspects of the African culture, too, including the image of the scary matriarch, so nobody is safe from her funny parodies, energetically performed.
But McGrath never tries to elevate herself above her audience despite her detailed knowledge; she very much wants everyone to relate to her, regardless of racial background.
Her understanding of the black woman's role in society in America is honest, too, illustrated by ironic gags. In one tale she recalls being found in the boot of a car by a policeman as she was travelling to a party– and he didn't blink an eyelid.
In presentation, her African heritage controls her distinctive style of wordplay, with some lines coming across like a proverb, or vaguely poetic. For instance, she describes her skin tone as 'coffee with the right amount of milk'. But then she also uses unabashed language which you might not expect from a middle-class Kenyan woman, such as when she talks about taking a shit in phone boxes 'back in the day'.
McGrath has a grip on her audience, and when asking them a thoughtful question she faces a pregnant silence as they wait for her to answer, assuming it was rhetorical. And in repetitive, constructed physical sections she embodies the personality and powerful violence of America as a nation.
So, if you want an insight into African history and culture, as well as a reason to smile, this show will deliver.
Review date: 17 Aug 2018
Reviewed by: Sophie Cartman
Reviewed at: Laughing Horse @ The Counting House
Recent Reviews
What do you think?