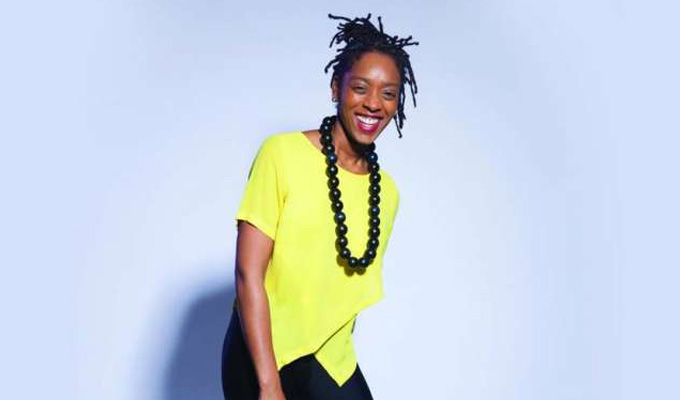 Athena Kugblenu: Follow The Leader
Athena Kugblenu is a confident comedian who wields power, commands attention and has a substantial strength of character. Leadership material, you might think.
Indeed that is is the premise of this show; to question what makes a good leader and whether she fits the bill
The audience is initially quite awkward, reluctant to respond to her questions. Perhaps this predominantly white crowd are slightly wary of engaging with the black Londoner with an innate sense of control, even though she's friendly with it. Sometimes they seem unsure whether she is serious or not, for example when she obviously jokes she couldn't remember the name of her baby's father or that she's a prostitute.
She is also well-read on history and politics and proceeds to give informative background information of leadership, touching on human evolution, apartheid, and her left-wing views. Jeremy Corbyn is praised for trying hard, but criticised for not doing enough. And in this context, she too, questions how she can do good in the world.
Her storytelling style is blended with dry jokes observing how we judge certain demographics. She's no stranger to such injustice, having been stopped three times by the police. Kugblenu's solution is to judge everyone.
She has a penchant for showing off ironically – and that includes presenting her pregnant belly. More pertinently, she's just as open when it comes to exposing her vulnerabilities and flaws as a future single mother.
Kugblenu lists her hopes and dreams for the baby, but in her style of undercutting a poignant premise with a ridiculous punchline, she wonders whether the unborn child will end up being an Android or an iPhone X child.
This set is full of great descriptions, well-written jokes, embarrassing stories and sarcastic observations of her family, as well as more political issues such as the Black Lives Matter movement.
On whether she could be leader of the free world, Kugblenu presents a manifesto for her new movement, APAFAUR (A Party As Flawed As U R), which focusses on the usual issues as well as calling back to earlier material and sometimes expanding on it.
When she asks for a vote at the end, it's pretty unanimous that Kugblenu should be a leader. Not just for being a strong woman, but because she admits to being just like the rest of us: trying to do the right thing if not always succeeding.
Review date: 21 Aug 2018
Reviewed by: Sophie Cartman
Reviewed at: Underbelly Bristo Square
Recent Reviews
What do you think?