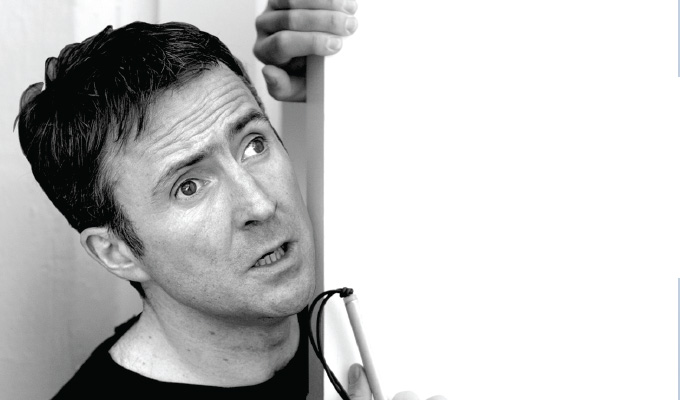 Jamie MacDonald: Blinkered
Jamie MacDonald's anecdotes usually revolve around a decision of whether to exploit or resist being a special case.
The blind Glaswegian tends to opt for the latter, as evidenced by his interview for the Personal Independence Payment, the revised disability allowance, which he sarcastically portrays as a gameshow in which the disabled can only win what they've previously been entitled to.
Out of spite, he pridefully portrays himself as more able than he is, risking his livelihood on a stubborn point of principle.
It's the same independent spirit that saw him resist the attentions of street evangelist Christians when they tried to take him in after a heavy night clubbing, ironically the incident that led to him meeting his wife.
A former banker who took advantage of an over-accommodating diversity scheme that brushed over his ineptness, MacDonald is conscious that he doesn't get the same level of opprobrium a non-disabled comic would get when he reveals this information, not least as he's a pity case even for tramps.
His blindness is his Achille's heel where his (non guide-) dog is concerned though, with his less than faithful hound placing him in all sorts of danger if its own desires haven't been met. And MacDonald's frustrated at a wedding to be the only guest who can't get a sense of an enigmatically-named, gender-neutral child.
While almost every decision in his life is impacted by his blindness, it's also his unique selling point as a comic and he capitalises on it to great effect, voicing and subverting other's preconceptions.
The Christians certainly underestimate him, as he uses their patronising offers of assistance as a launchpad for a theological digression into what his experience of heaven might be like, making them squirm with their good intentions. And he mischievously imagines the social stigma his mother would have experienced if he'd been born 70 years ago, extrapolating from her tight-lipped discomfort the howl of the Victorian freakshow exhibit.
Still, as the show develops, MacDonald relies less and less on his blindness for the punchline, moving from the anecdotal to the observational, particularly with a compelling pitting of millennials against baby boomers, revelling in setting them against each other.
He'll always have his unique selling point. But on the occasion of his sixth Fringe, he's still developing as a comic, edging towards a future where he might not have to address it in anything like the same depth.
Review date: 23 Aug 2018
Reviewed by: Jay Richardson
Reviewed at: Assembly Rooms
Recent Reviews
What do you think?