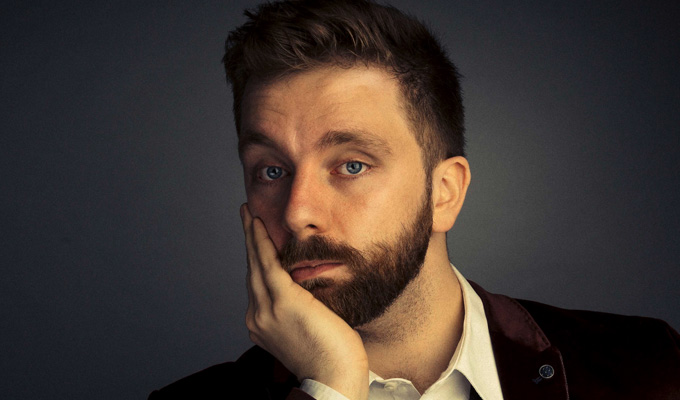 Pierre Novellie: See Novellie, Hear Novellie, Speak Novellie
As a writer for The Mash Report and Mock The Week, Pierre Novellie glances with envious eyes towards America, bemoaning their superior satire as the logical result of an administration that does the satirists' work for them.
He's being provocative to an extent, raising his own stock by comparison. Still, he more than proves his own informed, intelligent wit with a wonderfully simple yet persuasive analysis of Brexit towards the end of this excellent hour.
An insider-outsider, steeped in UK history but born in South Africa, a product of the British and Dutch Empires, he's got a detached but invested take on our mildly contemptuous relationship towards the continent, exaggerating the extremes of various European nations's behaviour in contrast with the UK's 'just right' reasonableness, at least in our self-reassuring national myth.
Brutally funny, with a forceful performance and psychological subtlety after the initial caricaturing, it nevertheless leads into an observation about the extreme right-wing attitudes creeping across an increasingly divided Europe, with the warning that fascism doesn't always announce itself with a plainly brandished swastika.
As a white African, he has one of the world's more suspicious profiles. And he's viewed completely differently by his UK friends and African family, with the process of him patiently explaining a British Christmas and the institution of the monarchy to his relatives highlighting all its unegalitarian scaffolding and eccentric oddness.
Still, in the new identity politics, which foregrounds difference and encouraging separatism, his background, supplemented by a public school education in the Isle of Man, sees the big comic pressed as tightly as anyone into his own little box to defend.
Brilliantly marrying the weighty and the trivial, he neatly sums up the British Empire's imperialist motivations with recourse to Scooby Doo villains, before a brief deconstruction of the cartoon's hitherto unrecognised running theme leads him on to the potent figure of Charles Manson.
Hilariously conveying the struggles of the cult leader's lawyer, Novellie argues that no attempt to reorganise society every happens without some group becoming the fall guys, no matter how euphemistically the revolution is sold.
The rise of the DUP at least affords him some of the US-style crazy politics he craves. But he wonders what we're going to replace religion within an increasingly secular society. Communism is dismissed as comprehensively as veganism, which he lobbies against with a thorough validation of the chicken as product.
Having previously performed personal material about his mental health and issues with food, there's a welcome change of focus here when he shifts from discussion of the extreme behaviour dominating contemporary discourse, with a few man-hating feminists poisoning the well for everyone, to a glimpse into his romantic life and trouble with crazy exes. Rationalising even here, with a reluctance to show real vulnerability, it's nevertheless evidence of a comic approaching the top of his game with potential still to develop.
Punchily assured and packed full of original thinking, drawing seemingly unlikely parallels while teasing out the contradictions and hypocrisies of so much conventional thought, this is Novellie's most consistent and thematically well-linked show to date, slickly polished in the presentation.
Review date: 22 Aug 2018
Reviewed by: Jay Richardson
Reviewed at: Pleasance Courtyard
Recent Reviews
What do you think?