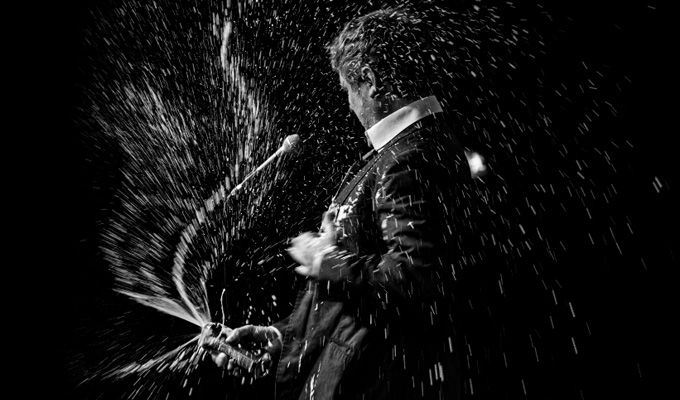 MICF: Tim Key - Megadate
Note: This review is from 2018
Tim Key has previously used a double-bed and a full bath as centrepieces for his stand-up shows, but in Megadate he has nothing more ambitious than a change of clothes and a couple of artily shot black-and-white short films.
That's apt, as there is a certain arthouse sensibility to his work – but as applied to the shabby life of a lonely, defeated man on the verge of a mental breakdown, or possibly just beyond.
His nuanced persona exudes an air of desperate menace, seething with passive-aggression that frequently slips into full-on truculence as he struggles to hold the mask of forced social bonhomie. When he calls members the audience 'mate', it's in a confrontational way. Yet for all his prickliness and try-hard swagger, a sympathetic character lies beneath, a man on the ropes putting up an alpha arrogance to protect against a cruel world.
This dichotomy is never in sharper focus that well he tells of a solo early-morning trip to a bowling alley, knocking back the Grolsch and celebrating his strikes, alone and shambolic, but regaled as a triumph of his individuality and free spirit.
The arc of Megadate is, of course, a date - one in which he'd taken the object of his infatuation to London's tackiest tourist hotspots. Never less than intense, he bombards her with texts across the night, and the next day, when he has to retrace his steps in the hunt for a lost bank card.
In his regaling of the story, he gloats of his successes: the Perrier award, playing Alan Partridge's Sidekick Simon, appearing in a West End play with Rufus Sewell, each vainglorious boast sounding hollow against abject reality. In a superlative section, he imagines himself on Desert Island Discs, already having decided on his eclectic mix of favourite tracks.
Somehow in the meandering story we get on to an absurd beef with Olympic long jumper Greg Rutherford, his diet cheats to impress his personal trainer, and a vivid description of his mother's obsession with cheese ('she's a slave to the Ched'). Yet all the stories flow organically, layering up the personality of Key's stage alter-ego.
He's known as a poet, and although the verses he reads from playing cards are rationed here, his ear for exquisite phrases is a sharp as ever. He makes the mundane elegiac, using understated irony to bring our the artifice of everyday badinage and creating delightful phrases in vividly descriptive passage about an outsider's life.
Uniquely creative, Key makes his audience work a little to look behind the brashness and connect some dots, but that only makes his elegant storytelling all the richer. There are shows with more laughs-per-minute, but few that are quite so rewarding.
Review date: 9 Apr 2018
Reviewed by: Steve Bennett
Reviewed at: Melbourne International Comedy Festival
Recent Reviews
What do you think?