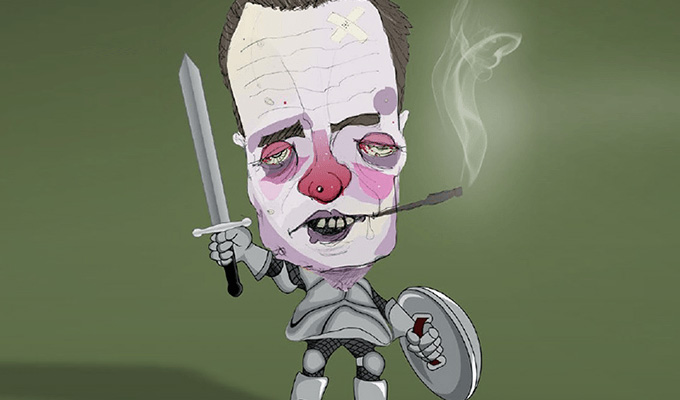 Go Slay Dragons!
Performing at 9pm on a Saturday night in the Hogarthian hellscape that is the Three Sisters, one of the rowdiest of all Edinburgh's pubs, would be a challenge for any performer, let alone one with a gentle story and low-key style.
Drunks barge into the intimate Wee Room, never apologetically, always demanding to know what is going on in their too-loud slurs, while even some of those who came to see the show sit in glassy-eyed befuddlement, not sure why they are there.
Such are the challenges Dan Cardwell faces as he tries to tell a tender tale of a lost love – and a lost passport. Yet he dealt with the interruptions with a resigned shrug, accepting this is sometimes the lot of a Free Festival performer, underlining his credential as a low-status, mild-mannered storytelling comic.
The structure of Go Slay Dragons probably doesn't help the muddle-headed either, as he jumps around the timeline without always making it clear where we're at. For this is a story about being dumped by a potential fiancé, about the ordeal he had getting his shit together for a romantic break, and about a possible reunion, all scrambled up.
His sell-line: 'I almost got shot and it was all Rupert Murdoch's fault' is a misleading spin worthy of his former employer's newspapers. But he did work for Murdoch in a quest to add some financial stability to his life - although in quite what capacity isn't quite made clear – and he did have a run-in with armed police in Belfast. But that was entirely of his own making.
There's another strand about him doing battle with the titular dragons, which is what he calls the voices in his head. The concept is nicely realised via audio snippets recreating that choir of inner monologues, but it's too readily abandoned. And, indeed, they were only ever secondary to the tale of his self-inflicted screw-ups.
The structural hiccups detract from his tale, but don't totally undermine the unshowily engaging story. It's a very 'written' piece – indeed he clutches a notebook for the duration – not fluid stand-up. But Cardwell deploys some winning turns of phrases, such as his description of himself as resembling 'someone who molests an orphan in a Roald Dahl book', or Holyhead as 'a town directed by Ken Loach'.
Quiet, wry jokes in these low-key anecdotes raise frequent smiles, even if there's rarely any danger of them tipping over to full-blown laughter. Yet Cardwell succeeds in creating a warm feeling the room, a cocoon of empathy amid the drunken hedonism outside the door.
Review date: 21 Aug 2018
Reviewed by: Steve Bennett
Reviewed at: Laughing Horse @ The Free Sisters
Recent Reviews
What do you think?