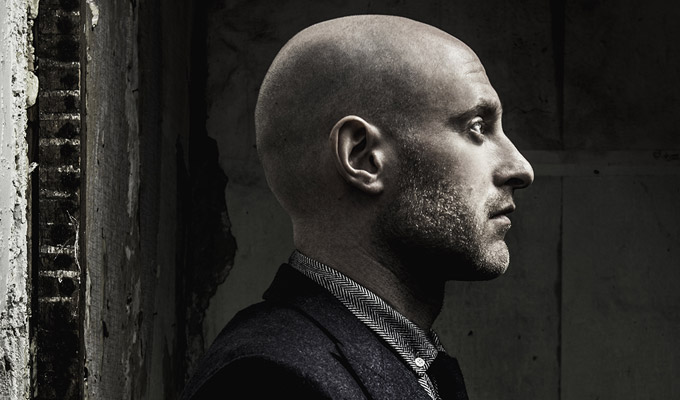 Henry Paker: Man Alive
By rights, the multi-talented Henry Paker ought to be far better known than he is. If the mass of men lead lives of quiet desperation, he's their unrecognised spokesperson and illustrator, his inspired observations supplemented by his quirky skill as a cartoonist.
He begins by sketching a graphic rendition of The Beatles' Nowhere Man in real time on to his big screen, the drawings varying between a literal and a fantastic interpretation of the lyrics, the pace of the song informing the speed of the scribbling, with creativity through restriction.
With his professional cartoonist credentials supposedly established, he then shares some of the highlights of his recent illustrating career - a series of familiar logos he's claiming credit for, only mildly peeved that the corporations have cropped them down to the sanitised part of his image. And not the howling despair visible in his original versions.
Tom Stade has a routine about pop songs being preoccupied with the thrill of new romance rather than the cosy familiarity and mundanity of a long-term relationship. And after four years of marriage, Paker makes the same point, disclosing tension through snippy little comments about coasters being in the right place.
Yet whereas the Canadian is a genuinely cool man, whom it's almost surprising to learn has a regular home life, Paker is an inherent nerd. He crams the little bugbears and irritations of his marriage into an inelegantly scanned tune that feels like a misguided play for the charts, with no restriction on the falsetto with which he croons it.
Marriage, in his portrayal, is a war of attrition, a lovely idea in theory and in sum, but immensely trying in isolated moments. A sometime writer for Michael McIntyre, Paker's collection of stock phrases to get you through any tedious conversation with your spouse is prime McIntyre, except with a little too much edge and too close to home for Middle England.
He doubles down on this with the delights of having the house to himself, indulging in what can only be described as wanking whimsy. Then he captures the peculiar misery of being middle-class, the one-upmanship of denying oneself pleasures, the depressing reality of healthier and free-from foodstuffs or self-improving trips to the theatre, encapsulated in the single betraying word he identifies people conning themselves with.
Encountering other Brits on holiday, friends who've taken up marathon running, Paker would be happier as an island he implies, left to his own peculiarities.
That's certainly the theme of his cartoon series about David, an isolated clock enthusiast, living alone in a forest, content in his relationship with Nobody until a minor errand forces him to quit his sanctuary and head into town. A charming, bittersweet parable about loneliness and love, satisfyingly calling back to previous jokes, it's a neat encapsulation of Paker's distinctive worldview and little leaps of logic from the commonplace to the absurd.
Review date: 26 Aug 2018
Reviewed by: Jay Richardson
Reviewed at: PBH's Free Fringe @ Banshee Labyrinth
Recent Reviews
What do you think?