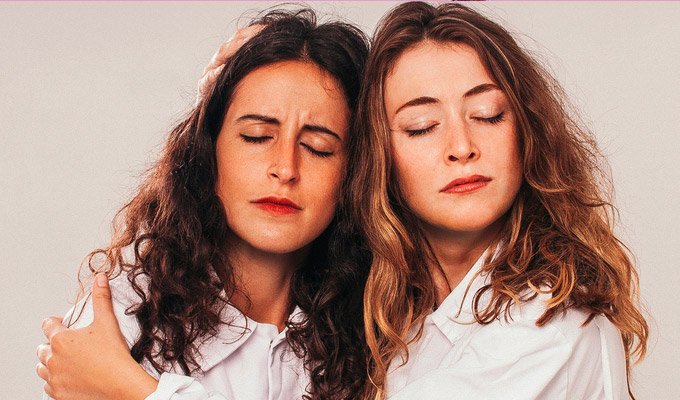 Roisin And Chiara: Back To Back
There are a lot of double acts on the Fringe, and while they all have their quirks and variations, they often seem to be cut from the same cloth. Not so Roisin and Chiara who bring a unique brand of bonkers energy to their surreal show.
Sure, there are undertones of the usual influences: Vic and Bob when they stupidly repeat 'I've had it up to here with you' at each other, The Boosh now and again, and all those acts that psychologically molest their audience by getting in their face (or laps) when they dive into the crowd. But they are very much their own women.
They take their cues from music as much as comedy, from the jazz-scored scat comedy at the start, to high-energy dancing, to occasionally speaking in song lyrics, to a rendition of The Police's Roxanne. No wonder there's a weird flight of fantasy that has them going to an underground club with Avril Lavigne at Glastonbury.
Róisín O'Mahony (Irish, no surprise given that name) and Chiara Goldsmith (Italian) are dynamic performers, forceful in imposing their personalities on to the audience, but never over-aggressively. Even if both can be almost psychotically intense when playing up the flirty vamp side of their characters, it soon passes.
They clearly have a strong bond between them. One skit explicitly likens their working relationship to a sexless marriage, but there's a lot of chemistry, and every scene seems to have been built from their goading each other into what madness they can tap into next, ramping up the odds.
They imagine an alternate way the 'blue pill' conversation that sets The Matrix plot into motion might go; there's a strange relationship between woman and beast (one of several scenes involving animal-head masks) that's treated as the mundane basis for a mini kitchen-sink drama; or they'll just gross out by ramming too many marshmallows into their mouth. Sometimes the insanity escalates quickly, sometimes it just simmers.
There are more gear changes than a motocross rally, as they flip between styles and tones, a constantly-changing flurry of invention that makes them impossible to nail down, while still remaining essentially 'them'. For whatever they are doing, it's apparent that this pair have got the mischief in them.
Review date: 14 Aug 2018
Reviewed by: Steve Bennett
Reviewed at: Boteco do Brasil
Recent Reviews
What do you think?