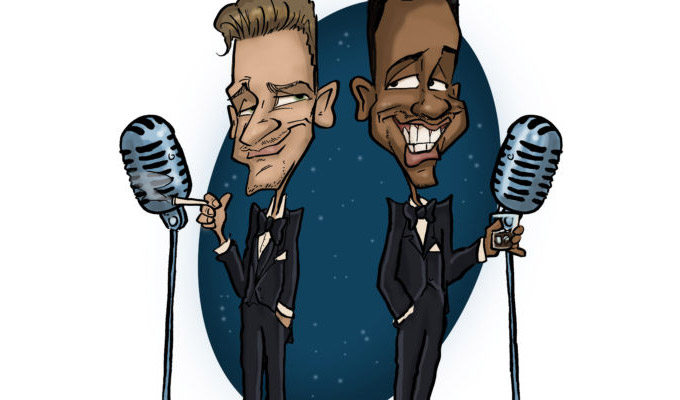 The Crooners
For an hour this austere bunker where students usually store canoes is the Starlight Lounge of the Dunes Hotel, Las Vegas, at the peak of the Rat Pack's heyday. Frankie Paradise and Louie Valentine take to the 'stage' in their tuxedoes for an elegant combination of swinging jazz standards and stylish comedy consumed over classy cocktails.
Brendan Murphy and Kiell Smith-Bynoe of the BattleActs! improv troupe certainly provide the right level of louche charm in their breakaway debut, which adds some fine moments of silliness to an affectionate tribute.
They are not immune to the cheesiest of second-hand gags ('Wind turbines? Big fan') – which are inevitably followed by a 'badoom-tish' rimshot on the drum, provided by their keyboard played Jimmy Montana.
Words to the classic songs of the era get rewritten – including a fine, less date-rapey version of Baby It's Cold Outside – while elsewhere they flex their old improv muscles by ad-libbing some musical couplets based on how audience members got dumped… with, at best, mixed results.
Murphy and Smith-Bynoe have an easy, playful relationship, covered in an oily insincerity that's entirely authentic for the type of entertainers they have adopted. 'Uh-oh, did somebody say eggs?!' Is the level of subtlety they employ for their segues. Any mockery of the style is entirely well-meaning as they revel in the old-school showmanship their trappings provide, and the latitude it gives them for silliness.
However, despite their efforts to change things up with a few bits of business, Murphy and Smith-Bynoe 's shtick isn't quite enough to sustain the hour, so it comes to feel like they are compering a variety show that doesn't exist. But that I'd like to see – as their schmaltz and their backchat sets such a great mood
Review date: 15 Aug 2018
Reviewed by: Steve Bennett
Reviewed at: Pleasance Courtyard
Recent Reviews
What do you think?