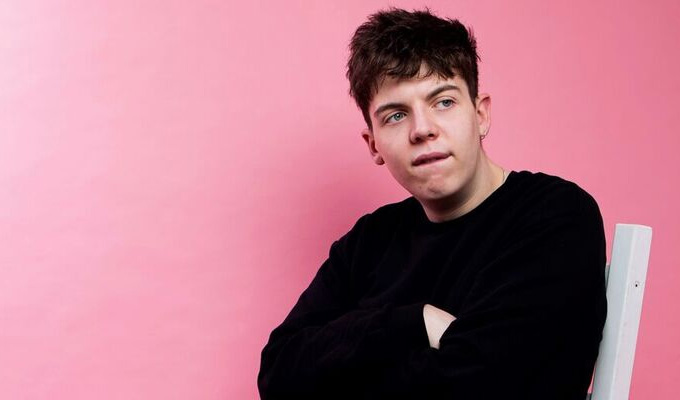 Ed Night: An Aesthetic
There's a bombshell in Ed Night's show that, depending on whether it explodes into the world beyond Edinburgh, could be the making of him.
In the same way that Hannibal Buress used his platform to call out Bill Cosby for past crimes, Night is publicly alleging that a famous British comedian has skeletons in his past that are an 'open secret' in the comedy industry – and that a reckoning is overdue.
Britain has different defamatory laws to in the US, so he stops short of making specific allegations, and doesn't offer any evidence, but he goes as far as he can and in the strongest possible terms, while staying on the right side of the law.
As a routine that encapsulates Night as a comic: bold, fearless, full of moral certitude, and crucially, funny – his closing line on this section is a beauty.
So if you like your comedy to have a bit of purpose, this is a show for you. It confirms what was amply documented last year when he got a Best Newcomer nomination at the age of 21: that Night is a prodigiously talented young comic.
When he's not trying to take down household names, Night is taking aim at the BBC for its hypocrisy for not letting him use the word 'cunt'; Britain's sex education policy for not preparing children for the real world of sex and internet porn; David Bowie for being as bad as Spacey and Cosby; Spotify for selectively withdrawing R Kelly's music but not Bowie's.
As is necessary for the righteous comic, he turns on himself too, questioning why he's unable to stop adoring Kanye West despite the rapper going a bit Trumpy.
This will sound like many people's idea of a nightmare: a skinny Generation Z-er telling everyone off for being wrong. Some people pathologically hate the young of course, particularly if they are talented and political. For everyone else, Night is far more likeable and charming than the stereotype allows for. He's also the kind of comic that you need to come along every now and then, someone who makes an enemy of complacency.
It's not all achingly right-on, either. There are some hugely enjoyable tales of living with his granddad and his reasons for not being in a relationship. There's some cracking material on rimming, too.
The thing he seems to care about most is the corrosive effect of social media, and he goes right to the core of the sort of performative moralising and culture wars that Twitter exacerbates. On this subject he sacrifices some laughs and, I have to say I didn't mind; he's a charismatic enough performer to buy enough space to talk for a little while about something that's interesting.
The comic he reminds me of most is Mary Whitehouse-era Rob Newman, though perhaps with a bit less arrogance (which is no bad thing). The one misstep on the night I attended was that he didn't deal with a chatty drunk in the front row. A more experienced performer would have nipped the problem in the bud, instead he indulged her and it was up to the audience to intervene. Perhaps that's a type of courage that Night hasn't fully developed yet.
It's clear to me that Night has got it. He has the sort of mind and presence of someone who's in comedy for keeps if he wants to be, and with An Aesthetic, he's only just getting started.
Review date: 13 Aug 2018
Reviewed by: Paul Fleckney
Reviewed at: Pleasance Courtyard
Recent Reviews
What do you think?