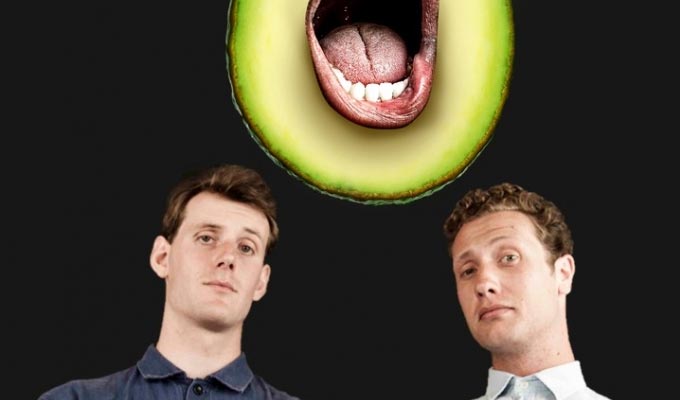 Avocado: Definitely Maybe Not
I'd love to be able to tell you that Avocado smashed it.. but that pun will have to wait for another day.
Acknowledging their demographic might not be what the sketch circuit is missing, Dave Christie-Miller and Max Norman describe themselves as 'two posh twats'. Yet while they are happy to send up themselves and their entire generation of young twentysomethings in this lively hour, their writing is usually too simplistic to stand out.
That's best encapsulated in a scene comparing the true hardships of the World War One trenches with today's overindulged youth, which is very heavy-handed. There is no subtlety, nuance or attempt to address this obvious fact tangentially: just one man going through hell next to another vaping and trying to get the best Insta shots.
Too often they head for obvious ideas. After a high-energy preamble, they start with the uninspired premise of James Bond facing an HR inquiry following colleagues' complains about his behaviour, although the fact his interviewer is called Bond James-Bond is a winningly silly touch.
Playing a word association game is another first refuge for any double act short of ideas, as is mocking pretentious perfume ads, Hippy yoga instructors, their speech patterns full of such Valleyspeak fillers as 'yah' and 'like', are another easy target, though some playful, messy audience interaction detracts from the cliché in this fun skit.
A character with Tourette's is introduced just to swear a bit, which is too close to just laughing at a disability for comfort. Being gay is a punchline to a couple of other gags, too. None of this is particularly offensive, just lazy.
Not all is lost, with some scenes offering a twist on the expected, such as a Dragon's Den parody for vampires. A favourite is the scene with two snooty women obsessed with getting into society events, pretending to be pals with the A-list, while accidentally exposing their nasty racism now and again: a mix of class obsession and prejudice that surely affects a huge swathe of middle England.
But perhaps appropriately for an age group supposedly so obsessed with the perfect selfie, Avocado has a good presentation, but it's ultimately superficial.
Review date: 19 Aug 2018
Reviewed by: Steve Bennett
Reviewed at: Pleasance Courtyard
Recent Reviews
What do you think?