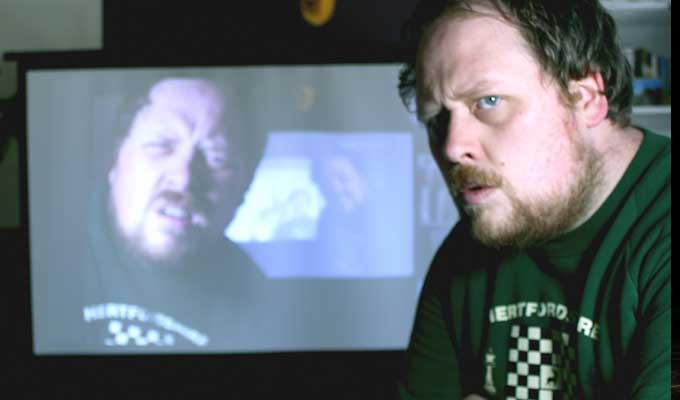 Richard Hanrahan Is Doing This
Call it a dereliction of duties, but Richard Hanrahan has essentially crowdsourced his Edinburgh debut, asking his audiences 'what is comedy?' and then acting out what they understand, or love, about the genre.
However, it hasn't made his life easy as the show has been evolving over the month. Each performance has been filmed, and the best results reincorporated into the next, like an artificial intelligence, ever learning, ever refining, as he hones in on perfect comedy.
The question has generally been answered as 'what do you find funny?' So the likes of dark comedy, slapstick, Stewart Lee-style repetition and some very specific personal circumstances – 'pocket biscuits' anyone? – become incorporated into the show. Today we recreate Vera Lynn keeping spirits up during the Blitz for the enjoyment of future audiences.
One downside of this formula is sometimes the previous shows look more fun than the one you're in. The incident when he painted a face on his stomach, to have it thwacked with a frying pan looked hilarious, if painful. However, the gigs where he's playing to two people seem a lot more awkward than the current one, so swings and roundabouts.
It's an interesting experimental format - peak Fringe, almost – and means audiences get a variety of styles, from cheesy puns to bleak jokes about Jade Goody even if the quality is decidedly hit-and-miss.
But can we hold Hanrahan responsible for what audiences have instructed him to do? Is he just their avatar? Well, clearly no, how he interprets the suggestions really defines the show.
He's committed to his research, which overcomes a slightly awkward and harebrained natural demeanour, and throws himself into the challenges. After an hour we're surely no closer to finding out what is comedy – but its fuzzy definition has just expanded a little more with this enthusiastically eccentric addition to the genre.
Review date: 26 Aug 2018
Reviewed by: Steve Bennett
Reviewed at: Just the Tonic at The Grassmarket Centre
Recent Reviews
What do you think?