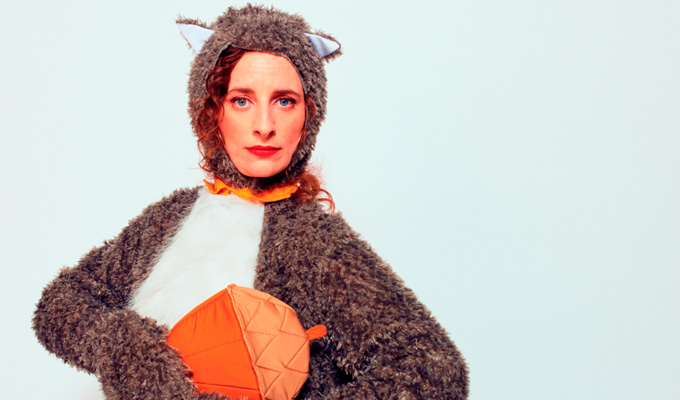 Felicity Ward: Busting A Nut
High-spirited Australian comic Felicity Ward made her mark on this festival with shows that brought such taboo and personal subjects as anxiety and irritable bowel syndrome into the light.
But it's been a couple of years since she's been in Edinburgh, taking time out to get married and go on a couple of holidays - the sort of things you can afford to do when not funding a Fringe run.
Those experiences are pretty much the cornerstone of Busting A Nut, which foregoes big themes and strong narrative – because if a comedian's funny enough, such concerns don't need to matter. And Ward, sharper than ever after her sabbatical, is plenty funny enough, with a zippy show that needs no other support than a couple of callbacks.
Her energetic, scattershot delivery is paired with a winning combination of silliness and unexpected cynicism. For instance, given her experiences you might expect her to have some sympathy with morale-boosting Instagram affirmations. But no, she sees right through that trite positivity and gleefully lays into the hypocrisy – knowing that an inspirational quote rarely comes from someone at their most inspirational.
In this routine, and many others besides, her disbelief and passion ramp up exponentially, offering a pounding onslaught that takes down the target from several angles.
She is a uniquely animated performer, both in her increasingly agitated observations and in segments that show off her gawky physicality: a recreation of Olympic walking proving one of the silliest manners of perambulation since John Cleese donned his pinstripes and bowler hat.
Her miscellany of routines also takes in the relationship-straining travails of living with the in-laws, whose peculiar shopping habits spark another coruscating outburst. Ward's own mum, more than slightly ditzy by the sound of it, provides more fodder, often just by simple reporting of her peculiarities.
Ward's personality is a mix of the sassy and the insecure, with mental health remaining one of the hues in her comedy palette. In a painfully accurate reconstruction, she mimes building up the confidence to don red lipstick, trying to project a sexual confidence she's not sure she can pull off that resonates with the vast majority of women. That said, she also offers a perfect takedown of slut shaming with something of a swagger.
Her pièce de resistance is on similar ground, recreating the heightened emotions of a drunk girl on a night out. As a comic, Ward's clearly been in enough city centres late at night to make this as accurate a depiction of animal behaviour as any David Attenborough documentary, even though she's been sober herself for more than 11 years.
Yet on stage Ward is the life and soul of the party, energising the audience and bouncing back off them, too, giving a sense of spontaneity. Busting A Nut is another raucously funny offering from a consistently funny comedian.
Review date: 4 Aug 2018
Reviewed by: Steve Bennett
Reviewed at: Pleasance Courtyard
Recent Reviews
What do you think?