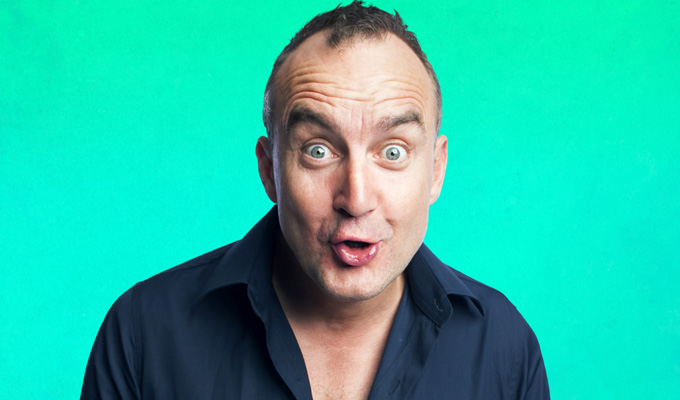 Jimeoin: Result!
Conference centres aren't the easiest place in the world to crack a smile, but with the Pleasance outpost at the EICC you stand half a chance. And that old hand Jimeoin showed that it can be done.
Just as conference centres are the antithesis of laughter, observational comedy isn't exactly the first thing you associate with the edgy Edinburgh Fringe. Personally I think it's a universal artform, though, a starting point for understanding the world around us. And Jimeoin is incredibly good at it.
He has nothing to prove by now, 52 years old and with a solid fanbase across the world, you're not going to get any surprises. And with Result!, he delivers an hour of pretty masterful stuff.
As with most observational comics, most of it is extracted from everyday life, and one of his go-to techniques is facial expressions as a punchline. When he describes accidentally burping during a conversation with someone, or trying to escape a fart when someone you know approaches, the expressions he pulls to round the joke off are, for want of a better word, perfect.
The amount he conveys in such tiny movements, they're like little bonsai jokes, impeccable in their tininess. He pushes this further to imagine animals taking on human facial expressions – his 'cow in the rain 'is bang on – in a routine that wouldn't be out of place in the hands of Eddie Izzard.
Other quotidian subjects are small moments of glory, like remembering when it's bin night, or simply managing to post a letter. Occasionally his jokes cross paths with politics and the wider world, such as when he talks about his efforts to take plastic bags to the shops, and the environmental message that he can feel slowly sinking in. It's moments like this when you are reminded what a tiny universe this kind of comedy usually exists within: it's all about us, the politics of our sovereignty, never mind anyone else – and at that level I have an objection to it.
Rather like Milton Jones, Jimeoin's delivery is so honed that he's taken it down to the most microscopic inflections in the voice, all low-key and never over-sold. There's no shortcut to that kind of control, and it is most reassuring as an audience member.
Atypically, he included one routine that's the sort of thing bad observational comics do, though it still got a huge reaction: a song that simply listed the different things you have in the top drawer, second drawer and third drawer. More original was his version of people telling stories about themselves that make them sound like a hero.
His finale is a couple of songs on the guitar, in which the humour comes not just from what he's saying but how he says it, finding the funnies in rhythm and music in a similar way to Bill Bailey. Jimeoin has clocked up 25 Fringes now, and his latest show confirms him as a master storyteller and an expert gagsmith.
Review date: 10 Aug 2018
Reviewed by: Paul Fleckney
Reviewed at: Pleasance @ EICC
Recent Reviews
What do you think?