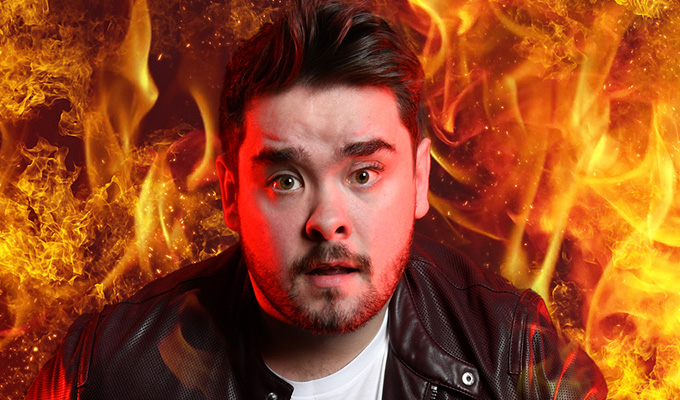 Adam Rowe: Undeniable
Club comedians often struggle to make an impact at Edinburgh, whether because of an industry that prizes artistic merit higher than generating laughs, or the failure of an act to realise that a good hour is a different prospect from a strong 20 minutes – or a combination of the two.
But Adam Rowe could cut through with a crowd-pleasing show that's start-to-end funny and features no dead relatives, no social manifesto and no clumsy structural devices to break up what stand-up should be: a comedian talking.
Instead, his only avowed aim is to be the best comic he can be, putting in whatever graft is needed and displaying a naked ambition that most Brits would recoil from. He was putting together self-produced national tours when still wet behind the ears, which seemed too soon. But it has helped this Liverpool lad become a highly assured stand-up at just 26. He certainly has the easy confidence of a comic a decade or so older, owning the stage from the moment he steps on to it
For its apparently loose nature, comprising a series of anecdotes about Rowe's upbringing, relationship and day-to-day-life, Undeniable does have something of a theme about how that bulletproof self-belief can tip into selfishness.
His many routines about his girlfriend, for example, rest on the fact he doesn't think she's 'The One', which is not exactly romantic. But such flippancy is funnier, and that's why he does it, and also why he mocks her for her naivety. He then tries to soft-soap the situation by outlining a reason why not being 'The One' is a good thing, a keen example of that comedy staple of back-engineering a justification for an undeservedly harsh stance.
But Rowe wears the egocentric theme lightly; he's not a slave to it and you'd barely notice if he didn't point it out now and again. This is an hour that puts the LOLs first.
His hankering to make it to the top also has him question whether his working-class roots are a help or a hindrance, and you'd have to conclude that his background given him the stories and the street smarts that inform his material – not to mention his drive to succeed to leave that past behind and the sort of sharp mischievous delivery that could get a guy out of trouble.
For Rowe's loquacious gift of the gab gets the crowd on board. He's very much an Everybloke, confident with the smart badinage but with an instinctive feel for pace and timing, all of which elevate good material into the great. Even a story about an encounter with a surly Greggs employee, which pretty much takes the route you might expect, is given comic impetus by the restrained but certain way he lets it unfold. Another example of the underplayed assuredness which defines his performance.
Notwithstanding his matey, conversational style there are moments of thoughtfulness here. He speaks of trying to lose the homophobia ingrained from years spent in the playground where 'gay' was the biggest insult going; or of how he can understand how Islamaphobia spreads among those who know no Muslims. Such points are subtly raised rather than laboured – just like the mention of his alcoholic parents – so it never feels like preaching or emotional manipulation, just honest stories given the funny twist.
There are plenty of shows with those extra dimensions. But if you don't want to work for your laughs, Rowe makes it easy for you to enjoy him.
Review date: 5 Aug 2018
Reviewed by: Steve Bennett
Reviewed at: Just The Tonic at The Caves
Recent Reviews
What do you think?