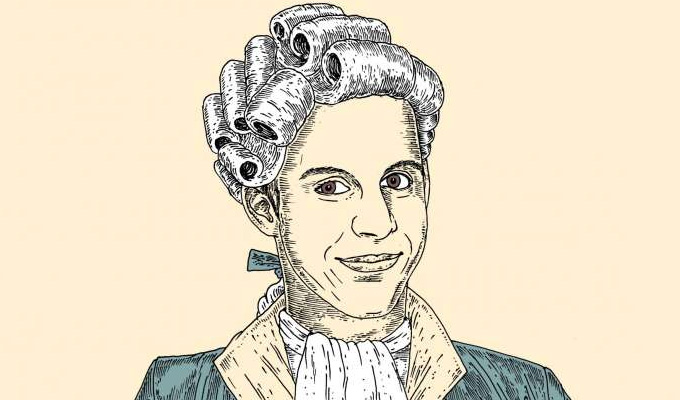 Nick Hall: Spencer
It's surprising that the story of Spencer Perceval isn't better known, comedian and proud history graduate (2:2) Nick Hall argues. Perceval is a man reduced to a political footnote and occasional trivia answer, despite the question being the rather significant: 'Who is the only British Prime Minister to be assassinated in office?'
So Hall dons a cut-price version of the dandyish clobber of the day to take us through the riches-to-riches story of the nobleman's son who became Britain's 21st leader, acting out all the parts in dramatic recreations of scenes from his life. It's basically a sober version of Drunk History. Or just 'history', as it's otherwise known.
Hall's an engaging educator who brings the facts about the story to life. Most of his gags stem from the anachronistic commentary, with references to the likes of the millennium bug or social media brands – while he also raises an eyebrow to the realities of the era, from women's unfulfilled potential to shorter life expectancy.
In that spirit, his portrayal of the tiny Perceval (5ft 4in, apparently) seems to be an aloof millennial, hoping to follow his dreams like an early 19th Century X-Factor contestant. However with a redundant, lazy 'yeh?' tagged on the end of many a statement, it's not clear whether this is how Hall's chosen to portray Perceval, as an aloof character, or whether it's just commentary. Either way, we don't get much of an idea into what manner of man Hall wants us to believe Perceval was.
Meanwhile, his murderer, John Bellingham, is given a rather earnest – and certainly laugh-free – speech to explain his beef with the Premier. Although he was motivated by a personal grudge because he believed the government owed him money, rather than any great political ideal, Hall attempts to link possible motives to modern-day causes from Brexiteers to overweening liberals.
Hall's self-deprecatory quip about the 'toothless Radio 4 satire' in his commentary is, sadly, a little close to home a lot of the time, with plenty of perfunctory gags. Yet there are are few smarter ones, too – such as the introductory commentary that runs backwards through time that, for example, has Margaret Thatcher opening all the mines to quell industrial unrest.
By unearthing an overlooked political figure from history, could Spencer be the British Hamilton? No, but Hall makes a good fist of parodying the Broadway in another of his show's highlights.
Review date: 3 Aug 2018
Reviewed by: Steve Bennett
Reviewed at: Underbelly Bristo Square
Recent Reviews
What do you think?