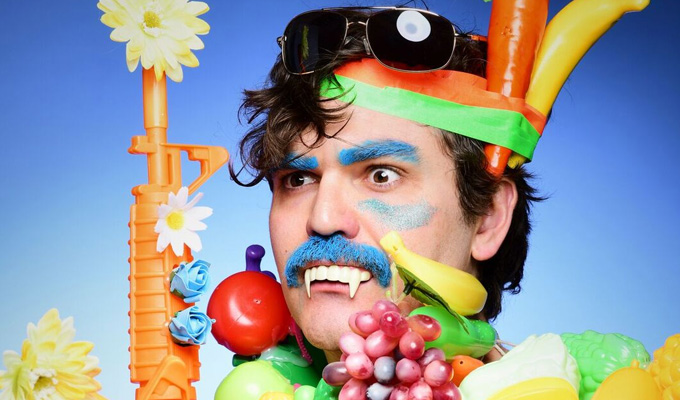 John-Luke Roberts: All I Wanna Do Is [FX: GUNSHOTS] With A [FX: GUN RELOADING] And A [FX: CASH REGISTER] And Perform Some Comedy!
Note: This review is from 2018
John-Luke Roberts asserts a serious purpose for his hour of nonsense, claiming it to be a 'manifesto for absurdity'; a celebration of the surreal for the sake of it. After all, he argues, comedy shouldn't have to follow a narrative: stories are just lies we tell ourselves to pretend to make sense of a random universe, so why shouldn't art be random, too?
Proclamation over, and we are thrust headlong into a relentless tempest of insanely inspired shenanigans; a dizzying parade of mad skits and eccentric characters, all built on a nugget of peculiar innovation. Quite what corner of his unique brain they emerge from, who knows, but they are at once instantly identifiable and obscure and quirky, that's the brilliance of each oddball creation.
He insists these are all missing Spice Girls, from Military Spice to Christmas Spice, Neurotic Spice to Smart-Aleck Spice… and those are the more sensible names. The premise gives free rein for his imagination to roam wherever it wants – which is far and wide – while rooting the creative madness in some sort of quickly-established familiarity.
The format also accommodates an incredible joke rate, with Roberts cramming in more original punchlines in his hour than some comedians manage in a career. No Spice need outstay their welcome, he can jump in with a gag and move on, or dwell a little longer to explore these oddball alter-egos.
Despite his early proclamation, every sketch is a mini-story of sorts. Or in the case of Facts About The Romans Spice and his convoluted entourage, quite a long story. There are several fantastic running gags, such as Roberts literally praying for help, an assumed audience reaction to the Spice Girls obsession, and an anatomically creepy old crone, doling out very precise curses. The return of these characters is always welcome, each time building on the last appearance, in contrast to lazier sketch shows that use recurring characters to merely repeat the same gag.
Meanwhile, the odd random asides such as impressions of Alan Bennett or Jon Ronson (basically the same, let's face it) keep the audience surprised. The jokes and ideas come thick and fast, leaving so much to unpack, you could watch this show twice and still find more to enjoy.
It's not too long before Roberts' dyed blue moustache – done for just one brief gag as well as the idiosyncratic visual effect – is the most normal thing in the room. Yet, quite remarkably given the avant-garde tone, he even manages to incorporate some personal confessional into the show, before coming back to test his initial point about absurdity. His theory is that we will all come to embrace irrationality so much that after the hour we 'll laugh at his simple unveiling of an everyday object since our notions of normality will have been so disrupted by then. And we do.
All I Wanna Do Is [FX: GUNSHOTS] With A [FX: GUN RELOADING] And A [FX: CASH REGISTER] And Perform Some Comedy! was prompted by a blog one audience member wrote last year, complaining that his hour was incomprehensible, anathema to Roberts's mantra that it's good to laugh when you don't understand.
Judging by the constant wall of guffaws in this unconvincingly converted seminar room, his audience are more than willing to embrace that idea when the nonsense is as unflaggingly funny as Roberts peddles.
Review date: 5 Aug 2018
Reviewed by: Steve Bennett
Reviewed at: Assembly George Square