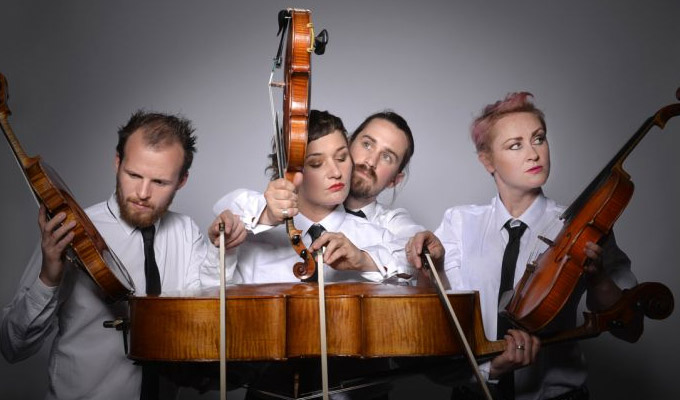 Bowjangles: Excalibow
Forget the image of a string quartet tucked quietly into the corner of some formal event, dressed in evening wear and providing sedate, unintrusive classical musak.
Bowjangles have come up through street entertaining, so they know how to get attention, playing furiously as they dance like dervishes around the stage while playing high-spirited, inventive arrangements.
How do you dance with a cello, you might ask? In fact, this foursome joke that it's the only question they get asked – and the answer is the basis of this pacy, epic fable. For in a Faustian pact, Ezme Gaze sold her soul to the devil for the ability to play her instrument standing up, and tonight's the night he wants to call in that debt.
The ensuing quest, taking in elements of Lord Of The Rings, Star Wars as well as the Arthurian legend suggested by the title. They require the magical Excalibow as well as their spirit guide, Mr Bowjangles – who is wittily realised with the body of a cello, the face of a violin, and two bows for his arms, not to mention some effective puppetry skills.
It seems too obvious to mention that this lot – also comprising Mitch McGugan and Ollie Izod on violin and composer Bertie Anderson on viola – are talented as it's proclaimed in every scene as they dance and play and act, all at the same time, always with virtuosity and always with an engaging sprightliness of performance.
The story's a little simple – but comes with some knowing lines (plus some strained puns) as a myriad of musical references, from Flashdance to Celine Dion; Wagner to AC/DC. Viking hordes are accompanied by a riff from Abba, which is one of several entertaining flourishes. An especially lovely notion is the fact that as Gaze's soul escapes her body and she's left a hollow-eyed zombie-like shell, she reverts to mechanically playing Pachelbel's Canon, the tediously repetitive wedding favourite that's the bane of her life.
The, ahem, well-orchestrated show is full of zest, action and charisma, as well as recognisable music made populist that's slightly reminiscent of the 1980s disco-infused Hooked On Classics mashups. It's more-or-less good clean family fun and unfailingly entertaining for all.
Review date: 24 Aug 2018
Reviewed by: Steve Bennett
Reviewed at: Gilded Balloon Teviot
Recent Reviews
What do you think?