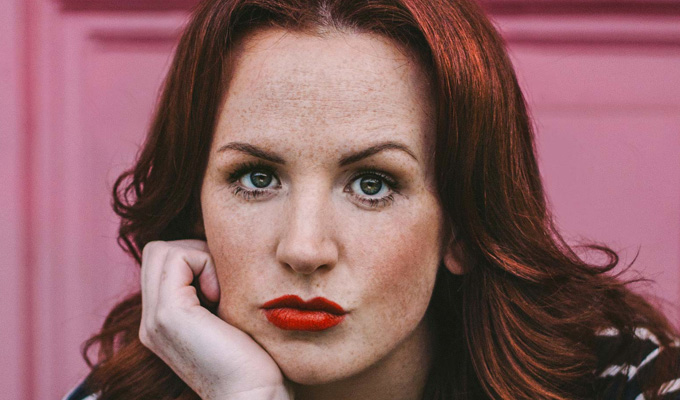 Catherine Bohart: Immaculate
This is a textbook debut show with a textbook delivery. But that's a double-sided coin, to mix the metaphors.
Catherine Bohart introduces herself to Edinburgh with the headline facts about herself: she bisexual, the daughter of an Irish Catholic deacon and an OCD sufferer. The real, spent-months-in-hospital-to-treat kind, mind you, not just someone who prefers a neat cutlery drawer.
The form she was diagnosed with is called perfectionism, and that could be why her show is in such neat order: some accessible gags near the top before we get into the meat about how her father initially struggled to accept her sexuality, despite being on the liberal end of a very conservative Irish society, as well the real effects her mental health issues have had. Each of her her first-hand experiences are discussed thoughtfully and within a wider context – and always with a delightful good humour.
It's significant, personal content delivered with an expert – dare I say immaculate - poise. She's always in composed control of her material and never loosens her grip on the audience, who remain invested in every details of her story, despite the stifling heat of the Pleasance Bunker.
The show helps to distigmatise mental health problems in its small way, and raises interesting questions about family and the powerful, often corrosive influence the Catholic Church once held over Ireland. These are serious topics dealt with maturity, nuance and wit.
But there is a 'but'. Bohart's meticulousness means the show feels a little too well-practised and safe, even if the topics aren't. The slickness comes at the expense of passion (the heat might be a factor in that, too) and – save for some notable exceptions – there are few killer lines. Wry is more the tone. And while Bohart's particular experiences are unique, the feel of the classy hour isn't quite distinctive enough.
Yet every member of the audience is absorbed by her life, and the word 'personable' doesn't begin to capture the easy, assured, mild-mannered charm she exudes. That natural charisma will be a firm foundation on which to build a sturdy comedy career.
Review date: 7 Aug 2018
Reviewed by: Steve Bennett
Reviewed at: Pleasance Courtyard
Recent Reviews
What do you think?