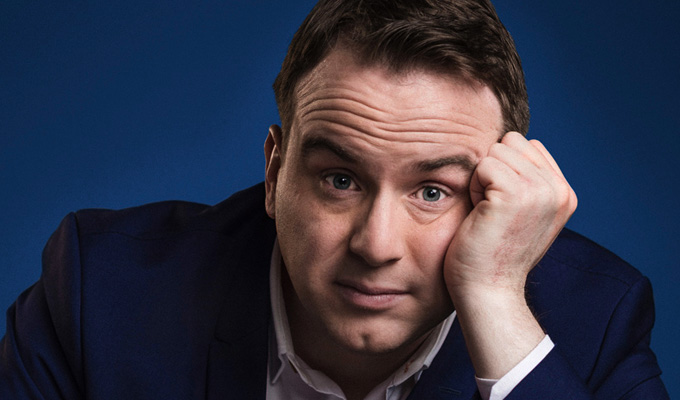 Matt Forde: Brexit Through the Gift Shop
Is there a better political comic than Matt Forde currently working in the UK? I can't think of another to touch him, certainly not with the same breadth of knowledge, density of material and gift for rendering the implications of complex policy into comprehensible routines.
Given the tumultuous times we live in, it's depressing how few rivals he has. And it's a strong performance like this that really highlights the fact. Writing and presenting his Dave series Unspun must have afforded him much greater clarity of purpose, because this is hard-hitting, opinionated stuff, with the sort of clearly defined positions you'd seek in vain from politicians.
Indeed, he opens by stating that the old divides of left and right no longer apply, with the schism between common sense and madness affecting all parties. Though a former Labour spin doctor, his contempt for Jeremy Corbyn's opposition at least approximates that which he harbours towards Theresa May's government, with his presence in Edinburgh temptation enough to lambast the disingenuous politicking he ascribes to the SNP.
There really is only one place to start, though. And with grim inevitability he chronicles the rats who've left the sinking ship of Brexit, the selfish, cynical opportunism of Boris Johnson, the lack of intellectual horsepower David Davis brought to negotiations. Quite often, it's enough for Forde to simply recall the facts: that yes, Davis did evoke the spectre of a Mad Max style dystopia for the UK post-Brexit, his unbidden denial of it simply raising the possibility.
The former Brexit Secretary was not a man to place your faith in, Forde hammers home with recourse to Davis's ill-judged support for Damian Green after his colleague was allegedly caught viewing pornography on his House of Commons computer, the comic bringing the matter down to sordid brass tacks.
Up-to-date enough to have a better grasp of the implications for Dominic Raab than the under-briefed new Brexit Secretary himself, Forde offers a memorable allusion for May's authority right now, before launching into Brexit's implications for Scotland and Ireland, going especially far in his denouncement of SNP opportunism.
Corbyn is acclaimed for his ability to muster popular support but damned for his failure to confront anti-Semitism in his party. Forde again brooks no argument with the folly of the Labour leader's sympathy towards Russia, refusing to accept any equivocation about the Kremlin's role in the Salisbury poisonings, reiterating that on the available balance of evidence, the Government's official line is the only logical conclusion.
In stating an opinion on a matter, Forde is clipped and forthright. But in explaining and teasing out the issues, he's admirably catholic in choosing easy-to-grasp metaphors and tricks to elucidate, ranging from evoking one of The Specials' greatest hits to admonish Donald Trump's current legal counsel, to his phalanx of excellent impressions.
While his Johnson and Trump delight simply in the buffoonery the mimicry captures, there's also persuasive analysis of the linguistic deception the likes of Trump and Nigel Farage practice. Gavin Williamson has yet to make his mark on the public's ear, so his confrontational rhetoric is expressed with the whinging of Jon Richardson and Josh Widdicombe. Here, as when Forde voices Nicola Sturgeon as Alan Partridge and Corbyn as David Brent, points are made, even if the laugh come in large part from the winking contrivance and accuracy of the impression.
At the same time, these crowd-pleasing bonuses and his fleet-footed segue between routines make it all too easy to overlook the range of issues Forde packs into his show. More power to him because there's no-one else doing it even close to as well.
Review date: 24 Aug 2018
Reviewed by: Jay Richardson
Reviewed at: Pleasance Courtyard
Recent Reviews
What do you think?