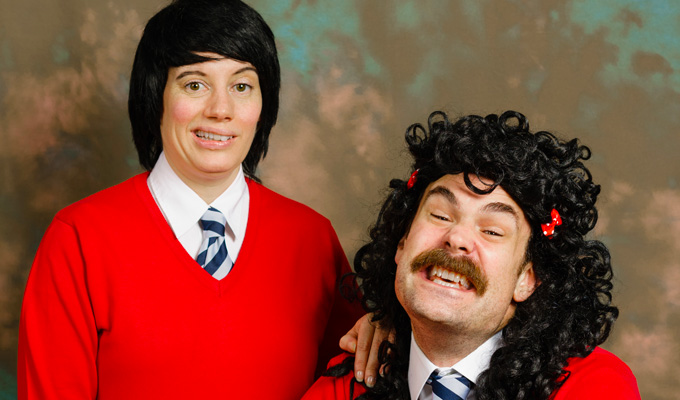 Short & Curly: Young At Start
In school uniform and with significant height disparity, there's something rather Krankies about Short & Curly, aka married couple Rebecca Shorrocks (Short) and Paul F Taylor (Curly). But they are much less unsettling – even when pastiching Nightmare on Elm Street and The Revenant.
Children's television is a recurring inspiration as well, as their sketchy narrative crunches together popular culture to inventively funny effect.
Opening and ending with an operation, Young At Start's premise is that, approaching his 40th birthday, Curly is anxious to prove that he's always been cool Leafing back through a book of memories, his recollection of their school days are infected by the film and television he was consuming, with paper-thin distinctions between past, present and fictional universes exploited for a knockabout tale that jumps, sings and even ice-dances, routinely peeking over the fourth wall to acknowledge the ridiculousness.
With contrived puns facilitated by a vast array of props and costumes, the episodic, mashed-up sketches are pushed to the extreme, with Sleeping Black Beauty climaxing in an evilly hilarious song of equine tragedy to the tune of Kool And The Gang's Celebration.
Some of the outfits are wonderfully lo-fi, with the mask of Taylor's Phantom Of The Soap Opera a half-face of shaving cream, while Shorrocks's Freddie Krueger is all the more gruesome for the impossibility of keeping the costume intact.
Even without an occasional and forgivable corpse, the distinctions between Short and Curly, the real Shorrocks and Taylor, and their source material is potently fluid, with a sexless portrayal of Neighbours' Scott and Charlene simultaneously nodding to the soap's wooden acting and pre-watershed timeslot, the performing couple's own relationship and celebrity gossip about Kylie Minogue and Jason Donovan.
The necessity of one of Short and Curly holding the fort onstage while the other hastily changes becomes a running joke. And there are some fine throwaway lines, with Curly's appreciation of The Usual Suspects one of the zeitgeisty gags of the Fringe, albeit unlikely to appear on the Dave channel's list of jokes due to its grim and possibly slanderous thrust.
One closing plot twist betrays that this is a 2017 show postponed because of Shorrocks's serious health issues, though the infamy of that time endures. And the pop culture references are largely aimed at Brits approaching middle-age, with anyone considerably younger or older, from another country or simply unfamiliar with The Power Rangers, unlikely to appreciate it quite as much as the show's target audience.
Still, Young at Start is a deceptively well put-together hour, with Shorrocks and Taylor's chemistry evident from the first bicker, while the zest and internal dynamic of self-deprecating put-downs recalls director Marek Larwood's work with We Are Klang. And you can't say much better than that.
Review date: 19 Aug 2018
Reviewed by: Jay Richardson
Reviewed at: Pleasance Courtyard
Recent Reviews
What do you think?