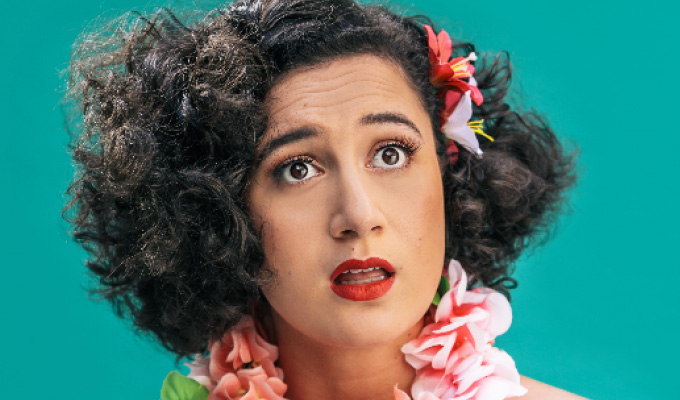 Rose Matafeo: Horndog
Rose Matafeo was nominated for the Barry Award at this year's Melbourne Comedy Festival, so it should be pretty bedded in by now, and it most certainly is: honed and running like a dream. This is Matafeo's third show and she really is an impressive comedian – if any other twentysomethings look to her to help them navigate the complexities of love and life, then they're in good hands.
Horndog is a broad look at what it is to be a straight 26-year-old woman, unpopular with the guys at school, good at matchmaking others, and now lamenting her sexuality. There are so many reasons to be turned off by men, she says, but you are who you are.
There is more than a flicker of #MeToo: she recounts how a male comedian got in contact to apologise for a derogatory comment he made which she'd completely forgotten about and says that over her years of being a comic there had been a buildup of small incidents which added up to a substantial dossier.
The show isn't as much about sex as the title suggests, and she has her own definition for horniness that is perhaps particular to her, and which brings us to the very funny and rousing finale. Sex is in the mix though: such as the difference between male and female teenage horniness and how she was never really taught about sex or masturbation, she had to figure stuff out by herself. Something she didn't have to figure out for herself was crocheting – a skill passed on by her mother and her mother's mother. .
Matafeo is so strong on these personal yet universal subjects: bold and insightful, a real force of nature onstage. In fact, it's her delivery that makes her such a compelling performer. For someone who speaks so much about insecurity, uncertainty, angst, the emotional toll of being a young woman, she is so confident on stage. She performs everything big, and I have the feeling she would fill whatever stage you put her on. There are few young comedians of whom you could say that.
She complements some of her routines with visuals on the big screen, turning her theories and punchlines into memes behind her, and giving us a bit a bit of YouTube comment comedy, which isn't the most original idea but she has unearthed a beauty of a thread, and chops it up to reveal it bit by bit, building the comic effect.
'I'm not like the other girls,' she says at one point, albeit to an imagined boy, and she certainly plunders her peculiarities for humour, owning the fact that she's kissed far fewer boys than her contemporaries and the strange fantasy she has of pretending she's been cheated on (perhaps it's not that strange, I don't know).
The sheer fact that she shares all this makes her a kind of confidante – everyone will have their own unusual thing, even if it's not the same as hers.
She isn't the only comedian with material on navigating a breakup while having their wounds constantly reopened by Facebook, Neftlix and Spotify. Matafeo is excellent on this subject, though, and intellectually follows it through further than others would, questioning how Facebook in particular is so selective in how it personalises what it pushes to you, and how damaging that can be.
A K-pop-inspired finale rounds things off with a bang. Matafeo was perhaps unlucky not to get nominated for the Edinburgh Comedy Award last year; this year's offering is at least as good.
Review date: 18 Aug 2018
Reviewed by: Paul Fleckney
Reviewed at: Pleasance Courtyard
Recent Reviews
What do you think?