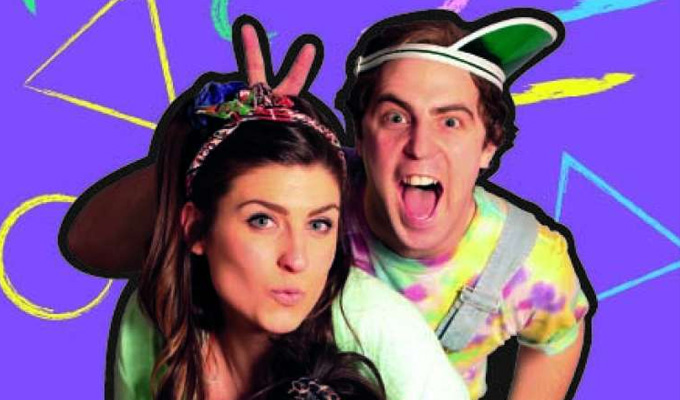 Lead Pencil
Lead Pencil claim to be the most anticipated kids' show reunion on the Fringe. Or in the words of Dave Bibby's character, Pat: 'Suck my fat one, Dick and Dom.'
This lively spoof zings with all the high energy of the 1990s genre they are parodying, even if the comedy is sometimes a little easy. The Art Attack! pastiche, for example, is full of easy double entendres, such as: 'Who wants to stroke my pussy?' for a picture of a cat.
It's an enthusiastic mish-mash of skits and songs around the theme, such as a parade of animal facts or some handy survival tips, delivered by a redneck in an incomprehensible Deep South drawl – a silly highlight of the hour.
This, however, is just a backdrop. For it soon transpires, in a plotline they made earlier, that there was once another member of Lead Pencil, their mascot, Mr Sausage, whose suspicious death at at the end of the 1990s marked the end of the team's time in the sun. Everyone had a motive, given the hedonistic, greedy culture that surrounded this supposedly wholesome TV show.
All of the characters are deranged in their own way, not least fighty Zoe, played by Maddie Rice in a significant change of tone from her recent job playing Fleabag in the touring version of Phoebe Waller-Bridge's dark one-woman comedy. Louise Beresford is Connie, still clinging to a slender hope of fame with a Celebrity Autobiography in the works, while Tamsyn Kelly guests as a viciously put-upon tech.
Not that the backstory does much to alleviate the impression that Lead Pencil is enjoyable but slight. However, everything zips along with committed performances and a banging soundtrack of 1990s guilty pleasures, from Backstreet Boys to Cottoneye Joe, that ensures a good time is had by all. Except poor Mr Sausage.
Review date: 20 Aug 2018
Reviewed by: Steve Bennett
Recent Reviews
What do you think?