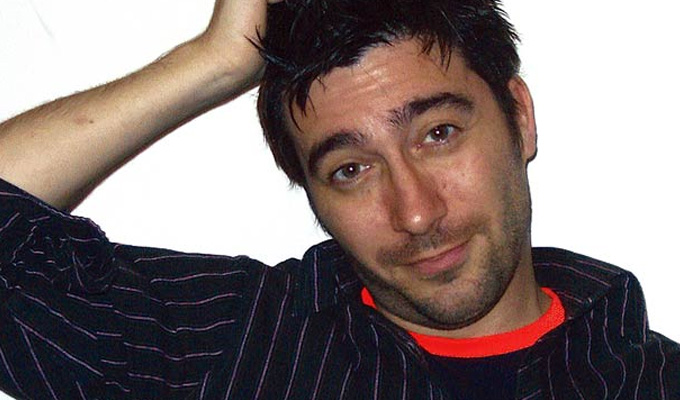 Comics tell stories from Edinburgh in lockdown
Here's Chortle's daily round-up of new comedy to watch at home during lockdown.
This list, updated at around 3pm daily, covers subscription services such as Netflix, Amazon Prime, iPlayer and NextUp, to podcasts and shows that comedians are releasing themselves, is your essential guide to getting a daily dose of laughs.
As well as these highlights, you can search our listings for other online events using the blue box at the left or top of this page. Or if you're a promoter wanting to add an event, details are here.
---
Saturday July 25
THE CORONALOGUES: Written and recorded during lockdown, The Coronalogues is an audio comedy-drama series written by comedian Keir McAllister, pictured, featuring five stories from one street in Edinburgh. The all-Scottish cast includes fellow comics JoJo Sutherland, Paul Sneddon, Megan Shandley, Rosco McClelland and more. Five episodes of between 17 and 48 minutes been released by Edinburgh's Gilded Balloon, ahead of a huge slate of online content to be released over what would have been this year's Fringe. Watch this space! Episodes of The Coronalogues are live here.
MANDEMIC: London Hughes, is the latest guest on this BBC Sounds podcast, telling Sideman about pandemic FOMO and her sunshine lockdown in LA – and claims to miss a certain type of crisps more than her entire family. Listen here.
JUST THE TONIC - WORKING FROM HOME: Freewheeling Ross Noble and inventive Spencer Jones are the attractions at this week's virtual gig staged by the Nottingham-based comedy club. Tickets
---
Friday July 24
HOW TO BUILD A GIRL: After drawing on her early life in Raised By Wolves, journalist Caitlin Moran covers her early adulthood, moving from the West Midlands to make her name in London, in this film, today released for free for Amazon Prime subscribers. It stars Beanie Feldstein, Paddy Considine, Sarah Solemani, Chris O'Dowd, Joanna Scanlan and Emma Thompson and is directed by Coky Giedroyc (Mel's sister) who has previously directed TV dramas including Wuthering Heights, The Virgin Queen, Oliver Twist. Here's a trailer:
.
THE Lou Sanders INTERNATIONAL CHAT SHOW: The Taskmaster-winning comic hosts an off-the-wall online chat show, with guests including Sara Pascoe, Mae Martin, Mark Silcox, Brett Goldstein, Lloyd Langford, Luke McQueen, Steen Raskopoulos, Anne Edmonds and Ray Badran. Tickets.
JIM GAFFIGAN: THE PALE TOURIST: In this two-part stand-up special, the comic sets himself the challenge of landing in a country with no material, experience the culture and food, and then write and perform a new show, all in one visit. Spain and Canada are the nations visited, and the shows are new to Amazon Prime today.
LIVE FROM THE TYNE: The Newcastle theatre tonight stages an online comedy fundraiser featuring Carl Hutchinson, Lost Voice Guy, Mat Reed, Louise Young, Sammy Dobson, Anth Young and Seymour Mace. It starts at 8pm and full info on how to watch and donate is here.
---
Thursday July 23
STAND UP FOR BLACK MINDS MATTER: Stephen K Amos, Dane Baptiste, Thanyia Moore and Nathan Caton perform in this online fundraiser tonight, raising money for a new charity offering mental health support for black communities. It kicks off at 8.45pm and won't be repeated or streamed - being on the Zoom call is the only way to see it. Tickets, priced £8.50 to £12.50, are available here.
THE SELF ISO-LATE SHOW WITH LEWIS MacLEOD: One of the stars of Radio 4's Dead Ringers joins fellow impressionists and comedians for this topical sketch show, starting at 7pm tonight. The cast includes Ford Kiernan, Ronni Ancona, Alex Lowe, Jess Robinson, Kate O'Sullivan and more. Below is the trailer, and you'll be able to tune in here
EDDIE PEPITONE - LIVE FROM THE BUNKER: America's angriest comedian live-streams from his Californian bunker every day at midnight UK time, promising 'rants, characters, interviews with other comics, and a healthy amount of chaos'. It's streamed on his Instagram channel.
---
Wednesday July 22
ROB BRYDON INTERVIEWS: The comic yesterday launched a new YouTube interview series, kicking off with Stephen Merchant. The conversation covers what happened when Merchant met Sir Paul McCartney, helped Bruce Springsteen to crowd surf and went pole dancing in a Hollywood mansion, and more...
POPPY HILLSTEAD HAS ENTERED THE CHAT: Comedian Poppy Hillstead, co-host of the podcast Gossipmongers, has been diving into the treacherous depths of internet chatrooms, feigning interest in all sorts of topics from hypnosis roleplay to carp fishing techniques. While most of her interactions have, as expected, ended up in a dick pic, she charts her adventures in this new podcast. Listen here.
FAST FRINGE: Chortle's annual Fringe showcase goes online! Twenty comics entertain over the course a jam-packed hour, including Richard Herring, Nick Helm, Kevin Eldon, Lucy Porter, the late Sean Hughes, Tony Law, John-Luke Roberts and many more. Click here for further details.
IVO GRAHAM: The self-described 'apologetic Eton and Oxford alumnus' brings his smart, sardonic humour to the NextUp Comedy Festival, which is running online every night in July. Tickets are £9 each or there's still chance to grab pass for the rest of the season for £39, which also includes beer and six-months access to all NextUp's catalogue of specials. Click here for details.
---
Tuesday July 21
SHOWSTOPPER! THE IMPROVISED MUSICAL: Tonight the award-winning troupe will unveil the first socially distanced and fully improvised musical based entirely on audience suggestions. This video shows how the team are trialling the technology needed to collaborate with social distancing. It's live at 7.30pm tonight, then stays online for 48hours, and tickets are from £5.86 to £8.53 for some reason. Details book here.
SMARTLESS: Three very starry names are behind the new podcast: Jason Bateman and Will Arnett from Arrested Development and Sean Hayes from Will and Grace. In each episode, one of the hosts will reveal a mystery guest to the other two. Dax Shepard is the first, and coming up later are the likes of Will Ferrell, Neil DeGrasse Tyson, Julia Louis-Dreyfus and Seth Rogen. 'We are united not only by our shared professions but our innate curiosity.' Hayes said. ' And, during this stay-at-home crisis, we thought, why not ask a bunch of smart and talented people questions about the world instead of constantly bothering our spouses.' Listen at all the usual podcast places, including Apple podcasts.
RON FUNCHES: GIGGLE FIT: The enthusiastic American comic with the infectious laugh talks about the things he loves in this 2019 Comedy Central special, released for free on YouTube. Topics include professional wrestling, The Great British Bake-Off and weed:
.
LEE KYLE: ABRA MACABRE: The North-East comedian continues with his pledge to release an hour-long show from his home every month during lockdown. The latest is about the weird fascination humans have with the dark side of life and death, such as graveyards, horror movies and serial killers. It will be broadcast on YouTube from 9pm tonight.
---
Monday July 20
JOZ NORRIS: YOU BUILD THE THING YOU THINK YOU ARE: Faced with the cancellation of this year's Edinburgh Fringe, comic Joz Norris decided to turn his planned live comedy into a feature film.
You Build The Thing You Think You Are is described as 'an absurdist storytelling show about how we construct ourselves, about the accumulation of rubbish both in our heads and in our homes, about feeling more at home in your mind than in your body, and about the struggle to ever share any of this with another human being'.
Norris said: 'While it's been really great to see original, exciting stuff being done in the arena of live streaming [since lockdown], I've felt that it sacrifices a lot of the things I love about live comedy in favour of preserving interactivity, and have been wondering if sacrificing that interactivity and turning to the techniques of filmmaking might be a better way to recreate the elements I miss most.
'I love a challenge, so whether this ends up being an exciting new way of adapting live comedy shows to film, or whether it ends up being a glorified overblown vanity project, it was the only way to clear all this nonsense out of my head.'
The film is being screened via Vimeo at 8pm every night this week, with a Q&A after each. Click here for tickets, priced £5.50, and more details.
Here is a trailer:
MYSTERY ON THE ROCKS: We've been enjoying this true crime podcast in which comedians Masud Milas, Chris Stokes and Sooz Kempner discuss old cases from the headlines, especially as they have recently embarked on a sub-series of tales that expose the dark underbelly of the golden age of Hollywood. The deaths of Thelma Todd, movie mogul Thomas H Ince (who came to a mysterious end aboard the luxury yacht of media tycoon William Randolph Hearst), director William Desmond Taylor, and Virginia Rappe (the actress who notoriously died at a party attended by Fatty Arbuckle) have all been entertainingly examined so far. It's available from all the usual podcast places.
SCOTT PILGRIM VS THE WORLD CAST TABLE READ: worldwide. Visit waterforpeople.org/pilgrim to donate & learn more. ‬Featuring: Michael Cera, Chris Evans, Anna Kendrick, Jason Schwartzman and more give a virtual reading of the action comedy romance to mark its tenth anniversary, and raise money for the Water For People charity. It's at 6pm UK time, here
GHOSTS: BBC One repeats the first series of its hit haunted house comedy from 8.30pm tonight… but afterwards the cast will be answering your questions on a live YouTube session here. Tag questions on Twitter with #asktheGhosts.
---
Sunday July 19
THE YOUNG OFFENDERS: All the episodes in the third series have dropped on iPlayer today, ahead of their screening on BBC One from Friday. This time, tearaway Jock has a new baby to contend with, while still getting up to high jinx with best mate Conor. In the first episode they get roped into an amateur heist, which naturally goes awry. Hilary Rose co-stars as their mother/guardian Mairéad.
NASHVILLE: Robert Altman's sprawling 1975 musical comedy satire has just been added to Amazon Prime. The film follows various people involved in the country and gospel music businesses in the lead-up to a gala concert for a populist outsider running for President on the Replacement Party ticket (topical!) The many stars include Shelley Duvall, Lily Tomlin, Jeff Goldblum and Keith Carradine. Watch here
HOOVERING - LIVE: Jess Fostekew is hosting a live-via-the-web version of her podcast all about eating at 8pm tonight. Guests are comedian Tom Allen (presenter of Bake Off: The Professionals, of course), former Bake-Off contestant Briony May Williams and chef Zoe Adjonyoh. Get tickets here, priced £6.
---
Need more suggestions?
• Click here for those from the week starting July 12
• Click here for those from the week starting July 5
• Click here for those from the week starting June 28
• Click here for those from the week starting June 21
• Click here for those from the week starting June 14
• Click here for those from the week starting June 7
• Click here for those from the week starting May 31
• Click here for those from the week starting May 24
• Click here for those from the week starting May 17
• Click here for those from the week starting May 10
• Click here for those from the week starting May 3
• Click here for those from the week starting April 26
• Click here for those from the week starting April 19
• Click here for those from the week starting April 12
• Click here for those from the week starting April 5
• Click here for those from the week starting March 29
• Click here for those from the week starting March 22
• Click here for those from the week starting March 15
NOTE: Sometimes links and videos of live events expire after the event. All were valid at the time of publication
Published: 25 Jul 2020
What do you think?