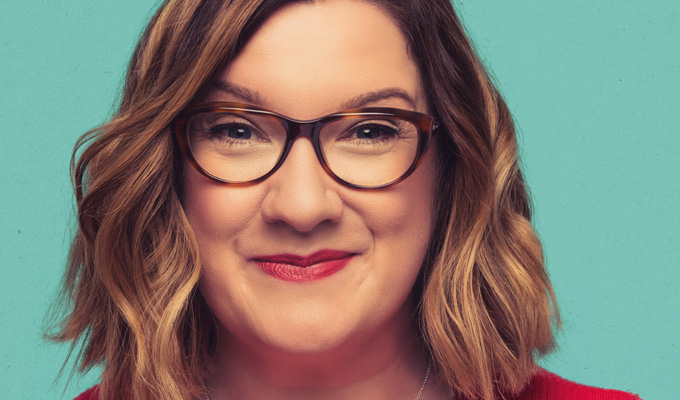 Comedians on their Last Leg
Here's Chortle's daily round-up of new comedy to watch at home during lockdown.
This list, updated at around 3pm daily, covers subscription services such as Netflix, Amazon Prime, iPlayer and NextUp, to podcasts and shows that comedians are releasing themselves, is your essential guide to getting a daily dose of laughs.
As well as these highlights, you can search our listings for other online events using the blue box at the left or top of this page. Or if you're a promoter wanting to add an event, details are here.
---
Saturday July 18
FRANKIE BOYLE'S TOUR OF SCOTLAND: Before the broadcast of his stand-up special next week, BBC Scotland has repeated the comic's four-part travelogue series, in which he meets locals from all around his homeland before performing a gig each night. Watch all the episodes on iPlayer
LAST LEG COMEDIANS IN LOCKDOWN: Channel 4 has released this compilation of newly-crowned Bafta winner Aisling Bea, Rob Beckett, Sarah Millican, Kevin Bridges and Stephen Merchant appearing on the socially distant version of Adam Hills, Josh Widdicombe and Alex Brooker's topical show:
COMEDY AT THE COVID ARMS: Jason Manford, Edinburgh Comedy Award winner Jordan Brookes and circuit livewire Sikisa join Kiri Pritchard-McLean for this week's virtual gig, which has raised thousands for Trussell Trust food banks over lockdown. Details
---
Friday July 17
MAGMA: This engineering presentation on the glorious potential of the new magma mining industry isn't quite all it seems. In fact, it's a delightfully nerdy sketch show from Australian comedians Alasdair Tremblay-Birchall and Andy Matthews, Watch here (it costs just over £5.50), and read our review of it here.
THE READING FRINGE FESTIVAL: Ten days of live events force online include Eleanor Conway' stand-up shows Walk of Shame and You May Recognise Me From Tinder; The Laurel & Hardy Cabaret and improv gig Hell Yeah!, which launches the festival at 9pm tonight. Click here for the full calendar of events.
THE BLISS OF THE ABYSS: On the first anniversary of the attempted coup against him, comedy circuit regular President Obonjo tells the full story. In July last year, E4 announced that Famalam star Samson Kayo was to play a fictional African dictator called Colonel Banjoko in a new spoof talk show. However the character had some similarities to Obonjo, the 'president of the Lafta Republic', which Benjamin Bello had been performing in the clubs for a decade. In this podcast, hosted by Robert Neumark Jones (in the guise of Ruskin Denmark) the story is retold.
---
Thursday July 16
THE WEEKLY STAND-UP: Stephen Grant, Emmanuel Sonubi, Allyson June Smith, Jo Caulfield and Chris and Rosie Ramsey join Jason Manford's weekly online comedy club for its fourth instalment at 8pm tonight. Tickets. Click here for the rest of tonight's virtual gigs.
NEXT UP COMEDY FESTIVAL: The month-long virtual festival continues tonight with Free Association Improv. And organisers have announced a £39 'rest of the fest' pass, which gives comedy fans access to all remaining gigs, free beer and six months' membership to NextUp, and all the professionally filmed specials they have in their catalogue. Buy it here. Future shows in the festival include Tim Key, Jordan Brookes, Alice Fraser and Paul Chowdhry.
IF YOU EVER HURT MY DAUGHTER, I SWEAR TO GOD I'LL LET HER NAVIGATE HER OWN EMOTIONAL GROWTH: Mad Men's Jon Hamm narrates this a short film adapted from a humorous essay written by Toronto-based comedian Sophie Kohn. It's a monologue from a man who appears first as a stereotypical, overprotective patriarchal figure, but is quickly revealed to be a progressive, boundary-respecting father... Watch on the New Yorker website.
GO ASK YOUR MOTHER: In this light-hearted new BBC podcast, parents-of-two and partners Sindy and Vanel talk about raising a family while discussing their own sometimes very strict African upbringing. Episode one dropped yesterday on BBC Sounds.
---
Wednesday July 15
CRASHING: Before there was Fleabag, there was Crashing, a six-part comedy-drama that Phoebe Waller-Bridge created for Channel 4 in 2016. She also stars as one of six twentysomethings living together as property guardians in a disused hospital, keeping the building safe in exchange for cheaper rent. Other stars include Louise Ford, Adrian Scarborough, Amit Shah and Susan Wokoma - and today the full series has landed on Netflix.
COMEDIANS: HOME ALONE In the final show of the series, which aired on BBC Two last night, Mat Horne shows how life in isolation is familiar territory for an actor; Tim Key provides food for thought from his kitchen; Chris McCausland talks about how he's been missing stand-up; Morgana Robinson's hippyish alter-ego considers how her 'spiritual sat-nav is rerouting' during the pandemic; and Rachel Parris challenges Marcus Brigstocke to perform a lip-sync to Madness.
LOUISA FITZHARDINGE: COMMA SUTRA The Australian musical comedian indulges her inner grammar nerd in this pun-filled show that takes aim at people selling 'potato's' and misusing the word 'literally', and many more bugbears. It streams at midday tomorrow, UK time, and tickets are available here. And here is our review of the show from the 2017 Melbourne International Comedy Festival.
---
Tuesday July 14
AN ORAL HISTORY OF THE OFFICE: Hosted by actor Brian Baumgartner, who played Kevin Malone in the US version of the Office, this new podcast gives a full account of the massive hit, starting with its origins when American producer Ben Silverman met Ricky Gervais at a Starbucks in Soho about adapting the popular workplace mockumentary. The first three episodes just dropped, with nine more coming in the following weeks, all on Spotify.The series will feature interviews with Steve Carell, John Krasinski, Rainn Wilson, Stephen Merchant, Angela Kinsey and Jenna Fischer. And if this is your bag, Office Ladies, hosted by Kinsey and Fischer, is an ongoing podcast offering an episode-by-episode breakdown of the show.
AWARDS CHATTER: Hannah Gadsby is the guest in the latest edition of The Hollywood Reporter's in-depth interview series, talking about her rough road to comedy and self-discovery, how autism affects her life and work and how she tackled the daunting task of following her masterpiece, Nanette. 'With Nanette I was strong, but I was spoiling for a fight — like, I was still scrappy,' she says. And now I can take a breath. And if you want to keep strong, it's important to be able to take a breath. For the first time in my adult life, I've been able to inhale.' Listen to the full interview here.
MATILDA LISTENING PARTY: Tim Minchin will be joining New York cabaret star Robbie Rozelle to listen to extracts from the hit musical he co-wrote, discussing them and answering questions. It will be live here at midnight tonight UK time, then on YouTube and Facebook for catch-up.
URZILA CARLSON: OVERQUALIFIED LOSER: The South African-New Zealand comedian discusses sex tapes, boxed wine and more in this, her first hour-long stand-up special for Netflix, recorded in Melbourne.
---
Monday July 13
SHAKE WITH LAUGHTER FOR PARKINSON'S UK: The charity fundraiser, usually held at the Comedy Store, launches an online version, with Mick Ferry as host. The bill comprises fellow circuit favourites Eleanor Tiernan, Laura Lexx, Nathan Caton, Rob Deering and Russell Kane, plus Paul Sinha, and Vicar Of Dibley writer Paul Mayhew-Archer, both of whom have the condition. It kicks off at 8pm and tickets are £5 and £10 here
GOOD SHIP COMEDY: The London club's lockdown gigs, dubbed HMS Unprecedent continue tonight. And they should be in safe hands with Tim FitzHigham on deck, given that he was made an Honorary Freeman of the ancient Company of Watermen and Lightermen of the River Thames after crossing the Channel in bathtub. Juggler Mat Ricardo, musicians Brassroots and stand-up Jen Collier complete the bill on Twitch, starting at 8pm.
THE GOOD PLACE: The third series of the excellent heaven-and-hell based comedy has just started on Channel 4. But you can also catch up with the first two seasons of the acclaimed US comedy on All4
---
Sunday July 12
THE HILARITY CHARITY GALA: There's a very impressive line-up for this charity bash tonight, in aid of the Central Youth Theatre in Wolverhampton where Ben Clark and Tom Parry, best known for being members of sketch troupe Pappy's, met. They will be hosting as James Acaster, Joel Dommett, Nish Kumar, Josh Widdicombe, Tim Key, Isy Suttie, Kiri Pritchard-McLean, Lazy Susan and Spencer Jones perform. The theatre, which provides performing arts opportunities for people aged 8 to 25, has been hit hard by the pandemic but during lockdown, burglars struck and took more than £6,000 worth of sound and lighting kit. But most importantly, it's a great bill. Tickets here.
THE HENLEY FESTIVAL: England's poshest music and comedy festival goes online, with comedy tonight coming from Rory Bremner. He's just one element of full show that also includes soul sensation Beverley Knight, Will Young and his band, classical pianist Hao Zi Yoh, jazz singer, pianist and songwriter Joe Stilgoe host David Gower. Black tie is usually compulsory at the event... whether you don the DJ or evening gown for your home viewing is entirely up to you. Tickets are here.
THE LEAK: Comics Lloyd Langford, Kemah Bob, Dane Baptiste and Helen Monks join host Tom Price for the return of this topical comedy show, made for BBC Wales under lockdown conditions, of course. Listen on BBC Sounds.
---
Need more suggestions?
• Click here for those from the week starting July 5
• Click here for those from the week starting June 28
• Click here for those from the week starting June 21
• Click here for those from the week starting June 14
• Click here for those from the week starting June 7
• Click here for those from the week starting May 31
• Click here for those from the week starting May 24
• Click here for those from the week starting May 17
• Click here for those from the week starting May 10
• Click here for those from the week starting May 3
• Click here for those from the week starting April 26
• Click here for those from the week starting April 19
• Click here for those from the week starting April 12
• Click here for those from the week starting April 5
• Click here for those from the week starting March 29
• Click here for those from the week starting March 22
• Click here for those from the week starting March 15
NOTE: Sometimes links and videos of live events expire after the event. All were valid at the time of publication
Published: 18 Jul 2020
What do you think?