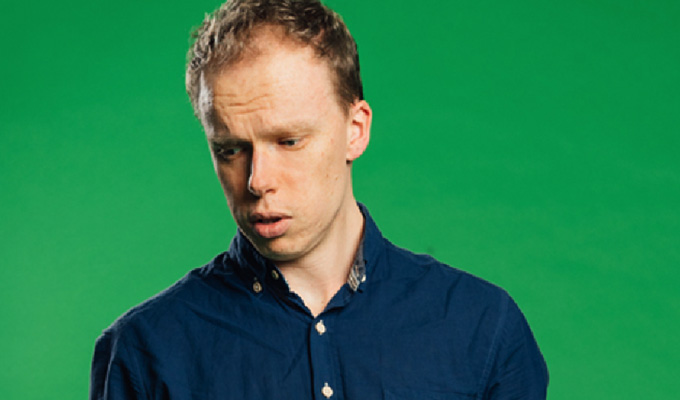 Watch Jordan Brookes's Body Of Work for free
Here's our pick of the best new comedy on demand.
During the coronavirus lockdown Chortle will be bringing you a round-up of what's new to watch at home, updated every day at around 3pm.
From subscription services such as Netflix, Amazon Prime, iPlayer and NextUp, to podcasts and shows that comedians have released themselves, this is your essential guide to getting a daily injection of laughs. After all, it could help boost your immune system and help stave off loneliness...
---
Jordan Brookes: Body Of Work
It's the Edinburgh award-winning comedian's birthday today (Saturday), and to celebrate, he's making his show Body Of Work free to view for 24 hours. And in lieu of gifts, he will be asking for donations to the charity OCD Action.
Brookes says: 'I'm delighted to be making this show freely available for people to watch. It's one of the most personal shows I've done, took years of work and allowed me to be frank and honest about my experiences of Pure OCD for the first time on stage.
'The feedback continues to be amazing. Knowing that it has helped people come to terms with and make sense of their own experiences warms my heart. OCDAction is a resource that has helped me immeasurably over the years, and I would like to help them in any way I can, particularly at a time like this when people are feeling challenges to their mental health.'
The show is normally only available on subscription service NextUp, but can currently be viewed for free here
---
Interruption Show
Normally a regular live show in Califonia, this format features formerly London-based comedian Dalia Malek and rotating co-hosts who interrupt comedians mid-performance to ask burning questions, find out what happened next, and dig into backstories behind jokes.
During lockdown it is being streamed on Twitch twice a week, on Wednesdays at 2am UK time and at a more social 11pm on Saturdays. And tonight's show features Brit Athena Kugblenu, among others.
---
BlackAF
This is what Black-ish creator Kenya Barris did next. It's described as a sitcom which promises to 'flip the script on what we've come to expect a family comedy series to be… to uncovers the messy, unfiltered, and often hilarious world of what it means to be a "new money" black family.'
Rashida Jones from Parks and Rec co-stars, and it was released on Netflix yesterday.
---
A Slap Up Feast Of Fun
The second weekly Laughter In Lockdown video from Bristol's Slapstick festival of classic comedy is a fundraiser featuring John Cleese, Rory Bremner, Neil Innes, Barry Cryer and Ronnie Golden, and hosted by Tim Vine.
Released via YouTube this morning, the show was recorded in autumn 2016, just before Donald Trump was elected president of the US. Innocent times!
The festival is releasing a different show from its archive every week during the lockdown.
---
Book Shambles: The Goodies 50th anniversary special
Sticking with the Slapstick festival, at January's event, Robin Ince hosted an event with The Goodies, including a rundown of the trio's best episodes, as voted fans.
The plan was to release it as part of Ince and Josie Long's Book Shambles podcast, and the pair say 'We had a debate about whether it was still right to put the episode out this week but have decided to do so as a tribute to Tim Brooke-Taylor, and to remember what a wonderful, talented and energetic man he was, even just a few months ago. We hope it is the right decision.'
Bill Oddie and Graeme Garden are also there, of course. Listen here
---
Weirdos
The collective of comedy oddballs are doing a weekly online gig, as stupid good-humouredly chaotic as their reputation suggests.
Described as 'some kind of art experiment, some kind of wonderful', tonight's bill includes Ben Target, Lucy Pearman, Katia Kvinge, Sam Nicoresti, Aniruddh Ohja, Sooz Kempner and Kat Bond, all in character.
Tickets are priced £8.14, for some reason, and are available here.
---
Alice Fraser and Tommy Little
Amazon Prime continues its weekly releases of stand-up specials from Australian acts with Alice Fraser's breakthrough show Savage, a heartbreaking but very funny show about grief, and the more raucous Tommy Little: Self Diagnosed Genius
---
Yianni Agisilaou: The Simpsons Taught Me Everything I Know
The British-based Australian comic is doing an online performance of his Springfield-based show via Zoom from 9.30pm tonight, with impressions, facts and stories about the long-running animated comedy. And he's got a professional camera set-up to make it look better than the usual webcam-based efforts.
Tickets are pay-what-you-can: either £10, £5, £3 or free, and are available here.
---
Wil Hodgson's Live On Bonfire Night
The Chippenham-based comedian's 2016 special is being live-streamed by indie label GoFaster Stripe from 8pm tonight.
In it, he shares stories from his childhood covering his love of comics and the 1960s TV Batman and gives us a cautionary tale about the perils of drinking in a small town.
It'll be streamed for free on YouTube – below – although contributions will, of course, be welcome, and Hodgson will be introducing it himself:
---
Who Said That?
Bristol-based comic Mark Olver – who's warmed up for more than enough TV panel shows in his time – has now come up with his own format, played over Skype.
Episode one has just been released with with Mark Watson, Angela Barnes, Nathan Caton and Eleri Morgan taking part.
The game involves one comic asking a question, with the other text their answers to host Olver. Then the questioner has to figure out who gave which answer.
---
#IsolatedLaughs
Amazon Prime tonight (Thursday), launches three consecutive nights of stand-up coming from comedians' living room via Instagram
The #IsolatedLaughs will kick off live this evening at 8.30pm with Russell Kane, followed by Marcus Brigstocke and Rachel Parris tomorrow and drag star Ginger Johnson on Saturday.
Those who tune in are invited to make a donation to NHS Charities together.
---
Best of Live at the Sunflower
Here's a collection of some of Northern Ireland's new generation of stand-ups, as recorded by the BBC at the Sunflower bar in Belfast. Taking part are Adam Laughlin, Terry McHugh, Frazer Robb and David Doherty-Jeb – all introduced by Shane Todd. Listen here
---
Adam Buxton's Old Bits
This week's free download from top indie label Go Faster Stripe – in exchange for a donation to food bank charity The Trussell Trust – is a compilation of some of Adam Buxton's favourite routines from over the years, including one about working from home while trying to avoid the internet (apt!)
Of course his work IS the internet as he plunges into YouTube comments, while offering a few homemade videos of his own, as presented to the audience at the BFI in London.
It will be available here from 4pm today (Thursday). If you visit before then, Stewart Lee's Pea Green Boat will still be available.
---
Sam Campbell: The Trough
This intense blast of nonsensical 'wackadoos' was the cult hit of the 2018 Edinburgh Fringe, packing out the Monkey Barrel basement at midnight and proving especially popular with fellow comedians who revelled its in-jokes about the tropes of stand-up.
The show's manic silliness, unpredictable non-sequiturs and air of anarchy also won it the Barry-winning success award at the Melbourne International Comedy Festival. Now you can watch it for free on YouTube, with the release of this show recorded at the Lyric Hyperion in Los Angeles.
---
Ross Noble's Lockdown Lounge
Ross Noble hosts an interactive show from his homemade bunker each day at 11am, featuring regulars such as Baby Sting (his daughter's doll with a mask of sting taped to it), Bungalow Russell and fans joining in with virtual gameshows.
The show can be viewed via his Instagram stories on @mrrossnoble.
Noble said: 'I would normally be on stage but when the theatres shut, I found myself without a job. Now I go live on Instagram and interact with people around the world. I make up fun things to do and we play. Mainly it's a chance for me to visit people virtually in their homes and have a laugh.'
---
Fearmoth
At a slight angle to his usual non-stop tirade of puns, Tim Vine made this ridiculous feature-length spoof horror film, which previously played the Brighton Film Festival in 2017.
It tells of a giant moth which attacks the small town of HazelPocket, with the finger of suspicion pointing at the manager of the local lightbulb shop, played by Vine, who has a morbid fear of the dark.
The film – which Vine has put up on YouTube for free – also boasts low-tech 'CGI-free' action sequences...
---
Katherine Ryan: Telling Everybody Everything
Admitting she's a little behind the curve, the comic has plunged into the world of podcasting with a new series discussing aspects of her life in her usual disarmingly honest way.
In the first two episodes, she has spoken of pregnancy loss and of rekindling a teenage romance with the man who is now her husband.
Telling Everybody Everything is available via Apple Podcasts
---
Outside The Box
Harry Hill headlines the first virtual gig to be stage by this chain of comedy clubs, based on the borders of Surrey and South West London.
He's joined by Damian Clark, Paul McCaffrey and the regular MC Maff Brown, all from their own homes via Zoom.
Tickets, priced £5, are available here. Passwords will be sent out by 5pm for a gig at 8pm tonight (Tuesday), lasting up to an hour.
---
Tiredness Kills
This new podcast comes from Delightful Sausage – aka the silly duo of Chris Cantrell and Amy Gledhill, winners of the character, improv and sketch category of this year's Chortle Awards.
Supposedly aimed at those trying to stay awake, the first episode features Gledhill interviewing a mucky ghost hunter, Cantrell reading a cautionary tale of greed and cryptozoology, and a guest appearance from Jake Yapp.
Gledhill said: 'We've literally not slept a wink pulling these shows together. If you like weird, creepy stuff - this is the podcast for you.'
Listen on Google Podcasts, Spotify or iTunes.
---
The Wireless Theatre Company
One of the first companies to offer professional audio drama for download has put its entire catalogue online for free in response to the lockdown.
Their comedy offerings include Arthur Smith's 2014 Edinburgh Fringe play, Trench Kiss' Richard O'Brien's pantomime Pig In Boots; We Are The BBC featuring Nicholas Parsons and Stephen Fry as themselves; Ladies – starring Alison Steadman and based on a real campaign at the turn of the 20th Century to build a ladies' loo outside Camden Town tube; and the play A Funny Old Business set in a comedy school.
They said: 'We have been considering returning to a free to play model for some time, and with all the disruption and unhappiness caused by Covid19, now seemed the perfect time to offer our lovely audio drama fans some free entertainment.
'As our thank you to every individual making Sacrifice to save others, even by just staying at home, we'd like to share all our audio dramas with you free of charge. We hope you enjoy them.'
Click here for their comedy section.
---
Housebound
This new online comedy series takes a look at how various characters are coping with lockdown.
The cast includes Susannah Fielding from This Time with Alan Partridge plus Pierce Quigley, Javone Prince, Priyanga Burford, Tim Downie and Jeremy Swift.
It has been created by Mark Bussell and Justin Sbresni, the writers and producers of The Worst Week of My Life.
Sbresni said: 'We asked ourselves the question: how do we make a TV series under the current social distancing rules? And this is what we came up with. We've worked with all the actors before and stayed in touch. Every one of them wanted to be part of it as soon as we pitched it.'
Russell added: 'We wanted to shine a light on the pressures and problems we're all going through. Where there's pressure, there's invariably comedy.'
The second episode was released yesterday and is here:
---
Tim Brooke-Taylor
With the sad news that one of the nicest guys in comedy died yesterday at the age of 79, after contracting Covid-19, it may be some comfort to remember the vast body of work he left behind. While there are lots of examples on YouTube and the like, here are a few official streams you might like...
At Last The 1948 Show: This show is usually described as a precursor to Python, since Graham Chapman and John Cleese were in the team, and because it contained the Four Yorkshireman sketch that became a Flying Circus staple. But you could not ignore the comic contributions of Marty Feldman and Tim Brooke-Taylor. Much of the footage was wiped but there's a good chunk of the audio available on Spotify
Art and Ideas: In this 45-minute episode of Radio 3's Arts And Ideas from 2018, aped to coincide with the release of a Goodies box set, Matthew Sweet talked to Brooke-Taylor, Graeme Garden and Bill Oddie about how humour changes. Listen here
I'm Sorry I'll Read That Again: BBC Sounds has four episodes of the wonderfully anarchic and pun-tastic series in which Brooke-Taylor starred alongside his Cambridge Footlights colleagues John Cleese, David Hatch, Jo Kendall and Bill Oddie. They are all from the fourth series in 1966. Listen here
Bananaman: The 1980s kids' classic, which starred all three Goodies, is available on Amazon Prime.
---
Brian Regan: All By Myself
The veteran American stand-up has made his 2011 CD, All By Myself, available for free. Not only that, for each download he will donate $10, up to a maximum of $25,000, to Comedy Gives Back's Covid-19 Emergency Relief Fund to help comedians who are out of work because of the venue closures. To access the free download click here – but it's only available until Wednesday.
Regan's most recent comedy special, Nunchucks And Flamethrowers, is streaming on Netflix, along with his series, Stand Up And Away!.
---
800 Pound Gorilla Records
And if you're willing to put your hand in your pocket for a stand-up album and actually help pay the comedians whose work you enjoy, this indie US record label has scores of them, from big names like Marc Maron, Michelle Wolf and Jim Jeffries.
Highlights include Demetri Martin, Mike Birbiglia and Brits Alfie Brown, Sean McLoughlin and Garrett Millerick. The full catalogue is here - click on the artist and you get a list of sites where you can buy or stream the content, sometimes for free, sometimes for ££s.
---
Black Mountain Poets
Alice Lowe and Dolly Wells play professional con artist sisters Lisa and Claire in this low-fi British comedy from 2016, which has just landed on Amazon Prime.
Their characters go on the run after being caught trying to steal a JCB and decide to lie low by assuming the identities of the owners of their escape vehicle and become The Wilding Sisters, guest stars of the Poet's Poetry Society retreat in the depths of the Black Mountains.
Here's the trailer:
---
Love Wedding Repeat
This farcical romcom, imagines several different timelines for the same wedding as Jack, played by Peaky Blinders star Sam Claflin tries to make sure his sister Hayley (Eleanor Tomlinson) has the perfect day. Olivia Munn plays Dina, a girl of Jack's dreams who got away, while Tim Key, Aisling Bea and Plebs star Joel Fry also play guests. The film was released on Netflix on Friday.
---
Anna Mann's Cheese, Sex and Isolation Party
Colin Hoult's theatrical alter-ego is always as upbeat as she is funny, so this video session – which live-streamed last night via NextUp – could be just the fillip needed. Guests were Olga Koch, Rob Carter as terrible novelist Christopher Bliss and 'evil magician' Pete Heat:
---
Need more suggestions?
• Click here for those from the week starting April 5
• Click here for those from the week starting March 29
• Click here for those from the week starting March 22
• Click here for those from the week starting March 15
NOTE: Sometimes links and videos of live events expire after the event. All were valid at the time of publication
Published: 18 Apr 2020
What do you think?