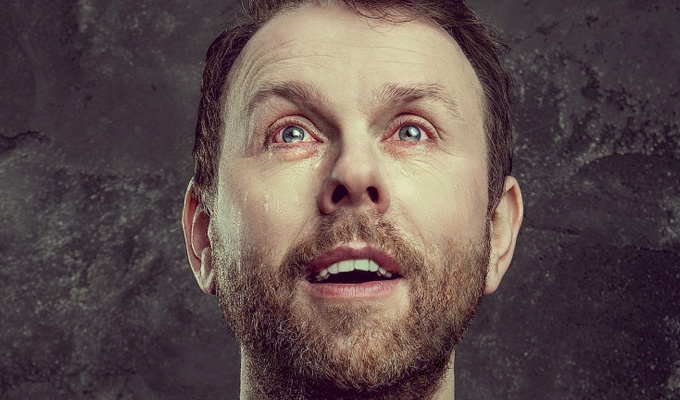 One Idiot you should listen to...
During the coronavirus lockdown Chortle will be bringing you a round-up of new comedy on demand – updated every weekday at around 3pm. From subscription services such as Netflix, Amazon Prime, iPlayer and NextUp, to podcasts and shows that comedians have released themselves, this is your essential guide to getting a daily injection of laughs to boost your immune system...
---
Michael Legge: The Idiot
The Northern Irish comic as put his latest stand-up show out as an audio download on Bandcamp, where it costs a fiver.
Writing on the website, he said: 'Why am I putting out my most visual show as an audio recording? Well, it's because I think recorded live comedy works best as audio. It's right in your head, and you can't get more intimate than that. Plus, you're smart and you have an imagination and I'm sure you can easily figure out what you aren't seeing. So, that's why Im putting it out on audio. That, and I'm an idiot.'
If you need pictures, the show is also available on comedy on demand subscription service NextUp.
The hour is a typically furious rant at those who would make the world a worse place such as Brexiteers and walking silent disco operators – before urging us all to be just a little more Iggy Pop. Here is our four-star review of the show from last year's Edinburgh Fringe.
---
Foil Arms and Hog: SkiddlyWup
The super-slick Irish comedy trio are always pretty active on YouTube. But because Sean Finegan, Conor McKenna and Sean Flanagan can't get into their office to shoot a video this week – and because of the cancellation of their live shows – they have decided to release to their 2016 live show in full, and for free, on YouTube:
---
The Last Stand
The 2006 straight-to-DVD movie revolves around four aspiring stand-ups in Los Angeles who hangout spot on the roof next to the comedy club between sets, where they form a bond and become fast friends. Notable mainly for an appearance by Kevin Hart, the film has lukewarm reviews on IMDB, but is available on Amazon Prime now.
---
John Hastings
The Canadian comic and festival favourite has released his 2019 Edinburgh Fringe show, 10 John Hastings I Hate About You, online for free. The comic had been due to perform it at the Melbourne International Comedy Festival from next week, before it was cancelled, so decided to give it fresh life on YouTube.
The show, described as a 'charismatic hour of stand-up' by Chortle's Jay Richardson, covers the comedian losing his grandfather, being in an open relationship and borrowing money from his mum.
Socials: Twitter; @ Instagram.
---
Dead Cat Bounce
The Irish musical comedy powerhouse – comprising Demian Fox, Shane O'Brien, James Walmsley – disappeared from the live scene in 2013, bowing out with a farewell performance in Dublin's Vicat Street. And they've now released it on YouTube for free, too, as their contribution to easing the coronavirus isolation.
Socials: Twitter ; Facebook; Instagram.
---
The Comedians At The Kings
The brainchild of comic John Moloney, this gig at the King's Theatre, Glasgow, showcased some of the country's most established circuit performers, who storm clubs every weekend without necessarily having had the big TV breaks.
It was subsequently picked up by BBC Scotland, which has just repeated the first episode, which means it's available on iPlayer.
It features stand-up from Fred MacAulay, Jo Caulfield, Brian Higgins, Michael Redmond and Janey Godley.
---
• Click here for a list of platforms where you can get more comedy on demand
Published: 20 Mar 2020
What do you think?