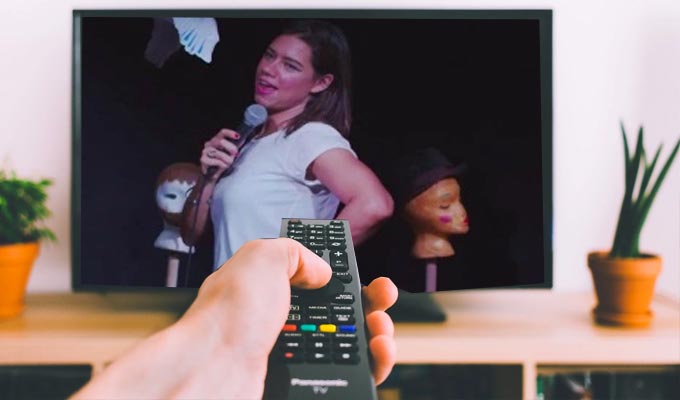 Coronavirus lockdown? Here's where you can still watch stand-up comedy
Although the world's on lockdown – and live comedy on an indefinite hiatus – no one need be without stand-up.
While Netflix and Amazon Prime are full of big-name specials, there are also plenty of platforms that offer the more inventive comedy you get on the live circuit. And with the advantage that grassroots performers who are facing devastating cuts to their income will get a cut of any money you spend online.
Of course there is no substitute for seeing comedy live, with the community of its shared experience and edge of in-the-moment unpredictability, our suggestions should tide you over until the recommended ban on going to pubs, clubs and theatres is lifted.
Next Up
This has often been described as the Netflix of British comedy: a pay-monthly subscription service that offers dozens of specials – 171 by our count – from the sort of comedians who storm the Edinburgh Fringe.
It's offering a seven-day trial and costs £9.99 a month – which can be cut to as low as £4.79 if you're happy to pay for a full year upfront. Half of all income goes into a pot that shared out among performers depending on what specials are streamed.
Familiar faces on the platform include the likes of Tommy Tiernan, Mark Steel, Bill Hicks and Ed Byrne, but the real joy is in discovering something new. Try Joseph Morpurgo's Hammerhead, Max & Ivan's The Reunion,Rachel Parris's Best Laid Plans or Lou Sanders in What's That Lady Doing (pictured)
Sign up here
Live From Soho Theatre
London's premiere venue for solo shows – which yesterday announced its closedown over the coronavirus – also produces a limited number of live comedy specials. They are on NextUp or can be rented direct from the Soho Theatre website for £4.
Available are shows from Nish Kumar, Mae Martin, Joel Dommett, Shappi Khorsandi, Jessie Cave, Josie Long, Jen Brister, Adam Hess, Aditi Mittal, Dane Baptiste, Rhys James, Lazy Susan and Panti Bliss.
Go Faster Stripe
The original home of independent comedy production whose aim is to 'make and sell recordings of comedians that are tragically overlooked by the mainstream' – either on DVD or downloads.
Recent additions include offerings from Phi Nichol, Seymour Mace and George Egg. The back catalogue also includes Mark Thomas's love-letter to the NHS – very apt in these strained times – and shows from Richard Herring, Tony Law, Simon Munnery, John-Luke Roberts, Bec Hill and more. Downloads are typically £5 a pop - browse Frankie Boyle, Ross Noble, Frank Skinner, Bridge Christie and Jeremy Hardy. Browse <a data-cke-saved-href=" https:="" id50000046="" itunes.apple.com="">here
Vimeo
There are some lovely comedy short films available for free on the platform, although finding them in the ocean of content can be difficult.
There are also a handful of comedy specials you can buy to support artists, including Count Arthur Strong, Henning Wehn Chris Turner, Tiff Stevenson and Miles Jupp
And there are some more international acts here
Twitch
Although predominantly a platform for gaming videos, a number of comics are increasingly turning to the streaming platform as a way to monetise what the do. Steve McNeill, one of the team captains and co-creators of Dara O Briain's Go 8 Bit on Dave, is compiling this list of UK comedians on the platform. Email him at stevefromgo8bit@gmail.com to be added.
Chortle
We will continue to feature some of the funniest short comedy comedy sketches in our video section. And feel free to email feedback@chortle.co.uk to suggest any new ones.</p><P>Every Saturday we also feature a list of the best comedy on demand, which will feature the best new releases across all platforms. (<a data-cke-saved-href=" https:="" news="" the_mystery_of_he_haunted_theme_parks...="" www.chortle.co.uk="">Here is the last one) – in addition we will now be running a separate 'podcasts of the week' selection every Thursday, rather than including them in this line-up.
Published: 17 Mar 2020
What do you think?