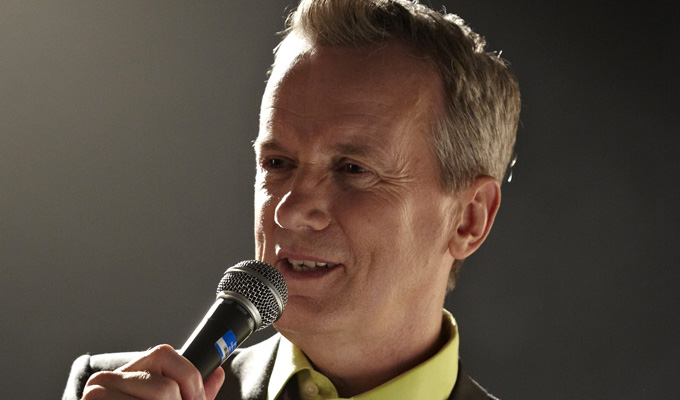 Frank Skinner
Skinner's journey to millionaire entertainer has been one of rags to riches - a story told in his 2001 autobiography.
Born Chris Collins in the West Midlands suburb of Oldbury, his destiny appeared to be a life working in one the region's many factories,
Indeed, he was expelled from school at 16 over a money-making school meal scam. As he admits: "All I did was find where they Dumped the old meal tickets and sold them on cheap to other kids. I'm not ashamed of it, it seemed like an honourable, Robin Hood kind of thing to do."
True to expectations, he moved on to the local foundry, but decided it wasn't for him. "We hammered lumps of metal into shape," he recalls. "Everyone there was deaf and had three fingers."
So he sought an escape through education - enrolling at night school for A-levels, an English degree, and finally an MA - and by making his first tentative forays into showbusiness.
"I entered a John Wayne impersonation competition at a Midlands nightclub called Samantha's," he recalled. "And I won. Mind you, the other entrant's impression consisted of getting on stage, baring his arse, and shouting 'Birmingham City: Kings of Europe.'"
He also sang in a Stones-style band called Olde English, and punk combo The Prefects.
But he says his 'Road to Damascus' moment came during a 1986 visit to the Edinburgh festival, which inspired him to begin a career as a stand-up.
It was a life-changing time. It may not fit with the image of a comic, but he also abandoned alcohol and renewed his interest in the Catholic church.
His first gig, in December 1987, was at the Birmingham Anglers' Association. "I died on my arse," he recalls.
And, as actors' union Equity had another Chris Collins on their books, the fledgling comic had to choose another name. He stole the moniker Frank Skinner from a man in his dad's pub dominoes team.
A four-year slog through the circuit, financed by a string of day jobs, led to Skinner establishing his own club in Birmingham.
And all the work paid off in 1991, back in Edinburgh, where he won the prestigious Perrier Award ahead of some seriously talented competition, including Eddie Izzard and Jack Dee.
The prize gave him some hard-earned recognition, and landed him a host of TV roles to supplement his constant live work.
It was on the stand-up circuit - at Jongleurs in Camden - that Skinner met and befriended David Baddiel who would become his flatmate and, later, collaborator.
The partnership led to the best moment of Frank's life, hearing the Three Lions anthem they co-wrote being sung by fans at Wembley.
In 1997, Skinner moved out of the Hampstead flat he shared with Baddiel since 1992 and into his own place - 100 yards down the road "I lived by myself for seven years and I quite liked it," he said. "I used to like eating baked beans out of a tin and sitting naked watching Sergeant Bilko. You can't do that if you share a flat. Other people's nakedness, unless you're in love with them, is a pretty off-putting thing."
The duo continued to work together, and in 1998 took their Unplanned show to the Edinburgh fringe.Anticipating audience cynicism about the loose idea, they set the ticket price at just £2. "People loved it," he said. The show proved such a success, that it transferred to TV and the West End.
While working with Baddiel, Skinner also developed his solo career, working on his stand-up and becoming an accomplished chat show host on BBC1 - a show that transferred to ITV when the corporation would not stump up the seven-figure sum he wanted.
In 2007, he returned to stand-up after a ten year absence, in a show that was nominated for best theatre tour in the 2008 Chortle awards.
Read More