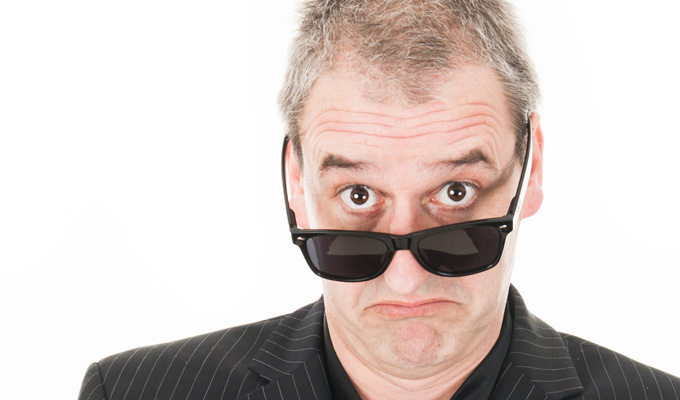 Isolation Booth
Here's our pick of the best new comedy on demand.
During the coronavirus lockdown Chortle will be bringing you a round-up of what's new to watch at home, updated every day at around 3pm.
From subscription services such as Netflix, Amazon Prime, iPlayer and NextUp, to podcasts and shows that comedians have released themselves, this is your essential guide to getting a daily injection of laughs. After all, it'll help boost your immune system and help stave off loneliness...
---
Boothby Graffoe
Droll comedy veteran Boothby Graffoe has released a new special on YouTube for free, though he's also soliciting donations, here to help pay bills now there's no such thing as a gig.
The show, recorded at The Kings Head in North London in November contains plenty of the dry surreal humour that the deadpan musical comedian is known for.
Graffoe, probably the only comedian in the world named after a Lincolnshire village, regularly supports both Omid Djalili and the Barenaked Ladies on tour.
Liam McKinnon and Ronnie Golden also make guest appearances in this new show:
---
Dawn French Live: 30 Million Minutes
It took 56 years – 30 million minutes – for Dawn French to perform her first one-woman show. It won acclaim for the way it took an amiable look back through her life, even dealing with some tragic and unhappy times with a light touch. The show was filmed during its final West End run in October 2016, and has now just been re-released on BBC iPlayer
---
Now Wash Your Hands
The second episode of the Radio 4 series that invites comedians to share their experiences of being stuck at home has been released. Jenny Eclair discusses turning to art, Matt Lucas reveals he's trying to see what happens if someone with alopecia, like him, doesn't shave, and David Sedaris talks sex robots.
It's hosted by Jon Holmes, Salma Shah, Jake Yapp and Natt Tapley and is available on BBC Sounds
---
Paddington 2
Just the thing to keep the kids, and the rest of the family, entertained, this 2017 comedy is available on iPlayer.
Starring Hugh Bonneville, Sally Hawkins, Brendan Gleeson, Julie Walters, Jim Broadbent, Peter Capaldi, Hugh Grant and Ben Whishaw, the film has the distinction of being the best-reviewed movie on Rotten Tomatoes, with a 100 per cent approval score from 238 positive reviews.
And it's gentle feelgood message is probably what a lot of people are in the market for...
---
Grace and Frankie
Lily Tomlin and Jane Fonda gave sneak preview of the series 7 premiere of their hit Netflix show last night – in the form of a table read.
They were joined by co-stars including Martin Sheen and Sam Waterston for the video conference, which racked up more than 120,000 views – despite the fact Sheen doesn't even own a computer
The actual episode was filmed back in January, but is not due out until next year.
The stream, carried on the Netflix YouTube channel, aimed to raise funds for Meals on Wheels America, and is still available, below.
Last week, Nick Kroll and the rest of the Big Mouth team did a similar table read for an episode of their animated show.
---
Australian stand-up comedy specials
Amazon Prime is releasing two stand-up specials from top Australian comedy acts each Friday for the next two weeks.
Today's shows, both filmed at the Malthouse Theatre in Melbourne and both dating from the 2018 festival season are Dancing With The Stars winner Celia Pacquola's All Talk (Live show review) and Zoe Coombs-Marr's Bossy Bottom, in which she returned to performing as herself after ditching her hack male comic alter-ego Dave. (Live review).
---
Lee and Dean watchalong
The cast of Channel 4 sitcom Lee and Dean are reuniting tonight (Friday) for an online reunion 'watch-a-long' of the first episode.
Mark O'Sullivan and Miles Chapman – who played the two builders will be joined by co-stars Anna Morris, Camille Ucan and Sam Underwood in a livestream on YouTube, and will be inviting fans to watch the episode simultaneously with them on All4.
The cast will be chatting through their memories of filming, giving some behind-the-scenes secrets, and will answer any questions fans have while watching along with them.
It will start at 9.30pm on the YouTube channel of production company Bingo Productions.
---
Krater Comedy Club
Brighton and Bath's Komedia venues become the latest to put a lockdown version of their stand-up nights online.
The weekly shows start at 9pm tonight (Friday) on the venues' YouTube channel and features MC Stephen Grant with Jeff Innocent, Lily Philips, John Moloney, Rob Deering and headliner Chris Turner, delivering his set from his LA home, plus clips from previous live shows,
Donations can be made here.
---
John Robertson: The Dark Room:
As we previously reported the comedian is staging a 48-hour marathon version of his fiendishly difficult interactive videogame comedy The Dark Room, raising money for NHS Charities Together and mental health charity Mind. It kicks off at 7pm tonight (Friday), via Twitch.
---
I Am The Prize
This low-budget British indie rom-com movie is getting its premiere tonight (Friday) – which means a free screening before it is made available to rent on -demand.
It revolves around a 'nice guy' trying to improve himself in order to have success in his love life - and what happens when he meets dodgy dating coach Sebastian Fortesque aka 'Paradox' and stars Charlotte Ellis, Andrew Kingston and Oliver Purches
Tonight's screening from 8pm, with a preamble from 7.30pm and a Q&A after. Register here, where you can also find more details.
---
Stewart Lee: Pea Green Boat
It's Thursday, and that means top indie label Go Faster Stripe will be switching around which of its comedy specials it's offering for free – as long as you make a contribution to food bank charity The Trussell Trust. So far, almost £20,000 has been raised.
You have until 4pm today (Thursday) to order Richard Herring's mortality-questioning show We're All Going To Die before the offer switches to his erstwhile double-act partner Stewart Lee and his 21-minute deconstruction of Edward Lear's The Owl and the Pussycat.
Order it here.
Meanwhile, Lee's 2008 special, 41st Best Stand Up Ever has been reappeared on Amazon Prime, joining 2012's If You Prefer A Milder Comedian Please Ask For One. and the third series of Comedy Vehicle.
In the show, Lee considers his place in an official ranking of comedians, above Lenny Bruce and below Jim Davidson. And in his mother's mind, nowhere near as good as Tom O'Connor. Watch here
---
Show And Tell
The top comedy promoters are launching a series of free, online stand-up comedy shows on YouTube every Tuesday and Thursday evening at 10pm.
Each half-hour show is free, though you can pay £1 for a front-row seat here and join in via Zoom.
Rhys James And Lou Sanders are on tonight's bill, with Adam Hess, Sara Barron, Simon Munnery and Jessica Fostekew coming next week
---
Lee Kyle
The Jarrow-based comic has launched a kid-friendly online show with the none-too-snappy name of Lee Kyle's Giant Comedy Shows for Families (Who Aren't Boring!) Performed in his front room, each show features a host of guests that look and sound suspiciously like Kyle.
He has hosted the kids show at The Stand in Newcastle for five years, played various theatres for Comedy Club 4 Kids and boasts of having worked with Sweep, Jedward and Basil Brush.
Shows go out at 2pm every Thursday, then are online for a week. Here's today's:
---
Jayde Adams's Couch Cabaret
Fresh from her scene-stealing appearance on Alma's Not Normal on BBC Two last night, comic Jayde Adams launches a weekly interactive cabaret night tonight (Wednesday), streamed as-live across social media.
Hosted from her living room with assistants and fellow comics Rich Wilson and Paul Sweeney, she invites her friends from the worlds of drag, comedy, art, and music to showcase their talents from their homes during lockdown.
It kicks off at 7.30pm, and tonight's first show features Rose Matafeo, Flo & Joan, Steve Bugeja, Bourgeois & Maurice, and drag lip syncer Grace Shush. Watch via Facebook Live.
---
The Cian & Emily Show
This new comedy podcast features Irish social media funnyman Cian Twomey, who has amassed more than eight million fans with his one-man double-act video sketches about relationships and outlandish imitation of his girlfriend Emily. But this new series, from Acast, features his real girlfriend Emily Rochford.
---
The De-Stress Signal
This new an entertainment magazine show has been put together for AgeUK with a mix of comedy sketches, celebrity messages, lock-down survival tips and music. Those taking part in the first episode, which will be live on Facebook at 1pm tomorrow (Thursday) include comic Rob Rouse, comedy magician John Archer and TV's Rob Rinder.
---
John Robins: The Darkness Of Robins
The show that won John Robins the Edinburgh Comedy Award in 2017 (when he shared it with Hannah Gadsby) arrives on Netflix today.
The Darkness Of Robins is a brutally frank discussion about the depths of depression he suffered after the end of his long-term relationships with fellow comic Sara Pascoe.
It is funnier than it sounds as he mines the personality differences between himself and his ex, combined with his farcical efforts to maintain a chipper face to the outside world while falling apart inside.
Read our review of the live show here, and watch the special, filmed at the BBC Radio Theatre in Broadcasting House, here
---
Cuts
Pierre Novellie has assembled an impressive cast of fellow comedians for this new sketch show, filmed pre-lockdown, which he wrote, directed and appears in.
Among those taking part in this one-off 13-minute episode are Jason Forbes. Harriet Kemsley, Sara Barron, Ed Night, Rich Wilson and many, many more
---
Good Vibe Rations
This new podcast from Welsh comedian Robin Morgan promises 'nice wholesome chats with nice wholesome people', which might prove a welcome distraction. Episode one is now on Apple podcasts and features comic Angela Barnes, WWE wrestler Mark Andrews, and lambing expert Siwan Humphreys.
---
The comic has just launched this new podcast all about coming out, being out, and finding your place in the world once you are out.
She said: 'I wanted to create a podcast which I've long wished to exist. believe I have made something interesting, funny and ultimately hopeful, and I can't wait for people to hear the exciting conversations I have had over the past few months.'
In the first episode, she speaks to Dustin Lance Black, an Academy Award-winning screenwriter (for 2008's Milk) and gay rights activist..
Subscribe on Apple Podcasts here
---
Stu Goldsmith's Infinite Sofa
Confined to his home, stand-up and Comedian's Comedian podcaster Goldsmith is launching a 'massively multiplayer online chat show' in which a selection of viewers who tune in will also be invited on to his virtual sofa.
Comedians will also guest, with Sindhu Vee, Jollyboat, Sean Morley and a surprise cabaret act tonight.
Details of how to sign up as a potential guest are on the show's website, and anyone can tune in to watch on Twitch from 8pm.
---
Good Ship Comedy Club
The North London club is one of the latest to start live-streaming sets from comedian's homes. A try-out episode last week attracted 1,600 viewers, so they have decided to make it weekly, also at 8pm every Monday.
Tonight (Monday) the line-up includes Bobby Mair, Schalk Bezuidenhout and Andrea Hubert and it's being transmitted via Facebook.
---
Today's World
Produced by Edinburgh's Monkey Barrel Comedy Club, this new web series features a crack team of comedians attempting to answer the important questions the public need answers to.
Don't know how to cope with a lack of intimacy during lockdown? Josh Glanc and Ray Badran can help. Want to know how you can keep your spirits up through the medium of dance? Helen Duff to the rescue. Looking to fix a hole in your sock? Oliver Coleman has the answer….
A new episode is released every Monday, Wednesday and Friday at 7pm, and they are all available here.
This is the latest:
---
Self-Isolating with Lee and Dean
The two builders from the Channel 4 comedy – as created and played by Miles Chapman and Mark O'Sullivan – have started this lockdown podcast.
The premise is that Dean has been forced to self-isolate in a client's house after laying some loft lagging, while bestie Lee is stuck at their flat. The pair keep in touch with regular video calls to each other, the audio from which forms this podcast.
Twelve episodes are planned, and the series got some funding from the government-backed Audio Content Fund.
The Lee and Dean sitcom, filmed in Stevenage, ran for two seasons on Channel 4 in 2018 and 2019 following a 2015 pilot.
Listen here
---
Love In The Time Of Corona
Made just before the full lockdown was imposed, this short film is a comedy about two people going on a date under the threat of Covid-19 and the challenges that entails. It was made by actress Hannah West with stars with Callum Wragg-Smith and Amy Glass.
---
Ashley Blaker: Alone At JW3
Going to a theatre to perform stand-up to an empty auditorium sounds to us a like a needless marketing stunt, rather than essential work given that so many other comedians follow advice and perform at home.
Still, Ashley Blaker insists this live performance at London's Jewish arts centre, JW3, counts as work that can't be done within his own four walls, and with no audience, he won't be coming within two meters of anyone.
The gig starts at 8pm tonight (Sunday) and it's 'pay what you want', from £5 upwards, here
---
• Click here for the suggestions from the week starting March 29
• Click here for the suggestions from the week starting March 22
• Click here for the suggestions from the week starting March 15
NOTE: Sometimes links and videos of live events expire after the event. All were valid at the time of publication
Published: 11 Apr 2020
What do you think?