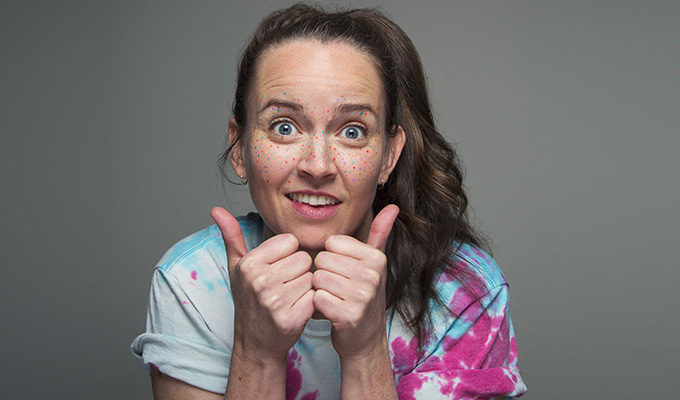 MICF: Zoe Coombs Marr - Bossy Bottom
No gimmicks. That's what Zoe Coombs Marr promises, returning to straightforward stand-up after six years performing as Dave, her barbed parody of a dreadful male comedian peddling tired sexist stereotypes.
Spoiler alert: She's lying. There are gimmicks, and lots of them, as she continues her cocky dismantling of the tropes of stand-up.
From the get-go she spoofs the 'you two a couple?' conventions of crowd work, not to mention the egotism of comedians who need their name in lights and yearn to play stadiums, where audiences can only see them on big screens.
Stand-up's latent chauvinism continues to be a theme, as she reclaims the dick joke. As some people are racist, Coombs Marr is straightist, joking that all heterosexual white men look the same to her, an echo of the point she was making with Dave about them all sounding the same, too.
Although he feminist credentials are impeccable, it didn't stop one London heckler berating her for body-shaming when performing as Dave, while a keyboard social warrior branded her humour 'biphobic adjacent'… whatever that means.
These stories come as she examines her relationship with her audience, which she sees as one amorphous person, her nightly encounters with us like Drew Barrymore's amnesiac in 50 First Dates.
All these ideas float and flicker around you, like being inside a snowglobe of comedy. Braving such a flurry can be a slightly bewildering experience, and sometimes the technical jiggery-pokery gets in the way. But what seems like a slight idea now may resonate later. Or it may not: some are just stupid bits for their own sake.
At the heart of all this is her love-hate relationship with stand-up, acknowledging that she can't do relatable comedy, because she can't relate (Even though she's an engaging, livewire presence on stage).
Indeed, the stand-up sections are the least convincing. She includes a mundane family story that her dad insisted would be perfect for her stage act, which attracts only tumbleweed – a routine that something of a minor comedy staple. And her mum's repeated shrieking insistence that she's bisexual, in a bid to bond with her daughter, does grate. As it intends too.
But even if theirs a lack of clarity in some of Coombs Marr's arguments – deliberately so in most cases – her out-of-control comedy charabanc, running on the fuel of contempt for the conservative status-quo, is still unlike almost anything else you'll see.
Review date: 6 Apr 2018
Reviewed by: Steve Bennett
Reviewed at: Melbourne International Comedy Festival
Recent Reviews
What do you think?