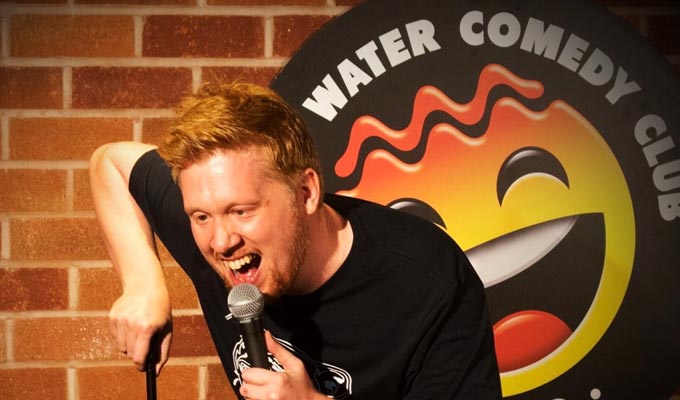 The comedy clubs still staging shows... online
During the lockdown Chortle will be bringing you a round-up of new comedy on demand – updated every weekday at around 3pm. From subscription services such as Netflix, Amazon Prime, iPlayer and NextUp, to podcasts and shows that comedians have released themselves, this is your essential guide to getting a daily injection of laughs to boost your immune system...
---
Hot Water Comedy Club
Liverpool's Hot Water comedy club tonight becomes the latest venue to stage an online gig to raise money for itself and its comedians during this time of shutdown.
From 7pm, regular compere Paul Smith will introduce Adam Staunton, Dan Nightingale and Paul Tonkinson and solicit donations on a pay-what-you want basis.
The show is available below and you can donate here
---
Saturday Night Live At The Stand
After the success of last week's venture, where they live-streamed a gig from their empty Edinburgh venue, The Stand is offer a second virtual stand-up club tonight.
Frankie Boyle, Daniel Sloss and Fred MacAulay are among the comics who will feature in the show, which comprises exclusive prerecorded content and will air from 8.30pm.
And as with the Hot Water show, it's free to watch but donations are requested to help keep the chain of three clubs – the others being in Glasgow and Newcastle – open.
The bill will be rounded out with JoJo Sutherland, Ryan Cullen, Jay Lafferty, John Moloney, Jim Smith, Marc Jenning, Stephen Buchanan, Julia Sutherland and Rosco McLelland.
Watch here:
---
Jack's Night In
Hull comedian Jack Gleadow has launched a new weekly variety show from his bedroom, featuring sketches, stand-up, game shows and guests via webcam:
---
#ZoologicalSociety
A 'concept album' version of a new musical about a troupe of loveable zoo animals – as written by comedians Vikki Stone and Katie Mulgrew – has been released today.
The cast includes Jason Manford alongside musical theatre stars including Natasha Barnes, Sharon D Clarke and Arthur Darvill.
It has been commissioned by Northampton's Royal & Derngate Theatre, whose artistic Ddrector James Dacre said: 'From gossiping giraffes and depressed monkeys to a penguin nervous about becoming a single mother and two pandas feeling the pressure to procreate, this brand new musical comedy is definitely for grown ups only.'
The album is available free on Spotify, Apple Music or Amazon Music
---
The Laughter Lounge
Friday night is traditionally a big comedy gig night, of course, and the comedy circuit isn't going to let something like a little lockdown get in the way of that.
From 8.30pm on Facebook and YouTube, the Dublin comedy club will be streaming a show featuring Giz A Laugh's Enya Martin, Danny O'Brien and Gar Murran. It costs €5 (or more if you'd like) and proceeds go to the Irish Cancer Society, since today is the usual focus of their annual fundraising, Daffodil Day. Donate here to get your link.
---
Bitch Bitch Bitch with Matt Lucas
In this new BBC podcast, the Little Britain comic lets those doing supposedly glamorous jobs to sound off about the more unpleasant aspects of their work.
The first episode, available here, revolves around flight attendants, with West End actors and top chefs among those featured in future episodes
---
Not content with keeping the locked-down nation amused with Taskmaster challenges, Alex Horne has joined with his band and special guest Tim Key over the internet to record a new series of the Horne Section Podcast, which kicked off yesterday. Listen here
---
Rachel Fairburn: Her Majesty
Mark Thomas started it last week, giving away downloads of his stand-up show Check Up: Our NHS@70 to anyone who gave a donation to the Trussell Trust, a foodbank charity that provides emergency food and support to people in crisis. The gesture made a staggering £11,000 for the charity, with a couple of hours still to go on the offer.
Now indie label Go Faster Stripe, which released the title, plans to do the same with a different show every week of the coronavirus lockdown, with Rachel Fairburn's Her Majesty being made available for free at 5pm. The show is about all the female role models in her family, and why she's drawn to male heroes outside of it.
It will be available here.
---
Comedian Nathan Cassidy finally put his psychology degree to use in this podcast series in which he talks to comedians about their psyches: How do they handle heckles and bad gigs? Are they brave or just maladjusted individuals? And what makes them want to risk embarrassment on stage in the first place?
During lockdown he is releasing daily short episodes with guests from the world of comedy, alongside mental health tips for dealing with these strange times. Guests lined up include Mark Dolan, Anuvab Pal and Luke Kempner.
Available at the usual podcast places, including Apple.
---
Elis James and John Robins: The Isolation Tapes
The two comedians are recording some top quality #content from their respective homes (John in Amersham, Elis in Crystal Palace and producer Dave in Stockport) for their BBC Radio 5 Live podcast feed. The aim is to provide listeners with a touch of light-hearted escapism, while touching on some of the challenges and mundanities of our new lives. under lockdown.
The second episode was released this morning here
---
The John Dredge Nothing To Do With Anything Show
The comic returns with a fifth series of his daft sketch show after a near five-year gap, The show makes full use of audio effects, and is slightly old-fashioned in its off-the-wall humour, redolent of Kenny Everett in fact.
Episode one, which was released yesterday, allegedly features avant-garde composer Arnold Schoenberg, silage, and a nod to the Year Of The Cagoule:
Previous series are available here.
---
Tom Segura: Ball Hog
A new Netflix special from the US comedian who delights in trying to upset and disgust his audience dropped yesterday. But unlike some edgelords Segura puts a humanity and silliness at the heart of his stories, as well as a candour in acknowledging his darker thoughts – perhaps putting him more in the Bill Burr camp.
Watch here.
---
Quarantine Comedy Club - The Stay at Home Festival
Nothing is stopping comedians from doing their routines – even if they are not allowed out of the house and don't have any live audiences to perform to.
To that end, today's update of our list of comedy on demand comprises gigs performed from comedians' homes, now even shows in empty comedy clubs, such as the Stand's weekend experiment, are banned.
One of the first out the blocks to announce such an initiative was Robin Ince and his Cosmic Shambles network, with their idea for a Stay At Home Festival of virtual gigs.
They've been releasing shows daily – the first couple being technical rehearsals – and the most comedy-centric was Sunday's Quarantine Comedy Club, hosted by Josie Long and John-Luke Roberts and featuring Mark Watson, Jonny And The Baptists and Tiernan Doueib.
Other shows featuring scientists, comedians and other entertainers are online here, where you can also make a donation
---
Comedy Virtually Live
Comic Jon Pearson is also running a virtual comedy club with performers at home via Skype. The next gig is at 7.30pm on Sunday with Thomas Green, Jenny Collier and Stuart Goldsmith. You'll be able to watch it here.
But the first took place on Sunday and is already online with Pearson introducing Karen Bayley, James Cook and Nick Page:
---
Virtual Stand-Up Show
This virtual gig, also coming from comics' house was hosted on Comedy Central's YouTube channel in the US and MCed by Sydnee Washington with Clark Jones, Will Miles, Giulia Rozzi and Rebecca O'Neal also on the bill.
---
Conversations Against Living Miserably
In this two-part special edition of Dave's mental health podcast, previous guests return to give their advice and stories for self-isolating.
Hosts Lauren Pattison, pictured, and mental health expert Aaron Gillies speak to the likes of Bryony Kimmings, John Robins, Pippa Evans, Ahir Shah and Sophie Duker. Listen here.
A stand-up special linked to the broadcaster's partnership with the charity Campaign Against Living Miserably will also air on Dave at 9pm tomorrow, featuring Joel Dommett, Kiri Pritchard-McLean, John Robins and Judi Love
---
Ed Gamble: Lifers
The comic's new podcast about heavy metal started last week. Although he admits he has a 'Coldplay face', Gamble is actually no stranger to the sweaty, beer-soaked mosh pit and over this eight-part series will talk to some of the genre's biggest names.
In episode one, he speaks to Brian Tatler, lead guitarist and founding member of the New Wave of British Heavy Metal band, Diamond Head.
Listen on Spotify
---
Sean McLoughlin's Quarantine Pirate Radio Show
As the title suggests, the comic is launching his own radio show, streaming live on YouTube every Monday, Wednesday and Friday. The show will start at 10pm and will last around 90 minutes, but won't be available afterwards.
McLoughlin said: 'I will play songs, tell stories, hear from listeners around the world about what's happened that day and have some funny guests call in. Musically it should be a variety but given the late night hour I assume there will be a fair few country ballads...'
It will all be on his YouTube page from 10pm.
---
ComedySportz
The Manchester-based improv show is also hosting virtual live shows on Monday, Wednesday and Friday – though at a time more suitable for its family-friendly content, 12.30pm. And the teams crowdsourced suggestions from YouTube comments, to keep their air of spontaneity.
'It's either keep doing shows or we all start singing Imagine,' said improviser Sean Mason. 'No one wants that.'
The first episode is now available on catch-up here, with others available on their channel later in the week. If they prove a success, the team will roll out the programme for longer.
---
• Click here for last week's suggestions of comedy to enjoy at home
• And click here for a list of other places you can enjoy comedy on demand.
Published: 28 Mar 2020
What do you think?