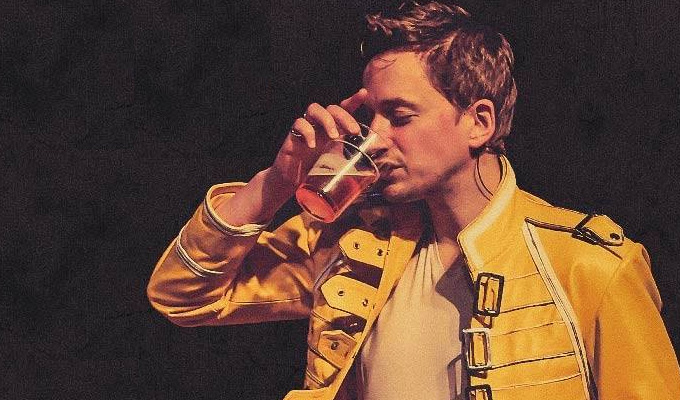 John Robins: The Darkness of Robins
John Robins has been a fine comedian for many years, hitching his pettiness and love of a precisely ordered life to a self-conscious approximation of jovial mateyness – a persona that evoked Alan Partridge's lack of self-awareness, but made more knowing.
Yet, cult success on Radio X aside, he never seemed able to make a breakthrough. Well now he has, courtesy of his Edinburgh Comedy Award victory, and all it took was for his heart to be wrenched from his soul and crushed underfoot, leaving him an abject husk of a man, racked with loneliness and self-pity.
'So I just broke up with my girlfriend,' is a dependable staple of club comedy, a gambit for a male comedian to rag on his ex and evoke some of that old 'difference between men and women' material. And maybe increase his chances of scoring at the bar afterwards.
In Robins' case, though, it's the cue for an emotionally excoriating plunge into the sadness that has engulfed him. Men are supposed to shrug these things off, move on, sleep around, reconnect with mates the old ball-and-chain denied them. But the break-up has left Robins with nothing but anguish, self-loathing and tearful breakdowns in Ikea.
The comedy – and there is plenty, despite what that sounds like – comes mainly from the disconnect between him trying to be that chirpy, put-a-brave-face-on-it bloke and the emptiness he feels inside. Making a list of the pros and cons of his newly enforced singledom, he suggests that the 'loss of all feelings of hope and possibility' can be offset by knowing where the iPhone cable is.
He tries to find some happiness in being able to do petty things that his ex (fellow comic Sara Pascoe, as the world surely knows by now) frowned upon, but uttering 'she would have hated it!' to himself is the most Pyrrhic of victories.
More gags come from their clash of personalities. Him a rigid stick-in-the-mud who always reads the ts&cs, her a 'free spirit' – or frustratingly careless, from his perspective. But my, does he miss those quirks that once wound him up so much.
He tries to make tentative steps on the road to normality, but how can he with such pain and desperation? A one-night stand is a bleak prospect, and he becomes full of disproportionate rage at a smug friend, believing he ought to be full of shame for living a cosy life the comedian now feels he has been denied.
The climax is a long reimagining of a building society advert depicting domestic bliss, which becomes an increasingly tragic blow-by-blow account of the slow death of his relationship. It's a miserable sequence, as much a vehicle for Robins's torment as it is him playing the long game to release the considerable tension he's built up with a punchline. And it's a very long game indeed.
As with Hannah Gadsby's Nanette, with whom he's shared this year's Edinburgh Comedy Award, The Darkness Of Robins is a show that tests the limits of where you can go with comedy, willing to abandon the laughs for substantial periods of brave and honest soul-baring.
It is an emotional roller-coaster all right, but at least the audience can get off after an hour; Robins is still going around, leaving his insides in turmoil.
Review date: 28 Aug 2017
Reviewed by: Steve Bennett
Recent Reviews
What do you think?