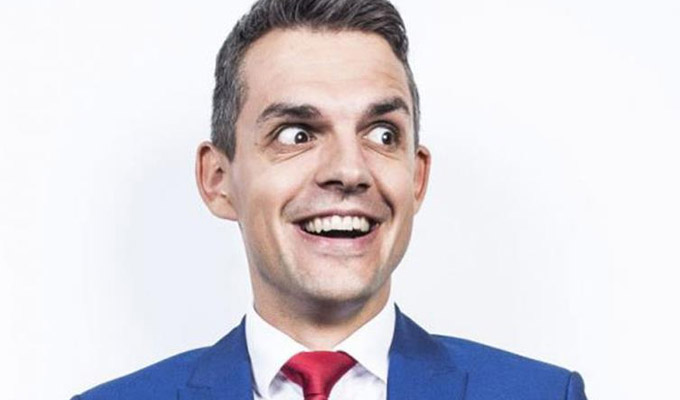 Cult alternative chat show moves online
Here's our pick of the best new comedy on demand.
During the coronavirus lockdown Chortle will be bringing you a round-up of what's new to watch at home, updated every day at around 3pm.
From subscription services such as Netflix, Amazon Prime, iPlayer and NextUp, to podcasts and shows that comedians have released themselves, this is your essential guide to getting a daily injection of laughs. After all, it could help boost your immune system and help stave off loneliness…
---
The Not So Late Show
Ross Brierley has taken his cult alternative comedy chat show online, with new episodes released every Friday, compiled over the previous seven days rather than being entirely riffed.
Comedian guests including Maisie Adam in this week's episode, are mixed with sketches, games, spoof adverts, an immortal plastic baby.
The Not So Late Show has previously been a live monthly residency in Leeds and been staged at the Edinburgh Fringe.
Here's yesterday's second episode:
---
Judith Lucy and Dilruk Jayasinha
This week's brace of Antipodean stand-up specials comedy from an Aussie veteran and a relative newcomer to comedy stardom.
In Judith Lucy vs Men, the comic reflects on her dating history and after finding herself single again concludes that maybe it's time to shut up shop: 'Whatever it is that I'm selling, a lot of straight men simply aren't interested in buying it.'
Watch here.
And in Bundle of Joy, Sri Lankan-born Jayasinha - known for TV appearances in the likes of sitcom Utopia and panel show Have You Been Paying Attention? – spreads his positive, upbeat brand of stand-up.
Watch here.
---
Rachel Feinstein: Only Whores Wear Purple
Comedy Central in the US releases another full-length comedy special on YouTube, this one from 2016 introduced by Amy Schumer, Feinstein's pal and future maid of honour.
In this show, Feinstein – a finalist in the 2010 season of Last Comic Standing – talks about the love of Christian sleepovers and the purposelessness of dick pics.
---
I'm Sorry I'll Read That Again... Again!
The third Laughter in Lockdown stream from Bristol's Slapstick comedy festival is the closing gig of this year's event, a recreation of the classic, anarchic radio comedy I'm Sorry I'll Read That Again!
It features guest appearances from a few of the original cast you might remember: Graeme Garden, Bill Oddie and Tim Brooke-Taylor making the last appearance in the guise of the incorrigible Lady Constance de Coverlet.
---
Chortle Comedy Book Festival podcast
Following today's news that Katy Brand is writing a new book about Mary Poppins, this week's episode of our podcast recorded at the British Library earlier this year has extra relevance
In it, Brand talks to fellow comedian Brenda Gilhooley about her love for Dirty Dancing which inspired her first book, I Carried A Watermelon, which is out in paperback next month.
Listen and subscribe here, where you can also get last week's edition featuring Mark Thomas.
---
Comedians of the World
Dublin comedy club The Laughter Lounge is staging a live-streaming gig tonight with ten international comedians (though it's heavy on the UK and Irish acts) all firing up their broadband to perform sets from home.
The line-up comprises Nigel Ng from Malaysia, American Scott Capurro, Allyson June Smith from Canada, Tamer Kattan from Egypt via the USA, Micky Bartlett from Northern Ireland, JoJo Sutherland from Scotland, Englishmen Nathan Caton and Kai Humphries and Irish acts Danny O'Brien, Colm O'Regan and John Colleary.
It starts at 8.30pm on Facebook and YouTube live.
---
The Online Boom Chicago Movie Quiz
British comic Simon Lukacs hosts this quiz tonight, based entirely around comedy movies. So if you know your Toy Story from your Blades of Glory, your Holy Grail from your You've Got Mail, your Pauly Shore from your ... you get the picture, tune in to YouTube from 7.30pm.
It's presented by Boom Chicago, Amsterdam's English language comedy venue, which is also seeking donations – although the quiz is free to play.
---
African-American Stand-up Comedy
This podcast pumps out a new hour-long special from top names every week, with Richard Pryor, Trevor Noah, Dave Chappelle, Hannibal Buress, Tiffany Haddish and Patrice O'Neal among the 50-plus shows already on the channel. Listen and subscribe here.
---
Fake Doctors, Real Friends with Zach and Donald
Following today's news that medical sitcom Scrubs is coming to All4 in its entirety, you may be interested in this new podcast to accompany it.
In it, co-stars and real-life best friends Zach Braff and Donald Faison relive the hit show, one episode at a time, sharing behind-the-scenes stories and reminiscing on some of their favourite memories. Perfect for fans of the hit series... Listen and subscribe here.
---
Upstart Crow
It's Shakespeare's birthday, so it seems apt to mention Ben Elton's comedy starring David Mitchell as the Bard alongside Liza Tarbuck, Harry Enfield, Rob Rouse, Gemma Whelan, Mark Heap and more. All 30 episodes are available on iPlayer
---
Curtains
Jason Manford recently completed a UK tour of this comedy musical, playing a detective – and lover of musical theatre – investigating a murder during a production destined for Broadway.
It's going to be streamed online from 7pm tonight (Wednesday) until midnight tomorrow, raising money for those who work in the theatre industry on zero-hours contracts who have been left high and dry by the lockdown.
The show's musical numbers have been written by John Kander and Fred Ebb, who wrote Cabaret and Chicago. It initially ran on Broadway in 2007 with Fraser star David Hyde Pierce winning a Tony Award for in the lead role. Click here to buy a virtual ticket for the show, priced £7.50.
---
Fingers On Buzzers
Comic Lucy Porter co-hosts this podcast all about TV quiz shows with The Chase's Jenny Ryan. And as interest in the genre peaks thanks to the University Challenge final and the Who Wants To Be A Millionaire drama Quiz, they are joined by Michael Sheen, whose portrayal of host Chris Tarrant was such a talking point.
So in the new episode hear about the time Michael's family almost appeared on a TV game show and how he became the most excitable contestant to have ever been on Pointless. Meanwhile, someone who sounds a lot like Chris Tarrant pops in for this week's listener quiz…
---
Pete Davidson: SMD
The Saturday Night Live star's 2016 stand-up special has been released online for free by Comedy Central. Amid plenty of knob gags and un-PC humour (including jokes about the 9/11 terrorist attacks in which his firefighter father died), there are some more tender joke about his relationship with his mum.
The title, by the way, stands for Stuck My Dick, which probably gives you a good idea of the tone of the hour...
---
Outside The Box
Nick Helm – who usually works so intensely off an audience - is doing his first lockdown gig from his laptop as part of the weekly offering from Outside The Box comedy club tonight (Tuesday 21).
Rap improviser Abandoman, newish act Mike Cox and regular MC Maff Brown complete the line-up. The show takes place at 8pm on Zoom but you need to buy a £5.50 ticket before 4.30pm to get the link.
---
XS Malarkey
Tom Allen and Ed Gamble are the twin headliners at tonight's (Tuesday's_ weekly virtual show from the ever-popular Manchester club.
Regular compere Toby Hadoke will again be taking charge, as Alison Spittle, Joe Sutherland and musician Sophie Galpin all pop in via webcam. It starts at 8pm on Twitch
---
The Comedy Store Benefit
Bill Burr, Bobby Lee and Whitney Cummings are among the US comedians taking part in this three-hour fundraiser to help the Los Angeles Comedy Store keep ticking over – and paying its staff – during lockdown.
It's in three, hour-long segments, kicking off at 1am British time with Cummings introducing Lee, Chris D'Elia, Andrew Santino and Tim Dillon.
An hour later it's Tom Segura introducing Joey Diaz, Bert Kreischer and Theo Von, and at 3am Neal Brennan introduces Burr, Donnell Rawlings and a special guest.
View and donate here
---
Middleditch & Schwartz
Netflix has launched its first improvised comedy specials.
Ben Schwartz and Thomas Middleditch recorded three shows for the streaming service in New York, all of which are long-form stories spawned entirely from an audience suggestion. Schwartz is best known for playing Jean Ralphio in NBC's Parks and Recreations, while Middleditch plays Richard Hendricks on HBO's comedy Silicon Valley. Watch here.
---
Public Domain Movies
This website offers a treasure trove of movies whose copyright has expired – so all can be viewed for free.
Under comedy, there's Cary Grant and Rosalind Russell in the great 1940 screwball classic His Girl Friday, Bob Hope's My Favorite Brunette, Buster Keaton's The General and Steamboat Bill, Jr, a whole raft of Charlie Chaplin flicks including The Vagabond, Laurel & Hardy's The Flying Deuces and some Three Stooges, among many others.
Watch here.
---
Stuart Goldsmith's Infinite Sofa
Russell Howard is the big guest on the Comedians' Comedian podcaster's new stuck-at-home venture tonight.
Goldsmith has also gone to great pains to ensure this has a proper format, with 12 members of the public joining the virtual sofa - picked at random from those who donate ahead of time – plus games and gags.
Also on the show from tonight are Alice Fraser, talking about her new Amazon Prime special, Chortle Award-Winners The Delightful Sausage and stand-up Edy Hurst.
More info here.
---
The Boosh
The BBC has been dropping more vintage content than normal onto its Sounds app during lockdown, including this 2001 radio show, originally broadcast on BBC London Live, which marked Noel Fielding and Julian Barrett's transition from cult live performers into the mainstream.
In the six-part series they play zookeepers Howard and Vince who work at Bob Fossil's (Rich Fulcher's) Funworld. Listen here.
---
Your Place Comedy
This new venture was set up by ten small, independent theatres and arts centres across the north of England to try to recreate their relationship with comedians. Each venue has pledged a small amount of money to pay the performers and cover the tech costs. In exchange, each venue gets a show which they can promote to their own audiences.
The show is free to watch here, but there will be an option to donate with all money raised distributed equally among the participating venues. The first show is tonight and features sets from Mark Watson and Lucy Beaumont, compered by Tim FitzHigham.
The venues are: Barton upon Humber Ropewalk, East Riding Theatre, Goole Junction, Helmsley Arts Centre, Howden Shire Hall, Carriageworks Theatre, Otley Courthouse, Pocklington Arts Centre, Rotherham Theatres and Selby Town Hall.
---
Comedy Club 4 Kids
Regular host Tiernan Douieb presents the first ever live-streamed show of the family-friendly stand-up show. It was streamed over YouTube, Twitch and Facebook yesterday, via NextUp, and is now available to watch again.
The line-up was Helen Duff, Ed Petrie, comedy duo Shelf, and Jay Foreman:
---
Trump Up the Volume
Boom Chicago the Amsterdam-based troupe of largely American improvisers, are live-streaming their shows, made under physical distancing rules, with very spaced-out performers and audience.
Last night's show was Trump Up The Volume, all about you-know-who, and featuring Pep Rosenfeld and Greg Shapiro. It's is embedded below, and as always they are inviting donations.
---
Need more suggestions?
• Click here for those from the week starting April 12
• Click here for those from the week starting April 5
• Click here for those from the week starting March 29
• Click here for those from the week starting March 22
• Click here for those from the week starting March 15
NOTE: Sometimes links and videos of live events expire after the event. All were valid at the time of publication
Published: 25 Apr 2020
What do you think?