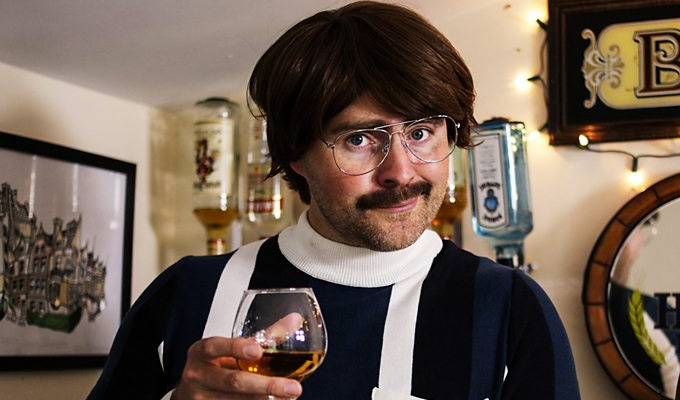 Raff's laffs
Here's Chortle's daily round-up of new comedy to watch at home during lockdown.
This list, updated at around 3pm daily, covers subscription services such as Netflix, Amazon Prime, iPlayer and NextUp, to podcasts and shows that comedians are releasing themselves, is your essential guide to getting a daily dose of laughs.
As well as these highlights, you can search our listings for other online events using the blue box at the left or top of this page. Or if you're a promoter wanting to add an event, details are here.
---
The Paddy Raff Show
BBC Northern Ireland last night aired this sketch show pilot written and performed by stand-up and social media sensation, Paddy Raff, with characters including Father Pat the raving priest and Granny Raff. It's now on iPlayer for the rest of the UK to enjoy.
---
Alex Edelman: Until Now
The debut album from the Edinburgh Comedy Award nominee was released yesterday. It's a collection of 22 jokes from American comedians previous solo shows, including his much-garlanded 2018 offering, Just For Us. It's available from 800 Pound Gorilla Records.
---
Ghibliotheque
It may be quite specialised, but this podcast is dedicated to the output of Japanese animation studio Ghibli. This week Michael Leader and Jake Cunningham were joined by comedian Ed Gamble, and took a leaf out of his Off Menu podcast for a crossover episode that discussed assembling the perfect meal from the dishes served up in Ghibli films. Listen here.
---
Yianni Agisilaou: The Simpsons Taught Me Everything I Know
The Australian comic takes a romp through the glory days of the animated comedy via Zoom . Previously performed at festivals, and now streamed from a Melbourne broadcast studio, the show asks whether an obsessive knowledge of the world's longest running cartoon embiggen one's understanding or is that unpossible?
It'll be streamed from 11.30am tomorrow UK time. More details and tickets are here
---
Quarantine Comedy Club
Josie Long and John-Luke Roberts return with their regular show as part of the Cosmic Shambles Network's stay-at-home festival at 8.30pm tonight (Friday).
This week's show features guest sets from Kemah Bob, Charlie George and house band Jonny And The Baptists.
---
Marcel Lucont's Cabaret Domestique
Jayde Adams, Lady Carol, Tom Crosbie and Tom Binns join the haughty French philosopher for this regular from-home cabaret gig tonight. Tickets
---
Gigless
Real-life couple Catherine Bohart and Sarah Keyworth tonight (Thursday) launch a new weekly online comedy show, with a debut line-up of Ivo Graham, Lou Sanders, Helen Bauer and Charlie George.
Bohart said: 'Sarah and I realise that live comedy might not be back for a while, and although at first we had to stare at our walls and eat a lot of ice cream, we've now moved through that phase of denial and are excited to launch Gigless.
'We're really keen to create a space where comedians can come and try new stuff; have a friendly audience, and also specifically try material about the current situation as comedy spaces catch up with this moment in time. We're pumped to entertain from our flat'
Gigless will run every Thursday at 8pm with tickets, priced £3 to watch the live stream or £5 to join the live Zoom audience, available here.
---
Mark Thomas : Serious Organised Criminal
Mark Thomas introduces an online viewing of his show about an 18-month battle over the right to demonstrate in Parliament Square, followed by an update of what's happened since and a Q&A.
In the story, Thomas encounters anarchists, goths and artists, becomes a Guinness World Record holder, organises 2,500 protests in one day and changes the law.
The screening starts at 7.30pm tonight (Thursday), and you can get tickets here
---
Funnies At Fringe
The Bradford Fringe has been forced online this year, including this event featuring local comedians and hosted by the ever-ebullient Barbara Nice. It starts at 9pm tonight (Thursday), and tickets priced £2 to £6 are available here
---
A Theatre Near You
Stephen Fry, Marcus Brigstocke, Lucy Porter and Rachel Parris are taking part in this showcase from the Oxford Playhouse tonight (Wednesday), alongside performers from other genres.
Not just a gig, although the local Jericho Comedy Club has a hand in it, the event has been written by comedian Kevin Day and directed by Simon Evans (not the comedian, but the man who directed David Tennant and Michael Sheen in BBC One's lockdown comedy Staged).
It kicks off at 8pm, but ticket sales close at 6pm, and they are available, priced £25, here, limited to 632, a full house at Oxford Playhouse.
---
The Carol Burnett Show
All 11 series of this influential US variety show have been made available on Amazon Prime. It ran from 1967 to 1978, picking up 25-Emmy awards on the way.
As well as the titular star, the series featured Tim Conway, Harvey Korman, Vicki Lawrence and Lyle Waggoner, plus guests including Lucille Ball, Cher, Bob Newhart and Don Rickles.
Watch here
---
Eshaan Akbar: Infidel-ity
Tonight's show in the ongoing NextUp virtual comedy festival comes from a comic who's supported Dane Baptiste, Hal Cruttenden, Jan Ravens and Rory Bremner on tour, taking about love, relationships, and how to be a man. There might be a quiz to test how racist you are. It starts at 8pm tonight (Wednesday) and tickets are available here, priced £10.30.
---
Comedians: Home Alone
Televised sport is finally coming back, and now Richard Herring is making his contribution, with the long-awaited broadcast debut of the grudge snooker match between Me1 vs Me2, the regular emotionally charged fixture some of his podcaster followers will already be aware of.
Elsewhere in the BBC's lockdown comedy show a bushy-bearded Al Murray dispenses some bartender wisdom, Jayde Adams moans about living underneath Joe Wicks, Kerry Godliman returns as the desperate lockdown mum, trying to schedule her daughter's week. and Vic Reeves does... well something very Vic Reeves-like.
Watch on iPlayer.
---
Outside The Box
This Zoom comedy gig tonight (Tuesday) is in the very capable hands of circuit stalwarts Hal Cruttenden, Jen Brister, Ian Stone and regular compere Maff Brown. Tickets, priced £6.60, are available here
---
XS Malarkey
New Yorker LeClerc Andre joins Fern Brady, Sean McLoughlin, Thanyia Moore and host Toby Hadoke for this week's comedy-from-home show from much-loved Manchester comedy institution XS Malarkey. It starts at 8pm tonight (Tuesday) on Twitch
---
Joe Jacobs: Ripe
The comedian and rapper is putting his 2017 Edinburgh Fringe show out on YouTube tonight.
In it, he likens the human lifespan to a banana, from green and full of potential to the black mush of decay; looking back at childhood crazes such as Pogs and considering his mental health today.
The show will be live at 6pm here:
---
Castival
In this new podcast comedian Matt Hoss asks guests to pitch their dream music festival line-up. Nathan Caton and Michael Legge are the first two up, and those lined up for future episodes include Stuart Goldsmith, Dane Baptiste and Laura Lexx.
Listen on Spotify.
---
Peter Peter's Positivity Programme
In this comedy web series, Tim Treloar plays a bitter geography teacher on sick leave who is trying to reinvent himself as a 'positivity guru', which may be his way of staving off a breakdown.
There are ten short episodes, one being released each day on YouTube - and here is episode one:
---
Norman Lovett: Outside The Box
Comedy veteran - and, of course, Red Dwarf star - Norman Lovett will be introducing a stream of his 2012 special from 7.30pm tonight (Sunday), with a live Q&A at the end.
Go Faster Stripe, which filmed the footage, said: 'Yes, on paper, it's just a man playing with plastic bags and bits and bobs he's found, but it is so much more than that.'
Tickets, priced £5, are available here.
---
Showstopper! The Improvised Musical
The acclaimed, Olivier Award-winning troupe, who improvise a full-on musical from a single suggestion, have put a couple of their shows online as filmed at the Edinburgh Fringe.
Starving!, their 949th musical, is set at a fashion show with songs inspired by West Side Story, Stephen Sondheim, Legally Blonde and Hamilton; while Tent! is set on a camping trip in the Highlands, with music in the styles of Stephen Sondheim, Priscilla Queen of the Desert, Jesus Christ Superstar and Lin-Manuel Miranda's In The Heights.
They are available to rent at £3.49 each or buy at £5.99 from Vimeo.
---
Stuart Goldsmtih
The NextUp Comedy Festival continues, which an at-home performance from a top circuit stand-up at 8pm every night in July. Tonight it's the turn of Comedian's Comedian podcaster Stuart Goldsmith with a special edition of his Infinite Sofa talks show. Tickets.
---
Need more suggestions?
• Click here for those from the week starting June 28
• Click here for those from the week starting June 21
• Click here for those from the week starting June 14
• Click here for those from the week starting June 7
• Click here for those from the week starting May 31
• Click here for those from the week starting May 24
• Click here for those from the week starting May 17
• Click here for those from the week starting May 10
• Click here for those from the week starting May 3
• Click here for those from the week starting April 26
• Click here for those from the week starting April 19
• Click here for those from the week starting April 12
• Click here for those from the week starting April 5
• Click here for those from the week starting March 29
• Click here for those from the week starting March 22
• Click here for those from the week starting March 15
NOTE: Sometimes links and videos of live events expire after the event. All were valid at the time of publication
Published: 11 Jul 2020
What do you think?