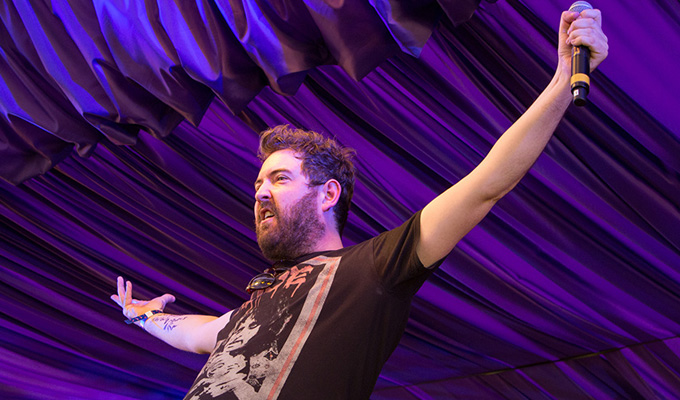 Who needs Eurovision?
Here's our pick of the best new comedy on demand.
During the coronavirus lockdown, Chortle will be bringing you a round-up of what's new to watch at home, updated every day at around 3pm.
From subscription services such as Netflix, Amazon Prime, iPlayer and NextUp, to podcasts and shows that comedians have released themselves, this is your essential guide to getting a daily dose of laughs....
---
The Isolation Song Contest
Eurovision may be cancelled, but musical comedian Tom Taylor has gathered 14 friends from the entertainment industry to come up with his own alternative to be streamed tonight
Mel Giedroyc, Nick Helm, Tim Vine, Josie Long and Neil Hannon from the Divine Comedy are among those representing various nations of Europe.
It all kicks off at 8pm here... and here is a trailer:
---
Assscat
After the Upright Citizens' Brigade announced the permanent closure of its New York venue, the US comedy institution has started putting content online, including new incarnations of Assscat, the world's longest-running improv show.
Last night, you missed Amy Poehler lead the cast of the free show, but there are more tonight at 1am and 4am (ie very early Sunday morning) UK time. And they are doing it for charity:
---
Finding Soho
Comedy duo The Pin – aka Ben Ashenden and Alexander Owen – write and star in this short film reminiscing about the heady heyday of London's louchest district:
---
Adult Life Skills
Doctor Who herself, Jodie Whittaker, stars in this 2016 Britcom as a woman comfortable living in her mom's garden shed making funny videos all day. But as she approaches 30, she starts feeling the pressure to move on and 'grow up' without compromising her youthful spirit.
It also stars Lorraine Ashbourne, Brett Goldstein, Rachael Deering, Eileen Davies and Alice Lowe, and has just arrived on Netflix
---
The Watsonathon
Mark Watson is back with another of his marathon shows, but this time on lockdown, with the aim of recreating 'in a mostly pretty silly way, some of what we've temporarily lost: not just comedy clubs, but all the stuff that used to make up social and cultural life.'
He's got a track record of attracting some pretty big names to these endeavours, but more important is the sense of community he creates among those taking part.
He said: 'For a long time, I've done 24-hour shows as a way of bringing the comedy community together to help people in need. Now, pretty much everyone is in need, because of the - you know - this Covid business. So: a 24-hour show online. Me for the whole time, and anyone else I can plead to take part from home. Very fiddly indeed, for me, this one. Fiddly is an understatement.'
The comic first presented a 24-hour show at the 2004 Edinburgh Fringe and has since staged several more endurance performances, including a 36-hour show in 2006 – his longest yet – and a 26.2-hour effort last year to coincide with the London Marathon.
Watch here from 9pm tonight until 9pm tomorrow - obviously – and donate here.
---
Live At The Covid Arms
Another massive fundraiser as comedians, led by Kiri Pritchard-McLean set a world record for the most people in a virtual pub – thanks to an online quiz night
Russell Howard, Nish Kumar, Jon Richardson, and Joel Dommett, Marcus Brigstocke, Rachel Parris, Lucy Beaumont and Suzi Ruffell, plus The Chase's Jenny Ryan will be among those popping by for quiz night
It kicks off at 8pm tonight (Friday) and tickets are available here. Money raised will go to The National Emergencies Trust Coronavirus Appeal.
---
Jason Manford Lockdown Quiz
A bit of bad timing as Manford hosts his own quiz at exactly the same time, via YouTube…
---
Roundheads and Cavaliers
Cariad Lloyd stars in this short film as a dutiful girlfriend going along to an historical reenactment society for the first time, where she finds herself caught between a Roundhead and a Cavalier in a battle for her affections.
She stars with Alex Carter ,David Schaal and Perry Fitzpatrick an it's directed by Chloe Thomas, who has previously worked on Horrible Histories, and written by Kevin Mears.
---
Trying
We're not sure quite how many subscribers there are to Apple's new TV series in the UK, but their first British comedy launches today with Esther Smith and Rafe Spall as a North London couple desperate for a baby. But ealry reviews have been tepid: two stars in the Telegraph, three in the Guardian, with the Hollywood Reporter dismissing it as a twee adoption rom-com. Subscribers can watch here
---
Scrubs
All 182 episodes of the sitcom following medical intern John Dorian (Zack Braff) on his career through Sacred Heart Hospital have today been put on All 4. Fill your boots here
---
Mr Swallow: Houdini
Mr Swallow, the eager but demanding alter-ego of Nick Mohammed, made a show about Harry Houdini - and now it's available online to raise money for NHS charities.
It will then be available to stream until May 20 for a minimum donation of £4, shared between NHS Charities Together and a fund to help comedians through this time of financial instability.
Mohammed – currently appearing alongside David Schwimmer in the Sky sitcom Intelligence – is joined by David Elms and Kieran Hodgson as Mr Swallow's assistants as he fuses daredevil magic, biographical detail and musical numbers to tell the story of the legendary showman.
Watch via Soho Theatre on demand
---
Comic Boom
The new comedy night staged at Brighton's Komedia comedy club goes online at 8.30pm tonight (Thursday). It's headlined by Angela Barnes with Luca Cupani, Sam Savage, Michael Akadiri, Harriet Braine, Jody Kamali, Joe Foster and Christian Jegard:
---
Pope Lonergan's Symposium
Across a couple of sessions tonight (Thursday), comedians will discuss the dark side of stand-up comedy and the origins of UK alternative comedy and how it has influenced the contemporary scene.
From 9pm, host Pope Lonergan will discuss how comedy can prove cathartic in tragedy wiht Kiri Pritchard-McLean, Andrew Hankinson, author of a book about how New York's Comedy Cellar, and Patrice A. Oppliger and Eric Shouse, editors of the academic book The Dark Side of Comedy.
Then from 10.10pm, guests will include: Eddie Izzard, Arthur Smith and comic-turned-academic Oliver Double to discuss he roots of alternative comedy
Both sessions will be available on NextUp Comedy's Twitch page and all donations made during the show will go to Angel Comedy.
Lonergan said: 'Angel Comedy has been integral to my growth as a comedian, and to many others.If they went away it'd leave a huge gaping hole on the London circuit.'
---
The comedian and host of Secret Artists podcast, will share her tips for quarantine on Facebook Live from 6pm tonight (Thursday)
---
The Divorce Club
Comedian Samantha Baines just got divorced – and feels great about it. Which is why she started this podcast to present a more upbeat look at how 42 per cent of marriages will end.
In episode one, which landed today, she is joined by Sarah Millican, who retells the story of how divorce led to her becoming a comic, as well as the confidence issues she had throughout her life, living with her parents at age 29 and losing everything. She also dishes out a great piece of advice to change your ex's name on your phone to 'the arse' so every time they message you giggle instead of sobbing.
Baines said: 'I was born to share intimate details about my personal life with everyone and I hope these chats might help people going through the whirlwind that is divorce.'
Other guests in the weekly series will include Helen Lederer, Shappi Khorsandi and Carl Donnelly, and it's available via Acast, Spotify and iTunes.
---
Bob Monkhouse: The Last Stand
Bob Monkhouse's last recorded gig is back on iPlayer thanks to a BBC Four repeat last night. It's a remarkable and intimate performance at the Albany pub in central London in 2003 to an audience full of other comedians.
The gig started as usual, but took an unusual, and revealing, turn when the veteran comedian dropped the gags and started speaking about the comedy legends he had worked with over the years. By the end of the year, he would be dead of prostate cancer at the age of 75.
It included a surprise appearance from Mike Yarwood, while the comedians in the audience that night included Reece Shearsmith, Jon Culshaw, David Walliams, Fiona Allen, Mark Steel, Adam Bloom, Kevin Day and Ricky Grover.
Watch here – and read our review here
---
Andrew McClelland: A Seated Walking Tour
One for tomorrow morning (Thursday) when Australian comedian Andrew McClelland offers the only responsible way to travel around Europe, with a virtual tour courtesy of Google Street View, informed by your guide's 'enthusiastic but flawed knowledge of history'.
It starts on Zoom at 11.30am UK time and tickets are pay-what-you-can, available here
---
Trapdoor Comedy
Stand-ups Rob Mulholland and Duncan Oakley will be performing on Facebook Live from 8.30pm tonight (Wednesday), thanks to Manchester comedy Trapdoor Comedy. Watch here
---
Moment Of Truth
In this new podcast, Cardiff-based comedian Leroy Brito talks to sporting guests about the moment that changed the course of their career. In episode one, Wales and Cardiff Blues prop Dillon Lewis talks about his path to international rugby.
---

Lockdown Parenting Hell
Josh Widdicombe and Rob Beckett have launched this new podcast about bringing up children during the lockdown.
In each episode of Lockdown Parenting Hell, the comedian pals will have an honest discussion with a celebrity guest about the trials and tribulations of educating and entertaining children in close-quarters.
Episode one dropped this morning with Katherine Ryan, while future guests will include Elis James & Isy Suttie, Alex Horne, Jon Richardson, Jonathan Ross, Miles Jupp, Jason Manford and Kerry Godliman.
New episodes will be released twice a week and be available on all major podcast networks including Apple Podcasts.
---
Cambridge Footlights Smokers
The Cambridge Footlights – the student group that has produced some of comedy's leading lights for decades – are putting their famous 'smoker' gigs online for the first time, The regular informal gigs mixing sketches, character comedy, songs and stand-up, usually presented at their own venue, the ADC Theatre and the first one to be treated goes live at 9pm tonight (Tuesday) here
Last night, the students' Impronauts group also presented an hour of short-form improv games online, which is still available to view:
---
The Calm Comedy Club
The Campaign Against Living Miserably has launched an online comedy club every day this week, with a different comic online via Twitter at 3pm every day.
Hurry here and you to see today's set from Paul Chowdhry, with Dane Baptiste, Nigel Ng and Seann Walsh over the rest of the week. Footage remains up after the event, so you can see Russell Kane's contribution from yesterday on the same channel.
If you're struggling, talk to Calm on 0800 58 58 58 or via webchat between 5pm and midnight.
---
XS Malarkey Online
Jessica Fostekew, Barbara Nice, Adam Hess, Stuart Laws and The Story Beast are the comedians performing from their living rooms to yours tonight (Tuesday) in the online gig presented by Manchester's much-loved, long-running comedy night. It kicks off at 8pm, and tickets – priced £6.60 – are available here.
---

James Acaster's Perfect Sounds
The comic's podcast has just launched on BBC Sounds, in which he tries to convince listeners, and a different guest each week, that 2016 was the best year in history for music.
Acaster became obsessed after having a breakdown following the collapse of a relationship in 2017, after which he decided to collect as much music from the previous year as possible, and he ended up with more than 600 albums that came out that year.
He previously outlined his argument in a book, and now this series takes up the idea, starting off with him trying to persuade Romesh Ranganathan of the genius of Beyoncé's Lemonade.
---
Goodbye: The (After) Life of Cook & Moore
This play about the difficult relationship between Peter Cook and Dudley Moore is one of this week's offerings in The Online Fringe Festival.
Set in the afterlife, where Pete is waiting for Dud to join him, the play is presented in a rather offputting split-screen format throughout. It was written by Jonathan Hansler, who plays Cook, and Clive Greenwood. Former Britain's Got Talent coemedian Kev Orkian plays Dudley Moore. Read the original Chortle review here and watch here - where you can also donate to the project.
The Online Fringe Festival has a new selection of shows each week, and also on until May 3 is Andy Storey's stand-up show Still (Awkward) Life, which is available here, recorded at Just The Tonic at the Mash House at last year's Edinburgh Fringe.
---
My Time Capsule
Comedy actor Michael Fenton Stevens – from Radio Active, Benidorm, My Family, Nighty Night and more – hosts this new podcast which is a kind of Desert Island Discs, but for objects, with guests to select five things from their lives that they would put into a time capsule: four because they are precious and one that they want to see the back of and want buried forever.
My Time Capsule launched today on Acast with episodes from Stephen Fry, Rebecca Front and Arthur Smith, while future guests include Mark Gatiss, Richard Herring, Chris Addison, Miles Jupp, Andy Hamilton and Lucy Porter.
---

Get A Round
Originally performed at the Edinburgh Fringe, this immersive comedy play revolves around a night out at the pub, with the audience assigned the roles of all the characters you might meet in the boozer.
This version was filmed for the BBC at the Star and Garter in Manchester in 2017, and has just been put on iPlayer as part of the Performance Live strand, recreating those times when live entertainment – and indeed pubs – were a thing.
Get A Round is the creation of the Manchester-based trio Eggs Collective – Sara Cocker, Lowri Evans and Leonie Higgins – who put a bit of politics and social commentary into the cocktail.
Watch the film, introduced by Josie Long. here.
---
An Evening With Elis and John
Elis James and John Robins, the nation's 'best tolerated DJs', join Ivo Graham for the one-off live-streamed event lookin back at their 'life, work, loves and regrets'.
Put together by producers Show And Tell, the virtual show – which kicks off at 8pm – will be raising money for Standing Together Against Domestic Violence as well as the comics themselves. Tickets are £6 – or free for NHS staff and careworkers – and are available here.
---
Cheesy 1970s sex comedies
Amazon Prime has added the trio of Adventure Of… movies to its catalogue. The movies, that could be considered Carry On's saucier cousins, are:
1976's Adventures of a Taxi Driver starring Barry Evans from the Doctor…and Mind Your Language sitcoms, alongside the likes of Diana Dors, Liz Fraser, Robert Lindsay and Henry McGee.
Then there's 1977's Adventures of a Private Eye, starring Christopher Neil (who went on to producer Celine Dion and Mike And The Mechanics records) in the lead role with a cast that also includes Harry H. Corbett, Jon Pertwee, Irene Handl. Ian Lavender and Willie Rushton.
And finally 1978's Adventures of a Plumber's Mate, again starring Neil, with Arthur Mullard, Anna Quayle, Stephen Lewis, Christopher Biggins and Elaine Paige.
---
Need more suggestions?
• Click here for those from the week starting April 19
• Click here for those from the week starting April 12
• Click here for those from the week starting April 5
• Click here for those from the week starting March 29
• Click here for those from the week starting March 22
• Click here for those from the week starting March 15
NOTE: Sometimes links and videos of live events expire after the event. All were valid at the time of publication
Published: 2 May 2020