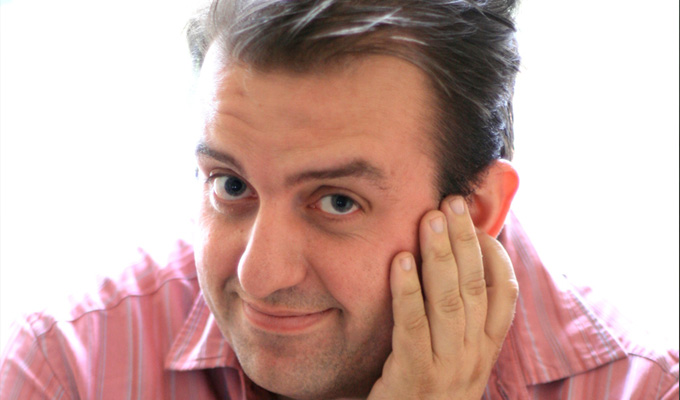 Spain heads some international comedy
Here's our pick of the best new comedy on demand.
During the coronavirus lockdown, Chortle will be bringing you a round-up of what's new to watch at home, updated every day at around 3pm.
From subscription services such as Netflix, Amazon Prime, iPlayer and NextUp, to podcasts and shows that comedians have released themselves, this is your essential guide to getting a daily dose of laughs.
As well as these highlights, you can search our listings for other online events using the blue box at the left or top of this page.
Or if you're a promoter wanting to add an event, details are here.
---
The Comedy KARLnival
Irish comic Karl Spain hosts his regular Galway comedy gig tonight (Saturday), in virtual form and for charity. He'll be introducing Edinburgh Comedy Award Winner Phil Nichol, 2020 Chortle award nominee TanyaLee Davis and John Colleary from RTÉ's The Savage Eye and Irish Pictorial Weekly.
The show will be on the Facebook page of the Roisin Dubh venue from 8pm.
It's part of an effort to run a 24-hour comedy festival around the globe – although there appear to be substantial gaps in that plan –raising money for US charity Comedy Gives Back, which helps comedians from all around the world who have lost gigs and income due to the coronavirus. Tickets, for those who can afford it, are priced €8, and available here
---
Saturday Night At The Stand
There's an international feel to the comedy clubs' weekly at-home offering, with Whose Line Is It Anyway? star Greg Proops, Des Clarke, Henning Wehn, Lauren Pattison, Hailey Boyle, Dave Fulton, Tanyalee Davis, (again) Mitch Benn and Gus Lymburn, and more. It can be watched here from 8.30pm.
---
Gong Mad
This one-off remote gong show will feature 15 new comics all trying to perform for three without getting three red cards from our live zoom audience. It's being hosted by Ashley Gorman and Laura Smyth as a fundraiser for eight-year-old Anna Drysdale, who three years ago was diagnonesed with a rare form of bone cancer called osteosarcoma. Her parents are for her treatment
The gig takes place on the South Kensington Comedy Club's Facebook page tonight (Saturday) from 9pm.
---
Eurovision
It should have been the Eurovision song contest tomorrow, but comedians have stepped up to the plate to fill the gap.
Already setting a very high bar was the Isolation Song Contest, in which the likes of Tim Vine, Lucy Porter, Kevin Eldon and Josie Long created songs for their assigned nations. Watch that here.
Now top improv troupe Showstoppers are doing their alternative version tonight (Friday) hosted by Pippa Evans and Andrew Pugsley, featuring commentary by Tom Allen and judged by Christopher Biggins, Arlene Philips, London Hughes and Claire Sweeney are the judges.
Thirteen Showstoppers performers, plus guest stars Josie Lawrence, Mike McShane, EGG and Jordan Gray, will belt out new songs parodying favourite Eurovision genres on Facebook Live and YouTube from 8pm.
At exactly the same time, comedy night Pinata! will be offering its version of the song contest via NextUp Now, featuring 20 comedians including Helen Duff, Yasmine Day, Josh Glanc and Huge Davies performing songs from their allocated countries.
---
Belly Laughs Cardiff
Last weekend, Bristolian comic Mark Olver staged a fundraising gig which celebrated West County talent generated more than £33,000 for local charities (and you can see it again here.
Tonight (Friday) it's the Cardiff leg, featuring the likes of Kiri Pritchard-McLean, Elis James, Mike Bubbins, Tudur Owen, Jordan Brookes, Jayde Adam and host Robin Morgan, raising the benjamins for Llamau, Dragon's Heart Hospital, Fare Share Cymru and Chapter Arts Centre.
It'll be on Twitch at 7.30pm and the donation link is here.
---
John-Like Roberts: All I Wanna Do Is [FX: GUNSHOTS] With a [FX: GUN RELOADING] and a [FX: CASH REGISTER] and Perform Some Comedy!
This wonderful Edinburgh Fringe show from witty blue-moustachioed, Spice-Girls obsessed absurdist John-Like Roberts is quite the treat. And it's also this week's charity donation from comedy label Go Faster Stripe. Chuck in what you can for charity, and the professionally filmed download is yours.
Read our glowing review from the 2018 Edinburgh Fringe here, and get the special here
---
Mark Thomas: Bravo Figaro
The comic ditches his usual political slant for this more poignant and personal show about his father, a self-employed builder with a passion for opera, his degenerative illness, and Mark's attempt to put an opera on in a bungalow in Bournemouth.
It was commissioned by the Royal Opera House in 2012, when it debuted at the Edinburgh Festival.
Tonight (Thursday) it streams at 7.30pm - with a break for the clap for carers – followed by a live Q&A. A fiver buys you the link to the private YouTube video, here
---
Comedy Without Borders
To celebrate international comedy, ten stand-ups from around the world will be performing tonight (Thursday) to raise money for for Médecins Sans Frontières (Doctors Without Borders).
The headliner is Eddie Izzard, who will be reading an extract from Charles Dickens's Great Expectations, which he has previously performed as a one-man theatre show. And stand-up will come from Anuvab Pal representing India, Ari Eldjarn (Iceland), Brodi Snook (Australia), Conrad Koch (South Africa), Dave Hill (USA), Francesco De Carlo (Italy), Igor Meerson (Russia), Luca Capani (Italy), Sam Morrison (USA) and host Schalk Bezuidenhout (South Africa)
The gig will start at 8.05pm - just after the clap– via Komedia Live's YouTube channel. And click here to donate.
---
CoppaFeel! Sofa Series
Luke Kempner will be streaming a gig from his home tonight (Thursday) in aid of breast cancer charity CoppaFeel! He'll joined by fellow comedians Rosie Jones, Suzi Ruffell and Russell Kane. It's at 8pm but you need to get your ticket by 6pm for £5, or £15 for a front-row seat where you may be able to interact with the comics. Details here.
---
What's Funny About... The Vicar of Dibley
A suitably lovely discussion with Dawn French and Richard Curtis about the hit sitcom, with veteran TV executives Peter Fincham and Jon Plowman. Over an hour, they discuss how to make a fundamentally nice character funny, Richard's curious appetite for writing quite so many weddings, and who else was in line to play Geraldine. Listen on BBC Sounds.
---
National Treasures
It's a difficult podcast to launch when no one's allowed out of the house, but in this new show, comedians Laura Lexx and Will Duggan talk the listener through some of nation's finest attractions.
Before lockdown, they visited castles, stately homes, ruins, art galleries and museums, including Warwick Castle, Devil's Dyke, Kew Botanical Garden and – in today's first episode – Blenheim Palace,
The blurb says: 'Listen as they stumble through muddy fields, hallowed halls and half-remembered historical facts. It's like an audio tour… only narrated by two idiots.'
And Lexx said: 'The thing I've liked most about embarking on National Treasures so far is finding someone like Will to be really enthusiastic about stuff that's usually perceived as really uncool. To fully embrace middle age to the point where you're doing a podcast about nice days out, gift shops AND you're allowed to swear? This is winning.'
Listen here
---
When No One's Watching
In this new podcast, comedian and presenter Matt Richardson and Busted band member Matt Willis interview celebrities and comedians and get them to confess the things they get up to when no one's watching.
Guests for series one include Tom, Emma Willis, Keith Lemon,, Maisie Adam, Lauren Pattison, Kerry Howard and Derry Girls stars Saoirse-Monica Jackson and Louisa Harland
Richardson said: 'I'm so chuffed I've finally got an outlet to get celebrities and comedians to admit the things they secretly enjoy out loud. Those stories are always far more interesting than the things they say in every other interview.'
Like National Treasures, this podcast is made by a new division of DLT Entertainment, the company which has produced BBC sitcom My Family, owns the Shaftesbury Theatre in London, and owns a stake the the agents who represent comedians including Micky Flanagan, Zoe Lyons and Lost Voice Guy.
Subscribe and listen to episode one with stand-up Helen Bauer here
---
Mr Show
The stars of the cult US sketch programme Mr Show reunite for an online charity gig tonight.
Bob Odenkirk – now best known as the star of Better Call Saul – and Arrested Development's David Cross have got their gang back together, including Paul F. Tompkins, Scott Aukerman, Tom Kenny, Jill Talley, Jay Johnston, Brian Posehn, Brett Paesel, and John Enni.
It will air on Zoom at 1am UK time. Tickets priced $12.20 (£9.85) are available here.
---
The Wrong Missy
God this new Netflix romcom from Adam Sandler's production house looks tired. David Spade plays a businessman who thinks he was going on holiday with a stunning blonde but ends up with a less attractive girl who's initially annoying but turns out to… yadda yadda yadda.
f you watch this trailer and still want to the full movie, which looks like it's made from a script that's been lining Sandler's budgie cage since 1985, knock yourself out. It's here
---
Nu Media
Forget the lamestream media, are grassroots citizen journalists the future? This new short film/comedy pilot – written by and starring Will Hislop - is based about a group of self-appointed new media reporters trying to expose a murky Snapchat drug deal. Ellie White and Alex Austin co-star.
Hislop – son of Private Eye editor and Have I Got News For You's Ian – recently went viral with his NHS clap for carers parody that garnered more than 3.6million views on Twitter.
---
Outside The Box Comedy Club
Tim Vine and Reginald D Hunter are your two, very different, headliners at this virtual club night, offering punny one-liners and philosophical social musings in equal measure. The hugely experienced Andrew Bird and Barry Castagnola round off the cracking bill, MCed by Maff Brown. tickets are £5.50 and available here
---
Unbreakable Kimmy Schmidt: Kimmy vs. the Reverend
The Netflix comedy series comes to an end with an interactive chose-your-own adventure. Ellie Kempner's guileless character is getting married, but first she has to foil the latest plot from the Reverend, the evil cult leader who imprisoned her.
Jane Krakowski, Tituss Burgess, Carol Kane, Jon Hamm and Daniel Radcliffe co-star. Watch here
---
Carlin's Legacy
To celebrate what would've been his 83rd birthday, the National Comedy Centre in Jamestown, New York is putting together a star-studded virtual tribute to George Carlin.
Those participating include Norman Lear, Judd Apatow, Tim Allen, Judah Friedlander, , Kathy Griffin, Penn Jillette, Russell Peters, Steven Wright, Alan Zweibel, and Carlin's daughter, Kelly Carlin.
It takes place at 1am UK time tonight, here. In preparation, here is a short documentary from the centre, which holds the Carlin archives, about his comedy career.
---
Peter Sellers: A State of Comic Ecstasy
The mercurial comic genius's mood swings and mistreatment of those around hi as been pretty well-documented, but this new BBC documentary shines new light on this most difficult of characters, including plenty of archive footage and the first interview from second wife Birtt Ekland about their marriage.
Watch on iPlayer.
---
The NY Friars Roast Of Jerry Stiller
Given the sad news that the star of Seinfeld, King Of Queens, Zoolander and the variety circuit has died at the age of 92, what better time to revist this 1990 roast, one of the first to be broadcast on Comedy Central in the US. Although as Rolling Stone magazine pointed out, he's not the best target for the no-holds-barred format as he is 'simply too nice to lay into with the sort of cuts-to-the-bone remarks required'.
Hosted by his screen son Jason Alexander featuring his real son Ben Stiller, among those trading insults on the famous dais are Sandra Bernhard, Jimmy Kimmell, Kevin James and Jeffrey Ross.
---
Recorded at the British Library as part of the Chortle Comedy Book Festival earlier this year, entertainment historian Lous Barfe talks about his new biography of Ken Dodd, offering some insight into the unique comedian's life, as well as his own work chronicling popular culture.
e was in conversation with Philomena Cunk co-author Jason Hazeley. Listen here, along with previous sessions from the festival with Mark Thomas, Katy Brand and Jen Brister.
Barfe's book Happiness and Tears is available here.
---
Have a Good Trip: Adventures in Psychedelics
'Don't get me wrong, drugs can be dangerous,' says Nick Offerman as he hosts this film in the guise of a supposed scientist. 'But they can also be hilarious.'
Compiled by veteran US comedian writer-producer Donick Cary, this is a collection of 'I was so high...' anecdotes from the likes of Sarah Silverman, Lewis Black, Sting, Nick Kroll and Ben Stiller again. The stories are illustrated with animations and sketches and some old anti-drug propaganda...
Watch here.
---
Belly Laughs
Comic Mark Olver is doing an online version of the string of gigs he normally stages in his Bristol hometown that bring together the city's comedy and culinary scenes.
He's assembled an A list of stand-ups with links to the city including Russell Howard, Jon Richardson, Alex Lovell, Jayde Adams, John Robins and Joe Wilkinson.
It kicks off at 7.30pm tonight (Sunday), raising money for four local charities – FareShare South West, Julian Trust, Bristol Old Vic, and Great Western Air Ambulance – and already there's more than £22,000 in the kitty.
Click here for pay-what-you-can tickets, with a suggested donation of £4.
---
Your Place Comedy
It's the second stand-up gig for this initiative from a string of ten independent venues in the North of England, aimed not only at fundraising but also maintaining the links with their audiences.
Tonight's show features Simon Brodkin, probably best known for handing Theresa May a P45 during the Conservative Party Conference, and Maisie Adam, whose credits include Have I Got News For You, Mock The Week.
It's compered by Tim FitzHigham and will be free to watch on YouTube, although donations are encouraged. More than 3,500 people tuned in last time…
Watch here from 8pm tonight (Sunday).
---
Feeding America Comedy Festival
Big-name American comedians including Kevin Hart, Chris Rock, Adam Sandler, Eddie Murphy, and Billy Crystal are taking place on this live-streaming food bank fundraiser on NBC tonight (Sunday). It's also on channels including Comedy.TV and bizarrely, the Weather Channel, since it's the brainchild of Byron Allen, who owns the stations.
But for those of us outside the US, it's also going be on the Local Now network, from midnight UK time.
Also taking part in the show, to be co-produced by Funny Or Die, are Sarah Silverman, Stephen Colbert, Tina Fey, Whoopi Goldberg, Will Smith, Will Ferrell and many, many more…
---
A Night In with Nina and Monkey
Ventriloquist Nina Conti and her simian sidekick will be interacting with the online audience at this online gig, at 7.45pm tonight (Sunday). Tickets are pay-what-you-want from £1 to £8, or free to NHS staff, care workers or those who really can't afford it, here.
---
UK Pun Off
One-liner merchants challenge each other to apply their wordplay skills to create gags based on selected topics. Tonight's show is at 7pm on Facebook and features Lovdev Barpaga, Adele Cliff, Julian Lee, Colin Leggo, Iain MacDonald and Kat Molinari.
---
Need more suggestions?
• Click here for those from the week starting May 3
• Click here for those from the week starting April 26
• Click here for those from the week starting April 19
• Click here for those from the week starting April 12
• Click here for those from the week starting April 5
• Click here for those from the week starting March 29
• Click here for those from the week starting March 22
• Click here for those from the week starting March 15
NOTE: Sometimes links and videos of live events expire after the event. All were valid at the time of publication
Published: 16 May 2020