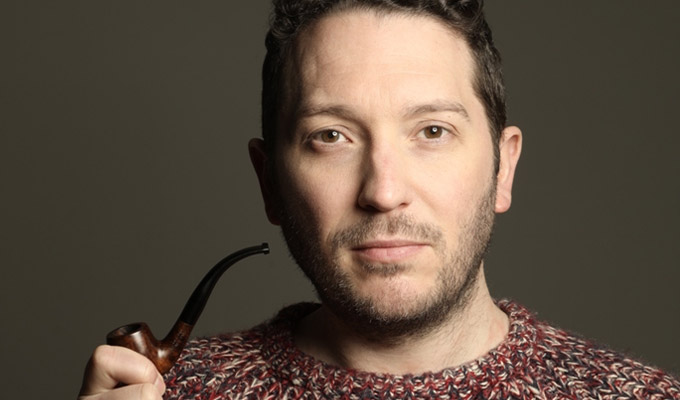 Jon Richardson headlines a virtual gig
Here's our pick of the best new comedy on demand.
During the coronavirus lockdown, Chortle will be bringing you a round-up of what's new to watch at home, updated every day at around 3pm.
From subscription services such as Netflix, Amazon Prime, iPlayer and NextUp, to podcasts and shows that comedians have released themselves, this is your essential guide to getting a daily dose of laughs.
As well as these highlights, you can search our listings for other online events using the blue box at the left or top of this page.
Or if you're a promoter wanting to add an event, details are here.
---
Just The Tonic
The well-established comedy club tonight (Saturday) becomes the latest to provide an online offering, when founder and sometime compère, Darrell Martin hosts a virtual gig from his spare room.
Jon Richardson is the star-signing headliner, topping a bill that also includes Matt Forde, Naomi Cooper, Darius Davis, Paul McCaffrey and Phil Ellis
Martin said: 'We love stand-up comedy, but we also like not spreading any lurgy. So we are doing our best to bring comedy to the home, learning to laugh without a crowd around us. This will be raw, it will be fun, it won't be straight stand-up, but it will be funny, for the right or wrong reasons.'
The gig will be streamed live only from 9pm, with a pre-show playlist from 8.30pm. Tickets, priced from £5, are available here.
---
Don't Mention It
William Andrews offers his take on the comics-dialling-in-by-Zoom format with this quirky inventive show, which also comes in at a nicely brisk 12 minutes.
Stuart Laws, Sunil Patel, Helen Duff, the Delightful Sausage and Lulu Poppelwell help with the silliness.
---
Joshpardy
Think you know your Seinfeld? Well here's a quiz show based on the sitcom in which US comics Josh Macuga and Tom Dagnino (aka Bobby Finstock, aka Bobby Gucci) put their fandom to the test with some very obscure questions on the way. Mark Ellis asks the questions.
---
Anne Edmonds: What's Wrong With You?
Amazon ends its release of ten Australian stand-up specials with this rambunctious offering from Eddo, in which she relives a road-rage bust-of with a misogynist prick she encountered on the way to visit her sick father.
The performance is casual, but her rants pack a point – and a punch. Read our review of the live show here – or watch on Amazon here.
Completing the Aussie collection is Tom Gleeson's Joy, a more old-school offering from the comic who's become famous for being the arrogant, arsehole host of The Hard Quiz down under. Eschewing narrative and political correctness, it's an example of down-the-pub-with-a-mate stand-up, but with a twist. Watch here
---
By Jeeves!
Created by Alan Ayckbourn and Lloyd Webber, this musical based on P.G. Woodhouse's stories will be available online for 48hours from 7pm tonight as part the Shows Must Go On initiative to keep theatre going during lockdown.
A flop on its original release in 1975, it was reworked 20 years later but never managed to find the success of other Lloyd Webber projects.
This is the 2001 Broadway production starring Martin Jarvis and John Scherer, which again was relatively short-lived.
---
Comic Relief plays Dungeons & Dragons
Comedians Nish Kumar, Sue Perkins, Ed Gamble and Sara Pascoe are to play the fantasy game online for charity tonight, with Paul Foxcroft was Dungeon Master.
The event, in aid of Comic Relief will kick off at 7pm on interactive platform Tiltify and last a couple of hours.
---
The Funny Women Survival Guide
Sooz Kempner and Harriet Braine are today's guests in this podcast, in which female comedians share tips with host Alexis Strum about living through lockdown.
Previous guests have included Kerry Godliman and Shazia Mirza, and all can be heard here
---
Eleanor Conway: You May Recognise Me From Tinder
The comedian, best known for her Walk of Shame live show, performs her latest one-woman offering online at 8pm tonight and tomorrow on Zoom.
Described as a 'candid look at intimacy, shagging and crossing lines', the show has Conway confronts the fact she may have intimacy issues: she always has sex on the first date and hasn't got beyond a third date in over ten years.
She said: 'It'll be different to the live show, more intimate, and I'll be adding new bits in that you can help decide the fate of.'
Tickets for the Zoom session - which she's priced at £10 a head if you can afford it – are available here.
---
Josie Long: Tender
The comic performs a version of her latest one-woman show from her own living room as part of the Cosmic Shambles network's Stay At Home festival from 8.30pm tonight (Thursday) here.
Unveiled at the Stand during last year's Edinburgh Fringe, the show focusses entirely on pregnancy and childbirth, taking the audience through the emotional rollercoaster and physical indignity of the process with honesty and humour, concluding by wondering what sort of a world she is bringing her daughter into, daring to be optimistic about the future.
---
Because You Watched
In this podcast, comedians pitch new ideas for TV shows and movies based on obscure video-on-demand categories. Today's episode, due to land this afternoon, will feature Marcus Brigstocke and Rachel Parris, while previously Laura Lexx suggested some British alien sci-fi movies and Ross Noble, Maisie Adams and Paul Foxcroft came up with new ideas fro the 'inspiring underdog films' category. Listen here.
---
Isobelly Laughs: Live At Your Gaff
For some reason, this regular comedy night is normally held in an ad agency called isobel, which is far too fashionable for capital letters. But tonight it is, of course, going online, with comedians including Sophie Duker, Cally and Joby Mageean.
The night is in support of Women's Aid and Greene King will be providing free beers for home-delivery giveaways during the event. It kicks off at 7.30pm on Zoom.
---
47 Years Without A Clue
Graeme Garden presents this Radio 4 tribute to his friend and colleague Tim Brooke-Taylor,featuring excerpts of his work as well as reminiscences from friends and colleagues. Listen on BBC Sounds.
---
Mark Thomas: The Things About Us
For his latest project, comedian and activist Mark Thomas has been looking at what defines Britishness, away from the normal flag-waving jingoism.
He's been working up a live show and book on the subject, and now it's encouraged him to make a new podcast, with a series of six episodes looking at topics such as The British Museum and the Chagos Islands – an archipelago in the Indian Ocean that's a UK territory but also claimed by Mauritius – to ask who the bloody hell do we think we are? How does it match to reality? And what are we going to do with the gap between the two?
Episode one has just been released and is available here.
---
Ivan Brackenbury & Friends Stay At Home Tour
Tom Binns should have been on tour at the moment, with his one-man variety show that his faux-psychic comedy (as if there's a real thing!), his hapless hospital DJ alter-ego Ivan Brackenbury, his ventriloquism act and more.
Instead, he's doing a four-night virtual tour at 7.30pm tonight and the next three nights, with tickets, priced £6, available here.
---
Stand-up shows from both these comics are have landed on Soho Theatre's on demand service today.
In Desiree's Coming Early, which debuted at last year's Edinburgh Fringe, the American comic spins a yarn about 'a spiritual journey of mythically ridiculous proportions' as she headed to the hippy paradise of the Burning Man festival in Nevada's Black Rock Desert.
While Bleed, filmed at Soho in 2018, predates Brooke's award victory at last year's festival and shows the self-proclaimed 'riskiest comedian in the biz' (tongue resolutely in cheek of course) grappling with the existential dilemma of performing in typically absurd and intense ways.
Both shows will be available for just three weeks, and cost £4 to rent.
---
Always Be Comedy
The London comedy club is running another virtual gig tonight, featuring Iain Stirling, Tez Ilyas, Jess Fostekew, Luke Kempner and James Gill as MC. It takes place via Zoom and tickets, priced £5, are available here.
---
Doing Bits
Eshaan Akbar and Vittorio Angelone host what's essentially a live podcast over video, in which they are joined by comedians working on brand new joke ideas. But without an audience to test them in front of, this could be the next best thing.
New episodes are released every Tuesday and Thursday - so there will be a new one from 7.30pm tonight – while the last one, with Alfie Brown is below. Other previous guests have included Tez Ilyas, Sindhu Vee, Adam Rowe, and Jarlath Regan.
---
This Is English
A prize-winner at last year's Edinburgh Independent Film Awards, this low-budget short revolves around a group of violent pedants attempting to put a stop to poor spelling and grammar.
Written by Liam Wilson it was shot in a single day and stars Jack Doolan, David Schaal and Donna Preston and has recently been put online. Here it is:
---
Cambridge Footlights
The legendary university group that has brought the world Peter Cook, Stephen Fry, Hugh Laurie, Sandi Toksvig, David Mitchell, Robert Webb, Sue Perkins, Richard Ayoade and more puts on a virtual stand-up showcase tonight.
Featuring recorded sets from graduating and post-grad students, the show goes live at 9pm.Get a ticket here.
---
Material
In this 2012 South African movie, a dutiful son must hide his pursuit of stand-up comedy from his staunch father, who expects him to uphold their Muslim beliefs and take over the family business, a fabric shop. ('Material', see what they did there?)
Ebrahim from The Kumars at No. 42 won a South African film award for playing the devout father and real-life stand-up Riaan Moosa is his son. It's just arrived on Netflix
---
Jen Brister on The Other Mother
In the third episode of the Chortle Comedy Book Festival Podcast, recorded at our event in the British Library in January, comedian Jen Brister talks about her book about being a parent outside of the traditional 2.4-kids family: from IVF awfulness to crying over the pages of sleep training manuals.
She's in conversation with fellow comedian Katy Brand, whose own book about Dirty Dancing was the subject of the previous episode. And activist and comic Mark Thomas was the one before that. All episodes are available here.
---
The Machynlleth Comedy Festival: Stand Up In My House
The final episode of the BBC Radio Wales comedy shows put together in honour of the Machynlleth Comedy Festival (see also below) featuring comics performing stand-up to an exclusive and hard-to-please audience: their own families. Featuring Mark Watson, Kiri Pritchard-McLean, Mike Bubbins, Jen Brister and Huge Davies, all introduced by Adam Buxton. Listen here.
---
Angel Comedy From The Archive
The latest online content from the Bill Murray venue in North London features filmed footage of sets from Ben Clover, Archie Maddocks, Christian Talbot and Caitlin Cook, hosted by MC Francis Foster
---
The Machynlleth Comedy Festival: Live From Lockdown
This weekend should have seen comics assemble in the Welsh town for the much-loved festival.
Alas, it was not to be, but Welsh acts who have previously performed at Mach Fest spent lockdown devising new material for a 30-minute comedy cabaret show for BBC Wales, including songs from Carys Eleri sketches from Gein's Family Giftshop and stand-up from Jordan Brookes, pictured, all hosted by Kiri Pritchard-McLean.
Listen here. There's also a celebration of ten years of the Machynlleth festival here
---
Dulwich Hamlet comedy club
The South London venue is hosting a virtual gig tonight with MC Alexandra Haddow introducing Paul Foot, Arthur Smith, Michael Legge, Eshaan Akbar, Elf Lyons, Bobby Mair, Sunil Patel, Jimmy James Jones and Fiona Ridgewell.
Organisers say: 'It's an online gig, but there are plenty of ways for interaction if you choose; we try to make it feel as close to being at a comedy club as possible.'
As well as the stand-up, the show will include Flat Mate Idol; two comics who live together will try to convince you they are the better housemate, with your votes deciding who will be stuck with the following week's housework.
Watch from 8pm here
---
Cracked Up: The Darrell Hammond Story
This powerful documentary, newly arrived on Netflix, looks at the career Darrell Hammond, a former Saturday Night Live stalwart known for his wide range of impressions.
But it is not about the comedy, instead casting his stardom in contrast to a traumatic childhood, and how his suppression of memories affected his adult life.
When the film played the festival circuit last year, the New York Times said: 'Like the documentary itself, his story is a poignant one of a man trying to take a bunch of characters and make them cohere into something that makes sense; while Mashable said: 'Hammond expresses a uniquely human determination to heal.… His openness gifts Cracked Up with constant, raw authenticity throughout each of its twists and turns.'
Watch here.
---
Need more suggestions?
• Click here for those from the week starting April 26
• Click here for those from the week starting April 19
• Click here for those from the week starting April 12
• Click here for those from the week starting April 5
• Click here for those from the week starting March 29
• Click here for those from the week starting March 22
• Click here for those from the week starting March 15
NOTE: Sometimes links and videos of live events expire after the event. All were valid at the time of publication
Published: 9 May 2020
What do you think?