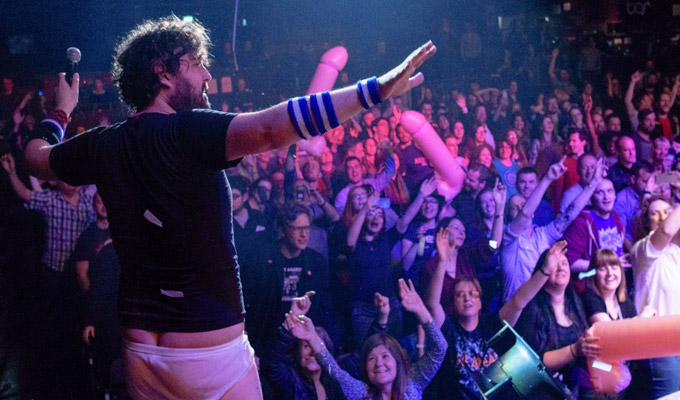 Nick Helm releases 'the greatest show in the last 27 years'
Here's Chortle's daily round-up of new comedy to watch at home during lockdown.
This list, updated at around 3pm daily, covers subscription services such as Netflix, Amazon Prime, iPlayer and NextUp, to podcasts and shows that comedians are releasing themselves, is your essential guide to getting a daily dose of laughs.
As well as these highlights, you can search our listings for other online events using the blue box at the left or top of this page.
Or if you're a promoter wanting to add an event, details are here.
---
Nick Helm: All Killer Some Filler
This is the show that celebrated the launch of the album Nick Helm Is Fucking Amazing in 2016, and has previously been unseen by anyone who was not in the O2 Forum Kentish Town that night.
With typical hyperbole, the show is described thusly: 'Under-rehearsed, under-prepared and under pressure, Nick and his band somehow managed to pull together the greatest show in the last 27 years of living memory. That show went down as a thing of legend, often spoken about by weary travellers around campfires, but thought to have been lost to the sands of time forever.'
Featuring 90 minus of comedy and music, with guest stars Rachel Parris and David Trent, the gig is being released as digital download tomorrow (Sunday) on the indie label Go Faster Stripe.
But tonight it will be live-streamed, with Helm introducing it at 8pm, with a Q&A after it's finished. Get your download and link to the launch for £5 here.
---
Just The Tonic: Working From Home
The club launches a second comedy-at-home gig-of-sorts tonight, with an impressive line-up, headed by Al Murray, The Pub Landlord.
Support comes from Strictly pariah Seann Walsh and circuit faves Susie McCabe, Matt Forde, Paul McCaffrey and Darius Davies, all introduced by Just The Tonic's Darrell Martin.
'It will feature comedians that we usually book for stand up doing different things as we try to get to grips with the new world order,' Martin says. 'Buy a ticket with an open mind.'
Tickets are priced £5 to £20 and are available here
---
Free Festival launch gig
The Fringe organisation is planning its own mini-festival online this summer, but is first kicking off with a 'pick of the Fringe' comedy show via Twitch from 8.30pm tonight (Saturday) with Dave Chawner, Vladimir McTavish, Robyn Perkins, Jay Sodagar, Nik Coppin and Matt Price. And donations can be made to the acts here.
---
Space Force
Like a wayward rocket, this new comedy inspired by Donald Trump's new branch of the military, is all over the place, never quite becoming as much of a Laughing Stock as the real thing. Still the top-drawer cast, behind-the-camera pedigree and whopping budget mean it's at least always entertaining.
Steve Carell, who created the comedy with his showrunner on The Office showrunner Greg Daniels, stars as a four-star general leading the new Space Force. The show also stars John Malkovich, Jane Lynch, Fred Willard, Tawny Newsome, Ben Schwartz and Lisa Kudrow - and is directed by Paul King, the Brit who called the shots on Paddington and, long before that, the Mighty Boosh.
All ten episodes launched on Netflix today.
---
Laurel & Hardy's Liberty
Lee Mack introduces this Stan and Ollie short at the Slapstick Festival in Bristol in 2018, with live band accompaniment:
---
Canned Laughter
Eight comedians will be playing the complete-the-punchline game Quiplash online tonight (Friday) to raise money for food bank charities.
With host Olga Koch, the players will be Lolly Adefope, Monica Heisey, Gabby Best, Emily Lloyd-Saini, Joe Sutherland, Alice Brine and Sophie Duker.
It takes place at 8pm on NextUp Now.
---
Friday Night Comedy KARLnival
Galway's Róisín Dubh venue presents an international virtual gig starring Rich Hall, Mike Wilmot and Sean Hegarty, winner of Ireland's Funniest Joke competition – all hosted by Karl Spain. It kicks off at 8pm tonight (Friday) and €10 tickets are available here
---
Natasha Leggero: Live at Bimbo's
The US comic talks about her impending nuptials (to fellow stand-up Moshe Kasher) and dissects the most ridiculous parts of modern culture, from online shopping to Burning Man, in this special from 2015, which Comedy Central has jus put online for free:
The Lockdown Lock-In
Tim Key headlines this night of comedy, music and poetry, fundraising in aid of the National Autistic Society tonight (Thursday) at 8.15pm, after the clap for carers.
Other comics taking part include Harriet Dyer, Jack Carroll, Jay Foreman, Milo McCabe, Paul 'Silky' White, Edy Hurst, Tony Wright, and Will Andrews.
It will be aired via YouTube.
---
Marcel Lucont's Louche Lockdown Lounge - Live
Marcel Lucont, the French flaneur alter-ego of Alexis Dubus, hosts a weekly show from his boudoir for you, featuring badinage, competitions, chansons, poems and a Q&A. Watch here from 9pm tonight (Thursday).
---
Jacob Hawley's Job Centre
In the second episode of his BBC podcast, stand-up Jacob Hawley talks to fellow comedian and voice of Love Island Iain Stirling about what's keeping him busy in lockdown, as well as GP Amir Khan, about new medical practice and Crystal Stanley, who created the Rainbow Trail in the UK.
Listen here
---
Remote Comedy from The Paddock
It's the sort of content comedians have been pumping out from their spare rooms since lockdown began, now being given a wider audience (and hopefully some £££s) thanks to E4, which commissioned this compilation series.
Four episodes will air online at 9pm Tuesday nights, starting with this one, which dropped last night and which features Stath Lets Flats star Jamie Demetriou, Lolly Adefope, Rosie Jones, and Australian award-winner Sam Campbell. Next week it's Catherine Cohen, Phil Wang, Jon Pointing, Demi Lardner and Tom Walker.
---
Funmbi Omotayo: Black And Brit-ish
The British-Nigerian comic has released his stand-up special – recorded at the Backyard comedy club in London in November – for free on YouTube. In it he discusses ace, identity, celebrity and the perils of being a first-generation Brit:
---
Always Be Comedy
Nish Kumar plus a 'mystery guest' headline tonight's (Wednesday's) online gig, alongside the paired-up Catherine Bohart and Sarah Keyworth. Details
---
Standing Up for Sunny
Breaking Bad's RJ Mitte stars in this Australian romcom about a loner with cerebral palsy who is roped into helping a comedian (Philippa Northeast) overcome her shyness.
Featuring a guest appearance by Barry Humphries as himself, the film had a festival release last summer where Cinema Australia called it 'tender, clever and very, very funny' in a four-star review.
It's today arrived on Amazon Prime – and here is a trailer:
---
Hannah Gadsby: Douglas
The provocative Australian comedian's follow-up to the game-changing Nanette was released on Netflix today. Watch it here or read our review here.
---
XS Malarkey
Tonight's online gig from the much-loved Manchester comedy club features American comics Hari Kondabolu and Naomi Ekperigin alongside TV fave Rosie Jones, Nathan Caton, Sunil Patel. It starts at 8pm on Twitch
---
Jack Dee So What? Live
This special from old misery-guts, recorded at the Hammersmith Apollo in 2013, was his first in eight years, cynically grumbling at life's petty annoyances and everyday frustrations. And it's just arrived on Amazon Prime, free for subscribers.
---
There's a mammoth bill for this fundraiser tonight (Monday) in both number and quantity with top-flight names including Dave Gorman, Jack Whitehall, Josh Widdicombe, Jason Manford, John Thompson and even the very diverse likes of Kim Cattrall, Johnny Ball and Badly Drawn Boy popping by.
Other comics on the bill include Lost Voice Guy, Russell Kane, Justin Moorhouse, Tez Ilyas; The Lancashire Hotpots, Bethany Black, Harriet Dyer, Kate Robbins and Dan Nightingale with the money being divided among a number of charities in Lancashire and beyond.
It kicks off at 8pm, and tickets are priced £5 to £20 here
---
The Infinite Money Cage
The comedy pop-science show returns for a 22nd series with what co-host Robin Ince called 'one of the most joyous shows you'll ever hear about the end of the universe'.
In something of a coup, he and Brian Cox are joined by comedy legends Steve Martin and Eric Idle, alongside theoretical astrophysicist Katie Mack and cosmologist Brian Green for the first podcast spun-off from the Radio 4 show.
Listen to the various theories about how the universe might eventually end here.
---
Plenty Questions
Married comics and quiz buffs Justin Edwards and Lucy Porter ask 20 questions, leaving room for you to shout the answers. No need to complicated this new daily podcast more than that. Listen here
---
Socially Distant Eid
Forty Muslim comedians from the UK, USA, Canada, and South Africa across the world are to come together for this one-off online show to mark the end of Ramadan. Confirmed acts include Imran Yusuf, Tez Ilyas, Aatif Nawaz, Bilal Zafar, Ehshaan Akbar and many more.
Muddassar Ahmed, chair of organisers the Concordia Forum, said:'This Ramadan has been particularly difficult for communities around the world. We're proud to be pulling together some of the brightest Muslim comedic talent to entertain those celebrating the Eid festival at home, people looking to learn a little bit about Muslim culture, or really anyone in need of a good laugh.'
The event takes place from 8pm to 10pm tonight (Sunday) on Facebook.
---
NTSF:SD:SUV::
New to Channel 4's on-demand service All 4 is this police parody – National Terrorism Strike Force: San Diego: Sport Utility Vehicle:: – ran on Adult swim from 2011 to 2013 in the US.
The creation of comedian Paul Scheer, the 11-minute episodes also features the voice of Peter Serafinowicz.
---
Local Laughs
Melbourne's nicest comedy club, Local Laughs, is an Australian comedy institution. As is the woman who runs it, Janet McLoud who knows a) her stuff, b) where the most interesting talent lies, and c) how to run a proper room.
Like everyone else, the weekly shows have gone online, tomorrow's gig boasts Dave Callan, Lehmo, Michael Williams, Luke Benson, Ben Russell, and Kirsty Webeck. The time difference means it'll be on at 11.30am UK time.
Tickets are available here
---
Need more suggestions?
• Click here for those from the week starting May 17
• Click here for those from the week starting May 10
• Click here for those from the week starting May 3
• Click here for those from the week starting April 26
• Click here for those from the week starting April 19
• Click here for those from the week starting April 12
• Click here for those from the week starting April 5
• Click here for those from the week starting March 29
• Click here for those from the week starting March 22
• Click here for those from the week starting March 15
NOTE: Sometimes links and videos of live events expire after the event. All were valid at the time of publication
Published: 30 May 2020
What do you think?