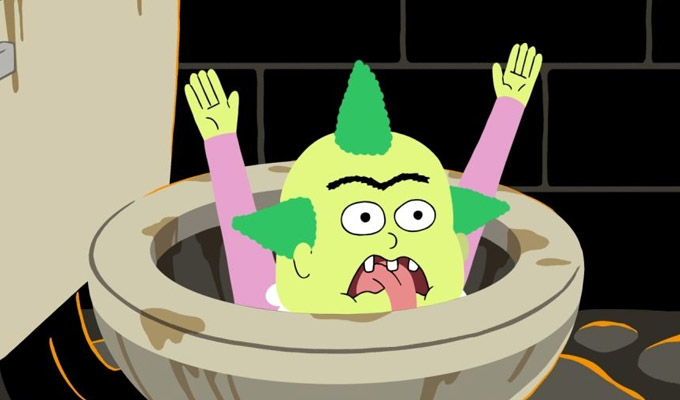 Grim fairy tales...
Here's Chortle's daily round-up of new comedy to watch at home during lockdown.
This list, updated at around 3pm daily, covers subscription services such as Netflix, Amazon Prime, iPlayer and NextUp, to podcasts and shows that comedians are releasing themselves, is your essential guide to getting a daily dose of laughs.
As well as these highlights, you can search our listings for other online events using the blue box at the left or top of this page. Or if you're a promoter wanting to add an event, details are here.
---
JJ Villard's Fairy Tales
This twisted animation, part of the Adult Swim strand, goes back to the visceral roots of pre-sanitised fairy tales, and makes them even more gross. Six short episodes have just landed on All4
---
Saturday Night Live At The Stand
Mark Nelson returns with a new show from the much-loved comedy club, with live stand up from Christopher MacArthur Boyd, Gus Lymburn, Amy Matthews, Stephen Buchanan and Susie McCabe.It's free on YouTube from 8.30pm tonight (Saturday):
---
Live At The Tyne
From an empty Tyne Theatre in Newcastle, Carl Hutchinson tonight (Friday) introduces the venue's first live show since the lockdown..
It will feature an array of North East talent, including Steffen Peddie, Nicola Mantalios-Thompson, Lauren Pattison and Gavin Webster, plus an interview with Chris Ramsey.
The show streams on Twitch as the venue seeks donations.
---
Hannibal Buress: Miami Nights
The stand-up and co-host of Adult Swim's talk-show parody,The Eric Andre Show, releases his first stand-up special since 2016 for free on his YouTube channel later tonight..
A teaser trailer suggests he might talk about his 2017 arrest in the Florida City, as it features a brief clip of the body-cam footage from the police officer who detained him, in which he says: 'What's up YouTube? It's me. Hannibal Buress. This cop stupid as fuck.'
The show will go live at 11pm UK time. Here is a short clipping which he discusses his asthma:.
---
Riaad Moosa: Life Begins
The Indian-born South African doctor lands his first Netflix stand-up special, about turning 40.
'It involves the normal issues of getting older while at the same time experiencing, at a maturity where I'm supposed to be wise,' he said. 'And it's about how I negotiate all these things happening around me while trying to maintain a positive attitude.'.
Watch here.
---
Nighty Night
The BBC has quietly snuck both series of Julia Davis's cult dark comedy back on to iPlayer. First broadcast in 2004, the show is about the sociopathic, manipulative Jill, who uses her husband's cancer as an opportunity to trade up in her relationship.
Ruth Jones, Kevin Eldon, Rebecca Front, Angus Deayton, Mark Gatiss and Felicity Montagu co-star, and all the episodes will be available for the next five months here
---
Jason Manford Presents: The Weekly Stand Up
It's the second of Jason Manford's online comedy gigs tonight (Thursday), featuring Milton Jones and Harry Hill from the UK, Debra DiGiovanni from Canada and Jena Friedman from the US. The gig will be streamed live from 8pm to a password protected website.
---
Comic Boom Live
The regular night for newish acts at Brighton's Komedia club offers another at-home show tonight (Thursday) with headliner Lost Voice Guy off of Britain's Got Talent, plus established name Simon Evans and rising acts Pete Latham, Jen Ives, Fran Kissling, Radu Isac, Chris Sav, Steve Barry, Robyn Bowman, Claire Carty and MCs Short and Curly.
It will be streaming on Komedia's YouTube channel from 8.30pm.
---
The NextUp Comedy Festival
The subscription streaming service is putting on a month-long comedy festival, with an intimate show airing on Zoom at 8pm every night in July.
It kicks off tonight with improv rapper Abandoman, followed over the next few nights by Stephen Bailey, Andrew Maxwell, Sarah Keyworth, Stuart Goldsmith and Mark Watson.
Tickets are £9 per gig, though you can access all 31, plus get a year's access to NextUp's full catalogue of professionally shot specials, and a six-pack of beer, all for £77. Click here for details of that bargain offer.
---
The Office US and Will & Grace
Full boxsets of both classic sitcoms are available on Now TV from today, allowing British viewers to binge on the exploits of the dysfunctional staff of the Dunder Mifflin Paper Company, or gay lawyer Will, his straight interior designer Grace and their two high-maintenance pals.
---
The Pam Ann Show - Live from Miami Biatch!
The camp air hostess alter-ego of Australian comedian Caroline Reid is tomorrow (Thursday) hosting an online gig as she tackles current events, celebrity gossip, and stories of air travel - remember that?
The blurb promises 'a lot of drinking is involved so pour yourself a big glass of I don't give a f**k' - even though the time difference means the gig is at noon UK time.
Get your tickets here.
---
The Offcuts Drawer
In this new(ish) podcast from Laura Shavin, formerly of Radio 4's The Now Show, successful writers share pieces of work that never made it and the stories behind them.
The original plan was to record in front of an audience, with actors performing the offcuts on stage alongside the writer. So the pilot episode has comedy writer and radio presenter Jon Holmes talking about his career, with clips performed by comedian Alex Lowe and others.
But then Covid struck. Subsequent lockdown episodes feature the likes of comic novelist Jenny Colgan, comedy writer David Quantick, and stand-up Simon Evans. Listen here
---
The Melbourne International Comedy Festival Roadshow Documentary
Organisers of the world's second-biggest comedy festival don't just stage the month-long annual event. For the past 20 years it has sent comedians around Australia, taking in 80 locations, including some of the nation's most isolated rural communities.
In 2016, broadcaster SBS aired a four-part documentary series about the tour, with comics including Urzila Carlson, Rhys Nicholson, Dave Callan and Dave Quirk.
Episode one, about New South Wales is below, then click for episodes about Tasmania, Canberra and the Northern Territories.
---
War And Peace In Just 7 Years
Figuring no one has the time to read Tolstoy's hefty classic, comedians Dan and Steve (they don't share their surnames) have launched this podcast, looking at a chapter each week. And they reckon that at that rate, it will take them seven years to get to the end.
As they discuss the goings-on of the Russian aristocracy, they aim to 'inject a 21st Century dose of gossip and intrigue' into a story which is rarely short on either commodity.
Listen and subscribe here.
---
George Lopez: We'll Do It For Half
In his latest stand-up special, which landed on Netflix today, George Lopez talks about Latin-American culture in the US, touching on immigration, his tough relatives, ageing and much more. Watch here
.
Here's a clip:
---
I Just Bought Myself A Pocket Synth And I'm Gonna Sell My Beats To Drake
Comedian Masud Milas has today launched this six-part podcast series about the music industry, probing musicians, producers and managers about how he could barge his way into one of the world's most idolised professions.
The series features Metronomy drummer Anna Prior, Primal Scream bassist Simone Marie, Radio 1 DJ Phil Taggart, and more.
Milas said: 'I've always thought the music industry and the entertainment industry were similar, there's loads of people who dream of making it, but not many do.
'It was interesting chatting to some insightful humans with insider intel to find out exactly how someone would go from buying a pocket synth to selling their beats to Drake.'
The podcast will be released weekly on Monday across all major podcast platforms. Episode 1 is available on Acast now.
---
Behind The Filter
Phoebe Walsh's 15-minute pilot about a podcaster trying to tap into the woke landscape has landed on BBC Three's iPlayer channel today.
'Will her show Feminism In Your Ears convince her family - plus the podcast's guests, aloof heartthrob Barney and cool activist Charlotte - that there's more to her existence than endlessly masturbating and endlessly scrolling on Instagram?' the blurb from producers Big Talk says.
The comic, formerly part of the Oyster Eyes sketch troupe, wrote the show with Guardian journalist Harriet Gibsone and stars alongside Patricia Allison, Edward Bluemel and Omar Malik.
Watch here.
---
Happy Mondays Comedy
Rich Hall - dialling in from his US home in the Rocky Mountains – headlines tonight's online gig alongside Rhys James, magician Ali Cook and Funny Women winner Laura Smyth.
It kicks off at 9pm and tickets, priced £5.50. here.
---
Hip Hop Saved My Life
Romesh Ranganathan hosts a live version of the podcast based on his love of the genre. From 8pm tonight (Sunday), he will be joined by Dizzee Rascal plus his right-hand man RuMaj, and Martin 2 Smoove mixing some tracks.
Tickets, priced £5.50, are available here.
---
Comedy Central Stand-Up Presents: Solomon Georgio
The latest stand-up special to be posted online for free by the US broadcaster comes from a comic who shares stories of his life as a gay Ethiopian immigrant and belief in his own fabulousness.
He's been a writer on SpongeBob Squarepants, Shrill, and the new TV take on Nick Hornby's High Fidelity, and this 20-minute show dates from 2017:
---
What Happens In Ulster: Three Husbands
Derry comedian Diona Doherty plays an ambitious young reporter on the trail of a bigamist woman in this mockumentary inspired by the popularity of true crime podcasts.
Written and produced by Marc McElroy, the comedy aired on BBC Radio Ulster last week and is now available on BBC Sounds
---
Need more suggestions?
• Click here for those from the week starting June 21
• Click here for those from the week starting June 14
• Click here for those from the week starting June 7
• Click here for those from the week starting May 31
• Click here for those from the week starting May 24
• Click here for those from the week starting May 17
• Click here for those from the week starting May 10
• Click here for those from the week starting May 3
• Click here for those from the week starting April 26
• Click here for those from the week starting April 19
• Click here for those from the week starting April 12
• Click here for those from the week starting April 5
• Click here for those from the week starting March 29
• Click here for those from the week starting March 22
• Click here for those from the week starting March 15
NOTE: Sometimes links and videos of live events expire after the event. All were valid at the time of publication
Published: 4 Jul 2020
What do you think?